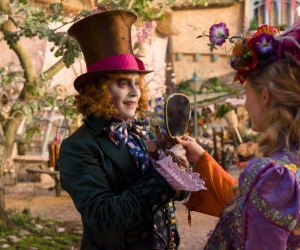 Alice Through the Looking Glass: How PG Is the Disney Movie?
There are few children's stories as iconic as Lewis Carroll's Alice's Adventures in Wonderland and its sequel Through the Looking Glass. Any Disney version of a tale so classically kid-friendly would seem like a no-brainer, but adding Tim Burton into the mix is always a wild card. If you're wondering where Alice Through the Looking Glass falls on a scale of dark to light, and whether it's a family outing or a find-a-sitter moment, you wouldn't be alone. The film is rated PG, but how PG is it? And to 3D or not to 3D?
My 12-year-old and I saw an afternoon show on opening weekend at Disney's El Capitan Theatre in Hollywood, where the crowd was more twentysomethings than tweens. The outpouring of millennials is presumably in response to the Jules Verne type treatment that the creative team has given this version of the Alice tale; it's a far cry from Disney's 1950s animated film, and from the original book as well. That said, my son and I enjoyed the film, and for his age group it is a satisfying romp.
Alice Through the Looking Glass features most of the same characters as the 2010 Alice in Wonderland, though knowing the first film is not a requirement for seeing this one. Other things not to worry about are explicit content or language: the PG rating is not brought on by cursing, suggestive situations, smoking, drugs, or any of the other usual suspects. Age recommendations for this film are purely about danger. The pace is fast; music and other sounds are frequently menacing, and characters can turn nasty with little warning. Add to that some huge, scary dragons and burning villages, and I'd say eight years old is the youngest child I'd want to bring. I certainly heard loud crying from some younger ones in the row behind us.
RELATED: Parent Movie Review Guide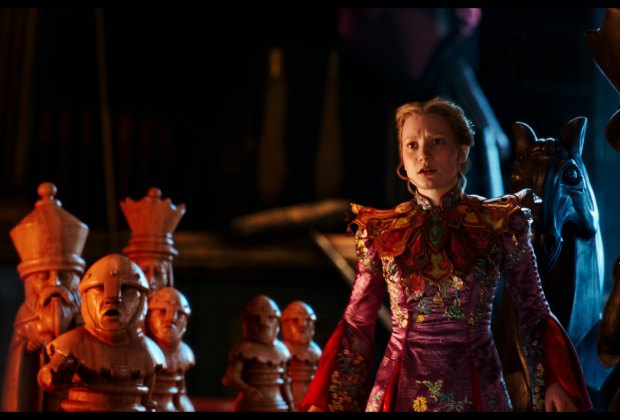 Alice turns in her petticoats from some wicked outfits in this version.
Disclaimers aside, the film is a fun, action-packed romp with a powerful female heroine. Far from the little girl with the white starched apron, this Alice is a formidable sea captain with a delightfully exotic wardrobe and an impressive set of survival skills. Her adventures have a steampunk edge that had me thinking of Dr. Who in places, which I'm sure was not accidental, and the characters she encounters are intriguing, entertaining, and never all good or all bad.
The plot, on the other hand, is a bit weak. Even my tween pointed out how little there was to the actual story, though he also admitted that the lack of it didn't bother him much. Alice takes on the challenge of finding the Mad Hatter's family, and doing so involves some mad-cap time traveling. That about sums it up, but the addition of Sacha Baron Cohen as Time himself is sufficiently entertaining to make up for far more deficiencies than this film has.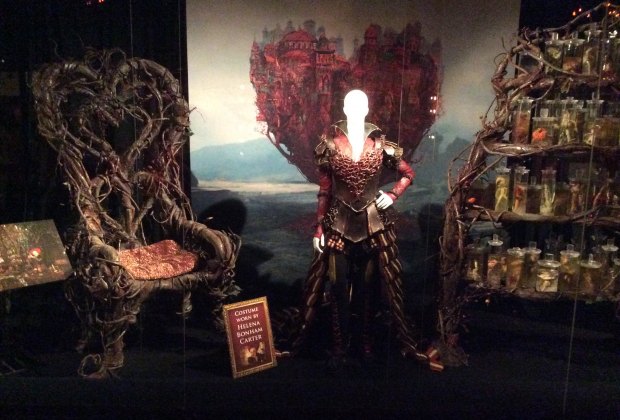 Helena Bonham Carter's Red Queen outfit is one of the costumes on display at El Capitan. (photo by the author)
Most screenings of Through the Looking Glass at Disney's El Capitan are in Dolby Vision 3D, and, while I'm not always a fan of 3D, for this film I'd say it's highly worth it. From first moment to last, the visual effects dragged us on board ship, tumbled us through space, and hurled us headlong into exotic locales I'd be hard pressed to describe. The visuals make this film, and the high-tech 3D makes the visuals.
Other add-ons at El Capitan include a display of costumes, hero props, and drawings, as well as the usual opening concert of Disney tunes played on the pipe organ and a funky light show set to Pink's remix of the Jefferson Airplane classic White Rabbit. The song figures prominently in the film, too, and it's fun to see the Alice-inspired psychedelic piece find such a suitable home. (Note that we weren't told to put on the 3D glasses for the light show, but I realized halfway through that we definitely should have done.)
All told, I'd call the movie a good family outing, notwithstanding the costumed millennials trying to claim it for their own. If you and your kids have a strong stomach for adventure, are not Lewis Carroll purists, and can forgive a plot with one or two holes to fall through, Through the Looking Glass can give you a fine two hours of entertainment.
Photos courtesy of Disney Enterprises unless otherwise noted