See the World's Largest Display of Lego Art: The Art of the Brick Is Back at the Science Center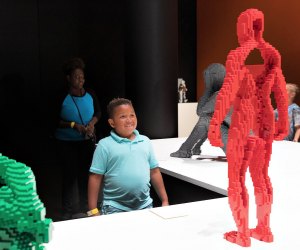 Get ready to see Legos in a whole new light. The Art of the Brick is the current exhibit at the California Science Center, featuring more than 100 sculptures and other works of art, all made exclusively with Legos (more than one million of them to be exact.) This exhibit had just opened when the museum closed down last year, so when the Science Center reopened, the bricks came back, too!
See a re-imagined Lego version of the Mona Lisa and Van Gogh's Starry Night. Be dazzled by a giant Lego T-Rex and a multi-colored peace sign. And the exhibit has recently added a whole new section with sculptures of the world's most endangered species that no audience has seen before. There are also some thought-provoking original works by the artist, Nathan Sawaya. It's a must-see for families that love Legos. (And who doesn't?!) I took my kids to experience the ultimate block party; read on for the highlights.
Note: we visited the exhibit just days before the California Science Center closed, so when you notice kids aren't wearing masks, that's why!
The museum now requires timed-entry reservations, tickets, and everyone over the age of two is required to wear a face covering at all times (except when eating).
Classic Works of Art, Lego-Style
The first section of the exhibit is kind of like a "paint by brick" area. There are recreations of classic masterpieces that many kids will recognize, all done using Legos. Some are particularly impressive. We were struck by how much Sawaya's version of Girl With the Pearl Earring looks just like the original, and we loved his 3-D version of The Scream.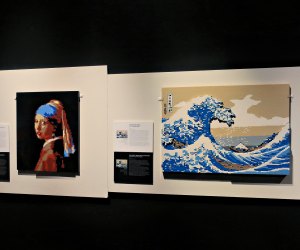 Yep, Vermeer had nothing on Lego.
Just next door is a room of recognizable sculptures like Michelangelo's David and a huge Moai Easter Island head. Be sure to check out each display's description for a little history on it, as well as a Lego piece count (75,450 for the Moai figure!).
This year made me feel like this too, Mr. Green.
Original Art That Inspires
While my kids really enjoyed seeing Sawaya's recreations of well-known masterpieces, they were equally inspired by some of his original artwork, which is provocative, and at times, even dark. One display called Trapped features a Lego man who is struggling to escape his block box. Another sculpture shows a Lego man holding his detached head above his torso. ("That's how I feel after my weekly spelling quiz," my 8-year-old confessed to me.) Much of the promotional material for The Art of the Brick exhibit features Sawaya's piece entitled "Yellow"—a bust of a man tearing open his chest to reveal a stream of Legos bursting out from within. In person, it is especially remarkable. As fans of books like Where's Waldo?, our family also loved seeing his gallery of pictures called In Pieces, a multimedia collaboration with photographer Dean West. In each photo, there are one or two everyday items made out of Legos. Test your kids to see if they can spot them!
See endangered animals made from Legos. Photo courtesy of California Science Center
PERNiCiEM: The Endangered Species Connection
On April 22, a whole new section was added to the exhibit. Just in time for Earth Day came the world debut of thirteen sculptures of the world's most endangered species, including the humpback whale and lowland gorilla. This is another collaboration between Lego artist Nathan Sawaya and photographer Dean West; the Lego animals are displayed before giant images of their natural habitats.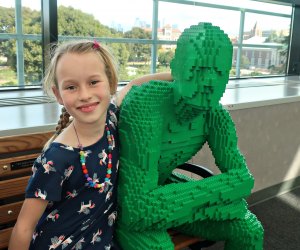 Just hanging out with my little Lego buddy.
What to Know Before You Go
The Art of the Brick is on display at the California Science Center through December 31, 2021. While admission to the California Science Center is free every day, you will have to pay to see The Art of the Brick. Tickets to the exhibit are $19.75 for adults 18 and over, $12.75 for children ages 4-12, and $17.75 for seniors and high school and college students with an ID. Kids 3 and under are free and members of the museum get discounted rates. Advance purchase of timed-entry tickets is required; tickets and reservations to the California Science Center are available online.
Parking at the California Science Center costs $12. There is a restaurant on campus, as well as street vendors just out front.
All photos by the author, unless otherwise noted. Some photos were taken prior to the pandemic