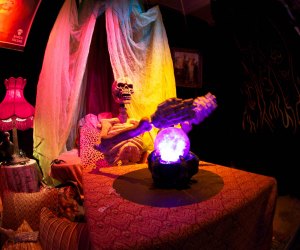 Farewell to Boney Island: A Favorite Halloween Attraction Gives up the Ghost
Some sad news came out of a much loved street corner in Sherman Oaks yesterday: Boney Island is no more.
We have been visiting—and raving about—Boney Island for years. It is, or was, a home haunt that could only happen in the Entertainment Capital, particularly since it took place on the lawn of the Emmy Award-winning animation producer of The Simpsons. No one does Halloween better than Hollywood on its day off, and this suburban lawn filled with skeletons performing everything from levitation to mind reading to phosphorescent water shows is a SoCal legend. Not satisfied with bringing my own kid every year, I've visited this wonderful example of Halloween creativity with just about every kid I know, and it has never failed to delight. Its closure is a sad day.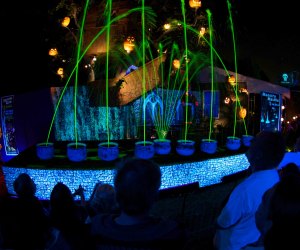 The glowing fountain show used to run a few times per hour. Photo by Boney Island
Until a day or so ago, homeowner Rick Polizzi was publicizing a 10-day run for his annual free yard display, which we shared on our calendar and in our Halloween Guide. Alas, the Boney Island Facebook page did an abrupt about face over the weekend, announcing that for reasons of public safety, and "in light of events our world has been experiencing," the attraction is ending its 19 year run. Upwards of 25,000 people usually visit the Polizzi yard during the Halloween season, and it seems that the city of Sherman Oaks has decided that this merits stricter road closures and police protection to make it safe in the current climate. The cost to our Boney Island hosts would have been close to $100k, which even for a successful television producer is a lot to do for the neighborhood kids.
OUR LATEST VIDEOS
The skeleton masters aren't kidding around, evidently, or holding out for a counter offer from the city; as quickly as the closure announcement was made, the magical skeletons began turning up on ebay. Souvenir hunters will be able to bring home Boney Island signs and even cauldrons from the water show, to keep the memories alive. The bidding is bound to be high on that fortune telling skeleton—though I wonder if the guy at the back of the crowd collecting secrets from parents in his Big Gulp comes with the package.
While there could never be another Boney Island, we do know of several other home haunts around the Southland that work hard to conjure up Halloween spirits. We'll be visiting as many as we can, in search of our next Halloween ritual. In the meantime, we'll leave you with the fond farewell extended by the Polizzi family: "Go have the greatest Halloween ever!"