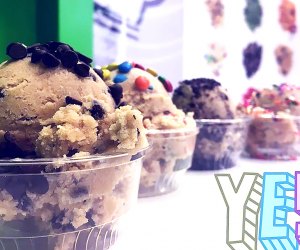 Dough Life's Edible Cookie Dough Is Catnip for Kids
There's nothing quite like taking a giant bite out of a roll of cookie dough. It's delicious, but not something you'd like to see you child doing. At least not until now.
While eating traditional raw cookie dough comes with health risks, including salmonella, Dough Life's cookie dough is completely edible. Kids, and cookie dough-loving adults, can comfortably indulge in what once was a guilty pleasure. Read on and see how the cookie dough craze has come to Long Island.
If your kids have a big sweet tooth, check out these decadent dessert spots or old-fashioned ice cream parlors on Long Island as well.

Get a scoop of your favorite single flavor at Dough Life, or mix it up.
Dough Life has two Long Island locations—in Roosevelt Field mall in Garden City and in South Shore Mall in Bay Shore. A secret to edible cookie dough is the lack of a single ingredient, namely eggs. Since the dough is never put in the oven, omitting eggs doesn't affect the final product. Dough Life also uses a heat-treated flour as opposed to unbleached flour. It is working on adding gluten-free dough into its shops as well.
RELATED: Do-it-yourself birthday party venues on Long Island

A host of delicious flavors abound at Dough Life.
Inside Dough Life you'll find a sleek and clean setup. The LI shops don't have seating, so you'll be taking this treat to go. The menu is straightforward and ordering is a cinch. If your kid becomes a super-fan, shops do offer catering. It could be a fun and unique dessert for your child's next birthday party.
RELATED: The top kids' birthday party venues on Long Island

Unicorn, July's flavor of the month, will sparkle on your spoon.
Daily flavors include traditional chocolate chip, red velvet, brownie batter, and s'mores. There is also a flavor of the month, a good reason to keep coming back to see what's new.
Your cookie dough experience begins with choosing your container: a cup, waffle cone or a chocolate-covered waffle bowl. You then choose your flavor of dough and toppings. Toppings include sprinkles, chocolate chips, Reese's Pieces, and more. Prices ranges from about $4 to $10, depending on size and extras. If you're feeling thirsty, try one of its milkshakes.
According to the shop, your cookie dough will remain fresh for up to two weeks when stored in the refrigerator: Be sure to take some home for later.
Photos courtesy of Dough Life
Dough Life Roosevelt Field Mall
630 Old Country Road #1077
Garden City, NY 11530
Dough Life South Shore Mall
1701 Sunrise Highway
Bay Shore, NY 11706