A Dozen Amazing Birthday Cake Bakeries for LI Kids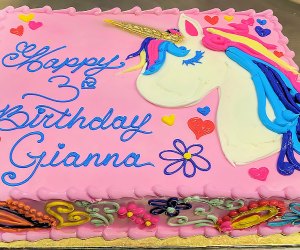 9/13/18
- By
Gina Massaro
When it comes to your kids' birthdays, we here at Mommy Poppins have you covered.
Whether it's your child's first birthday or 10th, the steps are always the same: Find a theme, a venue, guest list, and of course, a cake. No party is complete without the perfect dessert ending, and extravagant themed cakes are becoming more popular than ever. We've scoured the Island to find the best custom cake bakeries.
Bon apetit.
Islandwide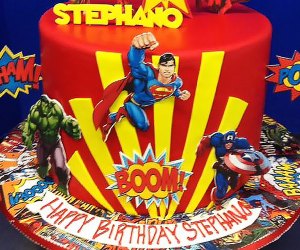 A superhero cake from La Bonne Boulangerie is sure to thrill your child.
La Bonne Boulangerie — East Norwich, Port Jefferson
La Bonne Boulangerie holds multiple awards on wedding websites such as The Knot, LI Weddings, and Wedding Wire. It does much more than wedding cakes, though. Its bakery storefront is full of decadent pastries and desserts and its 3D cakes are out of this world. Imagine a teddy bear or dinosaur cake for your little one. La Bonne Boulangerie can deliver almost anything you or your child can imagine.
Nassau
Dortoni Bakery — Levittown
Chances are, if you live in the Levittown area you have been to Dortoni Bakery at least once. Established in 1976, Dortoni is a neighborhood staple whose holiday lines can extend through the entire shopping center. As you enter the store, pictures of previous custom cakes line the top of walls. Choosing the outside design of your cake is just the beginning. There are an abundance of cake fillings from which to choose, including fruits, nutella, custards, and mousses.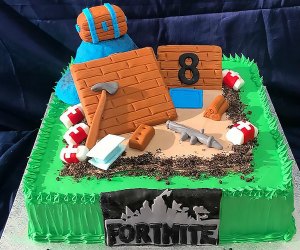 Fortnite fans will love this birthday special from Francesco's Bakery.
Francesco's Bakery — Hicksville, North Massapequa, Plainview
A perfect spot to satisfy that sweet-tooth craving, Francesco's specializes in Italian-American baked goods. On its website, you can find examples of its custom birthday cakes, ranging from Harry Potter-themed sheet cakes to more elaborate tiered cakes complete with a circus tent on top.
RELATED: Kids' birthday party entertainers who will come to you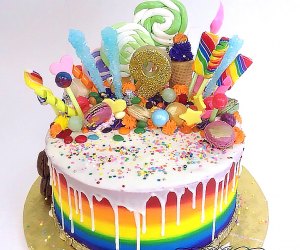 How about a colorful ganache drip cake from the Little Sugar Shop for your little one's birthday?
Little Sugar Shop — Valley Stream
Clean and sleek tiered cakes are this shop's specialty. Whether it's Minions or an under-the-sea design, Little Sugar Shop cakes are impeccably designed and executed. While perusing through its online portfolio of children's cakes, you might think you've mistakenly ended up in a wedding gallery. If you're looking for a unique but simpler approach, be sure to check out its ganache drip cakes. Little Sugar Shop is closed on Mondays year-round, and on Sundays in July and August.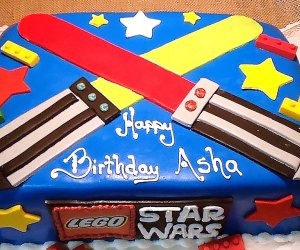 Star Wars fans can enjoy an out-of-this-world cake from Riesterer's Bakery.
Riesterer's Bakery — West Hempstead
In business since 1931, Riesterer's is one of Long Island's oldest bakeries. The bakery is Kosher-certified, making it the perfect spot for delicacies such as challah bread and mandel brot. Custom cakes can be made kosher as well. Riesterer's conveniently lists its cake flavors, icings, and fillings on its website, along with whether the item is dairy or non-dairy. It offers custom sheet cakes with characters and decor, or more elaborate tiered cakes to fit your theme.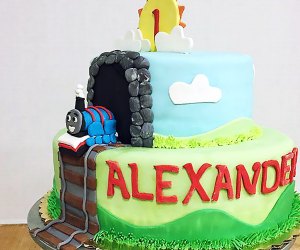 From St. Rocco's Bakery comes Thomas the Tank Engine, right on time.
St. Rocco's Bakery — Glen Cove
St. Rocco's offers more than just traditional baked goods. Breakfast and lunch are also on the menu, including pizza and artisanal sandwiches. Your imagination is the only thing limiting you when it comes to creating a custom cake with St. Rocco's. It's even created a cake version of a bowl of pho. If overly creative isn't your style, it also offers beautiful sheet and tiered cakes. Note: The bakery is cash only.
RELATED: Toddler and preschool birthday party venues and ideas on LI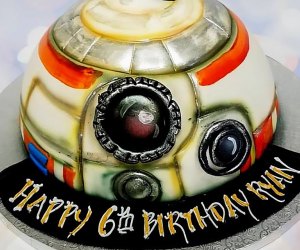 BB-8 rolls in on this special Star Wars cake from Sweet Karma Desserts.
Sweet Karma Desserts — Plainview
As an award-winner from Long Island's Best and The Knot, Sweet Karma Desserts is the cream of the crop when it comes to custom cakes. Cakes can be made to look like anything, from a pizza pie straight out of Ninja Turtles, to a rainbow unicorn. While it does offer other treats, including cookies and pastries, its main focus is cakes. It doesn't have traditional bakery hours, so be sure to contact staff ahead of time if you're looking to take a peek into the storefront.
Suffolk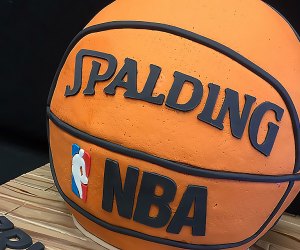 Your little LeBron will love this NBA special from A Cake in Time.
A Cake in Time — Wading River
More than just a bakery, A Cake in Time boasts walk-in cake and cupcake decorating. This is not a class, but rather a work space to use its materials to decorate your cake however you like. If you're looking to learn, check out its class schedule. Its carved cakes, such as purses, sports equipment and characters, are especially impressive.
RELATED: Do-it-yourself party spots for LI families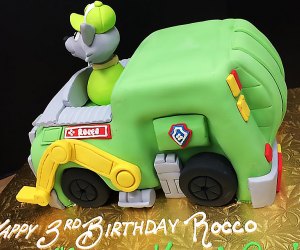 Rocky and his Paw Patrol buddies make for a special treat from Audrey's Fine Baked Goods.
Audrey's Fine Baked Goods — West Sayville
Audrey's is a traditional bake shop with bread, pastries, cookies and cakes, but its tiered cakes are truly magnificent. It accents cake themes with wonderful modeling chocolate figures and cake toppers. Gluten-free cakes can be ordered in advance.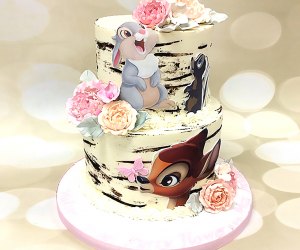 An elegant and sweet Bambi cake from Fanny Cakes is a lovely birthday delight.
Fanny Cakes — Nesconset
The name almost says it all. Named after the owner's grandmother, Fanny Cakes focuses on quality desserts for parties and gatherings. It creates custom cakes and couture cupcakes. If your child is an aspiring baker or cake decorator, Fanny Cakes offers a number of dessert decorating party packages. It is not a traditional bakery storefront, so contact the staff by phone or email ahead of time.
RELATED: Superhero party destinations for LI kids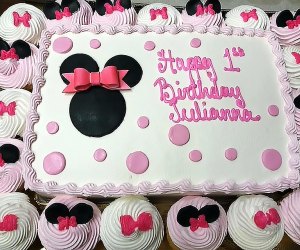 A sheet cake adorned with cupcakes from Park Bake Shop is a birthday delight.
Park Bake Shop — Kings Park
Tiered cakes, sheet cakes, or cupcake cakes are on the menu at Park Bake Shop. Cupcake cakes are a popular option for children's parties as they are much easier to hand out and handle. Before leaving Park Bake Shop, make sure to take home a fresh donut or cronut.
RELATED: Birthday party ideas and venues for LI tweens

The Dark Knight cake from Patsy's and Son makes for a perfect day.
Patsy's and Son Italian Bakery — Lindenhurst
Patsy's is another mainstay on Long Island. It first opened its doors in 1955. Its delicious Italian pastries keep patrons coming back over and over again. However, you don't want to look past its custom cakes. They are clean, professional and in many cases, breathtaking.