6 Superhero Party Places for Long Island Kids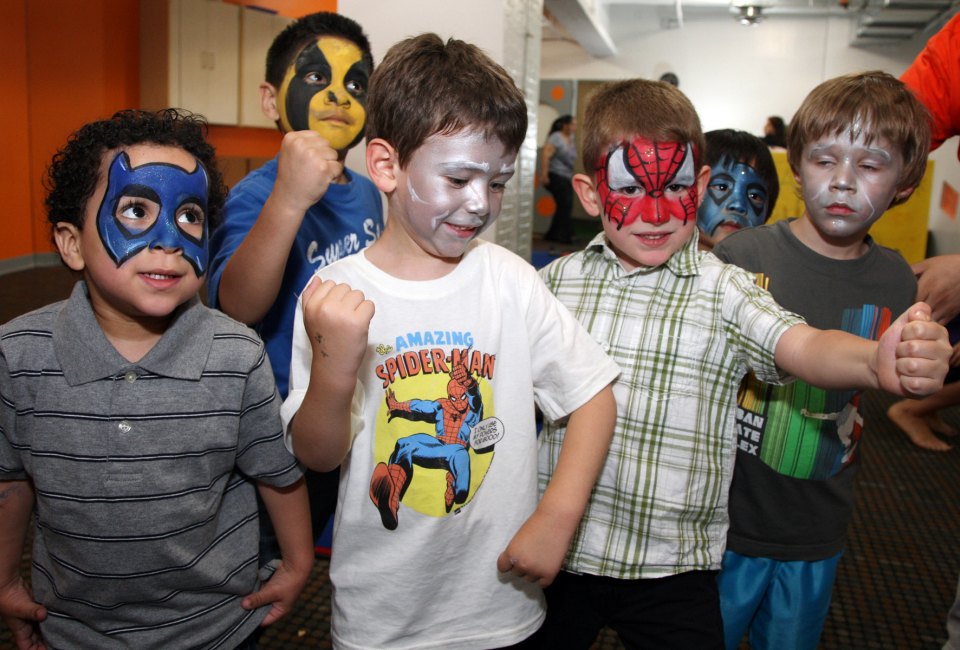 2/2/17
- By
Linda DiProperzio
Do you have a child who can't get enough of caped crusaders and masked avengers? If so, there are quite a few venues on Long Island that offer parties catering to the ever-popular superhero theme. Whether you're looking for a costumed character to make an appearance or want to give guests the chance to dress up as their favorite heroes and try out their newfound superpowers, here are six Long Island spots that will make your own little hero very happy for their special day. For more party ideas, be sure to check out our Birthday Party Guide for Long Island Kids.
Fantazy Junction — Plainview
1163 Old Country Road
Fantazy Junction's superhero theme party includes superhero decor (The Avengers or Justice League), your child's favorite movie on a giant screen, tattoos, a make-your-own-mask activity, and a variety of themed games, including freeze dancing, skyscraper building, limbo, and an obstacle course. Your child's guests will soar away from the party with goody bags filled with masks, water bottles, and finger puppets.
Krafty Hands — Great Neck and Syosset
800 Northern Boulevard, Great Neck
49 Ira Road, Syosset
Crafty crusaders can create their own high-flying, shape-shifting cape at Krafty Hands' So You're a Superhero? celebration. Each 90-minute party includes a DJ and dancing, pizza, unlimited drinks, a choice of cotton candy or popcorn, face painting, tattoos, games, and movie clips on a 135-inch screen.
Kidville — Commack, Garden City, Roslyn Heights, Wantagh
6B Garet Place, Commack
960 Franklin Avenue, Garden City
250 South Service Road, Roslyn Heights
1183 Wantagh Ave., Wantagh
Let your child transform into his or her favorite superhero for a day at Kidville's Superhero Birthday Bash. The party begins with a warm-up at the interactive building blocks and Play-Doh stations, where your child's name will be spelled out entirely in dough. The kids then gear up for the adventure ahead by making superhero masks and capes. Once they're suited up, they move to the training station to learn how to shoot webs through hoops, knock down walls, navigate an obstacle course in a superhero car, and take to the air in their new cape on Kidville's zip line. Then it's food time (little heroes need energy, after all). The party includes exclusive access to the play space, decor, staff, setup and cleanup, cake, favors, and invitations.
Long Island Children's Museum — Garden City
11 Davis Avenue
LICM's superhero party lets your child and friends make their own clever disguises and fight imaginary villains who are plaguing the museum—all with the help of a friendly museum host to guide the activities and play. Parties are 1.5 to 2 hours and include a private party room, staff, setup and cleanup, invitations, paper goods, and a two-for-one coupon for a return visit. Recommended for ages 5 and up.
Long Island Puppet Theatre — Hicksville
10 Heitz Place
Though the superhero party here doesn't involve puppets, kids will have a blast in the theater playing superhero games custom-tailored to your child and his or her favorite hero. Past parties have included a training program for powers and alter egos, freeze tag, and a scavenger hunt for fake kryptonite hidden around the theater. The 2.5-hour party includes tattoos and dancing, one superhero-costumed character guest, and a host to lead the fun.
Once Upon a Sundae — Rockville Centre
20 S. Village Avenue
For little heroes who need a good dose of ice cream to complete their transformation, head over to Once Upon a Sundae, which provides superhero costumes and tattoos (for boys and girls) for their sundae-themed birthday parties. Kids will also complete a take-home craft (ceramic painting or painting on hand puppets or aprons) and will have plenty of time to try out their new identities in the open play space, which includes a chalkboard, slide, and Lego table. Parties are an hour and 45 minutes and include invitations and pizza (as well as plenty of ice cream and fixings!). Add-ons are also available to make your child's party truly super-duper.
Top photo of a superhero party at Kidville. Image courtesy the venue.
This post was originally published in 2015 and has since been updated.
Enter to Win!