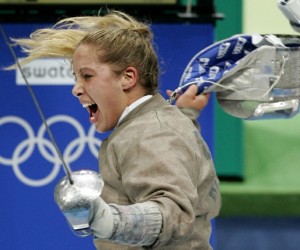 Fencing Classes Where LA Kids can Swash Their Bucklers
Fencing sometimes gets a bad wrap – plagued by rumors of violence, elitism, and big price tags. Don't believe any of it! Kids know that fencing is cool because it's kind of like what Johnny Depp does in all those Pirates of the Caribbean movies. Savvy parents know that it's the favorite sport of Ivy League sports scholarships. Either way, it's an extreme sport worth checking out.
Nicknamed "physical chess," fencing is literally about thinking on your feet; the ancient sport often attracts those not drawn to more traditional sports, as it leaves room for smarts to win over strength. Having said that, it's also great exercise, developing balance, agility, speed, and endurance while sharpening focus, concentration, and decision-making skills. Most lessons take place one-on-one with a coach, but monthly club memberships (or "floor fees") also allow for time spent bouting with other fencers and practicing drills. A free introductory lesson is pretty standard for easing in new fencers, and kids can use the club's weapons and gear until they get into competition.
We've rounded up LA's top fencing salles (as the schools are called) for aspiring swashbucklers, some of which have produced world and Olympic medalists, along with a fair share of Ivy League acceptance letters…
Currently LA's oldest fencing club, BH Fencers has been around for more than 30 years – though it moved out of high rent Beverly Hills years ago. It's now located in a warehouse just east of downtown Culver City, where kids and adults can try their hands at foil, epee, or sabre with one of the salle's four nationally respected coaches. The club runs a popular group program for kids as well.
3639 Eastham Drive
Culver City, CA 90232
310.204.0085
carla@bhfencers.org
Floor fee: Daily $15; Monthly $70
Private lessons $35-$40
Moving from LA's oldest to newest, Avant-Garde's head coach, Daniel Costin, may be new to running his own club, but he's been one of the country's top fencing coaches for decades. The club specializes in sabre and, in addition to private lessons and competitive programs, offers group classes for kids starting at seven years old or for adults looking for a workout.
2209 Barry Avenue
LA, CA 90064
310.473.8890
info@avantgardefencersclub.com
Floor fee: Daily $17; Monthly $80
Private lessons $30-$33
Los Angeles International Fencing Center
LAX, as the club is nicknamed, is home to several internationally renowned coaches in all three fencing weapons and boasts some impressive results among its young athletes. The club has been around since 2004 and offers some after-school enrichment programs at local schools as well as group beginners classes for kids at its spacious facility.
11755 Exposition Blvd.
Los Angeles, CA 90064
Phone: 310.477.2266
fencing@lafencing.com
Floor fee: Daily $20; Monthly $85
Private lesson $35
First, let's set the record straight: the name of this club has nothing to do with the price! Coach Amy Fortune is a national epee champion and lent her name to the club, where she teaches alongside other nationally and internationally renowned coaches. In addition to afternoon, evening, and weekend hours, the club offers a homeschoolers program on Friday mornings.
144 W. Chestnut Ave
Monrovia, CA 91016
626.471.3565
fortune411@roadrunner.com
Floor fee Daily $15; Monthly $50
Private lesson $25
Folks who live in Burbank know this place from its highly visible, freeway-friendly façade just off the 5. Probably best known for its birthday party business (no fencing purists and snobbery here; these are the folks who turn up with lightsabers to arm a yard full of kindergartners!), Swordplay also has a sport fencing program, with some group classes for kids and beginners.
64 East Magnolia Blvd.
Burbank, CA 91502
818.566.1777
director@swordplayla.com
Floor fee: Monthly $55 (or $95 with weekly class)
Private lesson $20-$27
Swords is everywhere. No really they is – er – are. The small salle in Burbank boasts that it's the largest fencing club in LA, and – apart from the fact that it's never wise to argue with people brandishing swords – it does seem that Swords has more locations than any other club. If you've seen fencing classes offered at parks and rec buildings in Agoura, Calabasas, Camarillo, Glendale, Lancaster, Palmdale, Pasadena, or Santa Clarita, these are probably the folks making it happen. Prices vary by location; the details below are for the main studio in Burbank.
2115 N. Glenoaks Blvd.
Burbank, CA 91504
818.281.0564
swordsinc@yahoo.com
Floor fee: Daily $10; Monthly $65 (or $85 with group class included)
Private lesson $25
Finally, for a little inspiration check out this two-minute clip about fencing, in which several of our country's top young female fencers talk about why they love the sport! (Note, you need to click on the size video you want to see.)