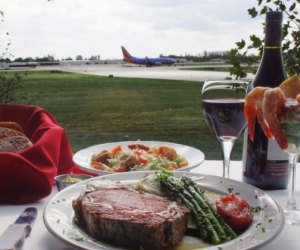 Brunch at the 94th Aero Squadron in Van Nuys - LA Fathers' Day Fun
We all know Mom loves brunch, but does Dad? Well, we've got a hunch Dad will love brunch in the Valley with kids if you book a table at the 94th Aero Squadron this Fathers' Day. The unusual restaurant, set smack dab on the runway of the Van Nuys Airport, offers panoramic views of planes landing and taking off. You could even create a whole aviation-themed Fathers' Day, by continuing on to Santa Monica's Museum of Flying after brunch!
A surefire pleaser for just about any age, Van Nuys Airport's 94th Aero Squadron is covered in ivy and decorated with an assortment of vintage oddities that include a wagon filled with hay and a giant antique airplane. We recommend getting there early, so you can count on a window seat - and take advantage of a $5 early bird discount. Whether inside, with its assortment of propellers and ephemera hanging from the rafters, or outside in the spacious patio circled in mature shade trees, the aviation theme weaves throughout. There is even a faux bombed out room with nods to both WWI and WWII, sure to draw in history buffs and novices alike.
The restaurant is open daily for lunch and dinner, but Sunday Champagne Brunch Buffet is the best time for families to experience the splendor that is the 94th Aero Squadron. The spread of food is truly spectacular, and children are presented with free flying paper glider airplane kits that are easily assembled and sure to get everyone in the right frame of mind for the first sight of a taxiing plane.
The food itself is bound to please everyone. And I mean everyone. The range from sushi to enchiladas to fresh crab legs is truly astonishing. There is a waffle station with homemade waffles and whipped cream, a carving station featuring a whole ham, turkey, and roast beef, as well as eggs made to order. Decadence is the name of the day. There are ten different kinds of cake amongst other pastries and perhaps the best item of all: a chocolate fountain. This geyser of liquid pleasure comes with a host of treats to dip in the well: strawberries, marshmallows, and even Rice Krispie treats. It's a little like stepping into Willy Wonka's magical factory tour.
But truly the best feature of the restaurant is the location. The Van Nuys Airport features some of the world's oldest and newest aircrafts arriving and departing. As if that isn't enough, visitors can check out a Metrolink Train and various trucks and helicopters, too - a true feast of vehicles. With more than a thousand planes landing and taking off everyday, there is an endless parade of things to look at. The patio is so close to the runway, you can feel the vibrations of the airplanes. And if the view is not sufficient entertainment for your kids, there is also a fountain and duck pond with ducks waddling around.
A small slice of Los Angeles in all its kooky, unique glory, the 94th Aero Squadron is a great place to bring family and out of town guests any day of the year, but we're calling that champagne and roast beef buffet particularly perfect for Father's Day.
The 94th Aero Squadron Restaurant
16320 Raymer Street
Van Nuys, CA 91406
818.994.7437
Reservations can be made online.
Plenty of parking is available in front.

Sunday brunch usually runs 9am-3pm.
Originally published June 13, 2012