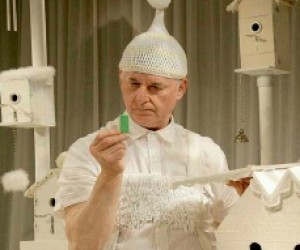 White at the Wallis Annenberg Center - Parent Theater Review
White, the latest family-friendly production at the Wallis Annenberg Center for the Performing Arts, is sweet, funny, and an excellent introduction to the theater for young ones. Simple but smart, the award-winning White captivates young audiences without speaking down to them.
Cotton and Wrinkle live in a white world. White food, white clothes, white floor, white birdhouse, white eggs, white Cotton and Wrinkle. Each day they do their chores, making sure their world is perfectly white, tending to the birdhouses and welcoming their charges, little baby eggs dropped from above. You can see where this is going: into the whitest world, some color must fall. Unwelcome, and ill-fitting, just so… beautiful.
Like a kind of Waiting for Godot for the preschool set, White offers no context to the characters' situation, and minimal dialogue, but the kids in the audience get it. They watch with rapt attention, engaged and eager to point out details. Cotton and Wrinkle convey a genuine spirit of love - for their work, for their baby eggs, and for the kids in the audience.
OUR LATEST VIDEOS
Despite its short length, (it has a run-time of 35 minutes) White finds sufficient time to develop the world and establish its rules. So when color starts to appear, first a touch of green, a speck of pink, then – oh my – vibrant red, kids appreciate how profoundly life-altering it is.
One of our party was concerned about attending a play; perhaps too many scary sequences in movies had him primed to be on alert. Let me assure you this production is blessedly free of scary, loud, suspenseful or tear-inducing moments. Cotton and Wrinkle (and the actors playing them) are very warm, with a gentle childlike enthusiasm. After the show, they mingle with the audience (in character), asking kids' names and discussing, what else, colors. (I noticed Cotton taking special effort to carefully approach one sensitive child.)
The show is advertised as being appropriate for ages 2 – 5, and it most certainly is, that and then some. We went to a matinee showing on a school day so our audience was strictly pre-school. Older kids are likely to get a kick out of the minimalist absurdity of it all, and I can tell you the moms were absolutely charmed.
The audience collects in the lobby before showtime and is let in en masse after brief instructions. (I couldn't make it all out, but the gist was, feel free to step out if you need to, no photos during the production though you may take pictures after the show is over.) Seating in the 150-seat theater is general admission. The first few rows are rugs on the floor; the rows behind that are backless benches. Be aware that your child may have his or her view blocked by adults in front: our kids and all the kids around us were perched on parents' laps to give them a better view.
Self-parking under the Wallis runs $2 for 2 hours, $8 for 3 hours. (Rates may vary throughout the day). The entrance to the garage is across Canyon Drive, but the escalator brings you up right next to the theater. Beverly Hills has other public parking options that may be more economical. For evening shows, parking in the lots along Santa Monica Blvd. between Camden and Beverly is completely free after 6pm.
White runs Thursday through Sunday until March 23, 2014. Check our listing for full details.