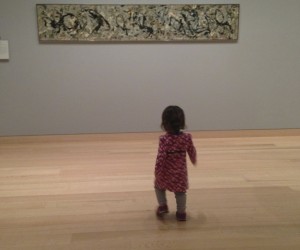 Museum of Fine Arts, Boston with a Toddler: Five Things to Do and Five Things to Know
In my college intro to art history class, I learned how to examine and really 'read' a painting, its symbols, icons, and contexts. I loved how all the details contributed to a greater understanding of the composition as a whole. Since kids have an uncanny ability to observe (and remember) the most obscure details, why not help them practice on a painting? When summer days are hot (or winter days, miserable), we trek out to the Museum of Fine Arts with our daughter. Read on for tips we've learned from our visits. For more tips on ways to engage your children before and after your visit to the MFA, check out Tara's post from last summer.
---
Five Things To Do:

1. Most of the art at the MFA is strictly for looking at, and not touching. But visit the beaded curtain installation (Passages: Golden) by Felix Gonzalez-Torres in the Linde Family Wing for Contemporary Art and watch your child weave in and out of the long beaded threads. For half an hour.

2. Find a gallery less visited, and roam. While the special exhibitions attract crowds, and with good reason, kids tend to need their space, and many rooms in the permanent collections offer vast (carpeted) spaces. Visit the museum's impressive collection of Egyptian art, masks, modern American art, and textiles.

3. Use the Museum's kids and family page to create a scavenger hunt for school-aged children, or create one of your own (for toddlers and preschoolers). Include barnyard animals, musical instruments, flowers, children, masks, etc. Make sure you do a bit of research beforehand to find the rooms containing some of the items on your list if you're making one from scratch.
4. Visit the family art cart for interactive goodies, puzzles, and resources, designed for ages 4 and up to enjoy. Tote bags include a sketch book and colored pencils for kids to draw their own likenesses of what they see.
Cart hours:
July-Aug: Wed., Sat., Sun, 10am-4pm
Oct-June: Sat. and Sun. only, 10am-4pm
5. Visit your old favorites or your new ones. Mine live in the European galleries, and include Rembrandt and Monet. Ask kids questions about what they see.
Five Things to Know:

1. Food and drink are allowed only in the museum's designated dining spaces. Put sippy cups away when you're in the galleries themselves.

2. Strollers are permitted, but this is a good place to use an umbrella stroller and not a larger one. It can get crowded.

3. There's a private nursing room off the Hemicycle gallery, which is pretty sweet, and changing rooms throughout the museum.

4. It's probably not a good idea to try to see the whole museum in an entire visit. Pick one or two places you feel like going, and take it from there.

5. Go early to beat the crowds. The museum opens at 10 every day, and we've never had a long wait to get in. There are free days (in the summer, and on Martin Luther King Day), but it's usually very crowded.
---
Museum of Fine Arts, Boston
465 Huntington Avenue
Boston, MA 02115
Hours: Saturday-Tuesday 10am-4:45pm
Wednesday-Friday 10am-9:45pm