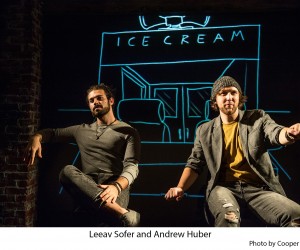 Man Covets Bird at 24th Street Theatre: Parent Review of a Family Show
There is a lot to love about 24th Street Theatre. The team behind this homey little playhouse is passionately devoted to education, to neighborhood outreach, and to a different kind of children's theater. Most of the the shows 24th Street produces are not public events, because the company devotes most of its resources to programming for local schools. But when this team decides to launch a public production, you can count on it being inventive and thought-provoking. 24th Street is not a place to see another Saturday morning Snow White; it's a place for ground-breaking theater that takes kids along for the ride. The last show we saw there, Walking the Tightrope, delighted so many families that Center Theater Group picked it up for an extended run. The company's latest production, Man Covets Bird, may follow the same path.
In fact, Angeleno families are fortunate to be part of a renaissance in children's theater. In recent years, our arts scene has added The Wallis Annenberg Center in Beverly Hills, which brings us remarkable works of theater like Lifeboat and White; Pasadena Playhouse has created a British style family panto the last few Christmases, and Culver City's Actors' Gang enriches our summers with free family Shakespeare like the Harry Potter Hamlet. Children's theater clearly ain't just for kids anymore. And Man Covets Bird takes its place among these inventive family productions.
The story is told by two powerfully talented actor/musicians, who play several different characters and instruments as they craft the tale of a boy on the cusp of manhood, who wakes up one day having crested that cusp. His parents no longer seem to know him, but a little bird does, and that bird becomes his constant companion as he sets out on a life journey.
The play takes the form of a long poem; the man always speaks of himself in he third person and narrates the action as it happens. This is supported by a set which is predominantly created by animated projections, giving the impression of a storybook springing to life from its pages. The action is performed without intermission, in a little over an hour.
On opening night, children in the audience ranged from 7-12, and all were thoroughly engaged throughout. I spoke to as many as I could, curious if the abstract nature of the action was confusing for the littlest ones. Interestingly, the 7-year-olds, while admitting to moments of confusion, seemed to be the most enthralled of all. They were always able to figure out the parts that momentarily confused them, and the different way of looking at a story seemed to delight them–though all three 7-year-olds I spoke to felt that a 6-year-old would not have been able to keep up.
The 10- and 11-year-olds I brought enjoyed the show as well (there wasn't a moment of fidgeting or reaching for electronics), and we were able to have an interesting conversation afterward about some of the symbolism and methods of storytelling. Adult conversation in the lobby post-show was animated as well; the play clearly gave everyone something to think about.
There is no subject matter in Man Covets Bird to concern parents; the only reason for the age recommendation of 7+ is abstractness. For example, one young girl I spoke to was a little perturbed that when the boy woke up having grown to a man, his own parents didn't seem to know him anymore; she took the metaphoric moment literally. From a parent perspective, I confess that the moment made me a little sad, too. The 7-year-old was able to take her discomfort in stride and move on, though, where a younger child might have remained stuck or sad.
Overall, the man's journey and the play resolve in joy and hope, as every great family show should. And all of the kids I spoke to got that message loud and clear.
Man Covets Bird plays though November 22, Saturdays and Sundays at 3pm, plus Saturdays at 7:30pm. Gated parking is available across the street for $5; early arrival is strongly recommended to fit into this lot, as street parking can be tough to find.