Best Kid-Friendly Restaurants in Warwick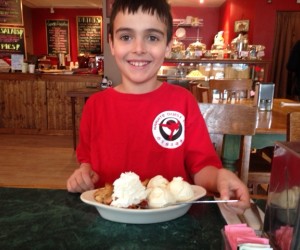 During our month-long focus on Warwick, we've explored our favorite things to do with kids in the area, as well as our top places for indoor and outdoor play. We wrap up our coverage with a roundup of family-friendly restaurants in town.
Warwick has a plethora of eateries, ranging from fast-food chains to higher-end options like Chateau Hathorn. Most of our picks fall somewhere in the middle, and all of them are kid- and parent-approved by my family!
Taco Hombre
93 Main Street
Taco Hombre gets high marks for its solid fare and quick, easy ordering — food is served cafeteria style, which my 8-year-old loves because he can detail exactly what he wants, and doesn't want, on his taco. They recently moved to a new location.

Café a la Mode
1 Oakland Avenue
While your kids may get immediately sidetracked by the rows of baked goods, the wide ice cream freezers, and the large chalkboards detailing specialty shakes and sundaes when they first walk in (mmm…Zebra shake…), Café a la Mode also has a full menu with sandwiches, salads, burgers and wraps. The atmosphere is relaxed and the prices are affordable. There are also a few tables to eat outside when the weather cooperates.

Pennings Farm Market
161 State Route 94 South
It's an orchard, a garden center, a pub, a beer garden, and, yes, it's a restaurant. With a menu that changes seasonally, but always features easy-to-please kid favorites like burgers, mac and cheese, and chicken fingers, Pennings is a favorite of our family. The kids can run around on the playground until it's time to eat, and there is almost always live music on the weekends. They also do a mean fish fry, if that's your thing (it's definitely mine!).

Fetch Bar & Grill
48 Main Street
With the walls covered (completely covered) in photographs and paintings of dogs, Fetch has plenty of things at which to gaze while waiting for your food. It does teeter a bit on the edge of family friendly—it can get extremely crowded on weekend evenings—so this is probably best for children who don't mind sitting still and coloring while they wait for their food.

Harvest Luncheonette
633 County Route 1
A diner in Pine Island, the Harvest serves Mexican, Italian and American breakfast, lunch and dinner. For some reason, everything tastes better to my son when he's sitting at the counter and spinning on a stool. The staff is also exceptionally friendly.

G's Restaurant
32 Main Street
G's serves breakfast, lunch and dinner, and it has a large menu that includes standard kid fare (cheeseburgers, chicken fingers, etc.) and comes with crayons and coloring placemats. We like to go for breakfast because the plates are large and the staff is quick, even when the restaurant is jam-packed.

Rogowski Breakfast on the Farm
329 Glenwood Road
Held only on the weekends, Breakfast on the Farm is just as it sounds with dining done in a barn on W. Rogowski Farm—and directly in the kitchen when the winter farmers' market is going on. The menu isn't large, but everything is made with fresh and local ingredients. It can get crowded—especially on market weekends, which are held once a month in the winter—so your best bet is to get there early. Even with crowds, we've never waited an unreasonable amount of time.

Franico's Pizza
25 Elm Street
There are several pizzerias in Warwick, but this one gets the highest marks from us for its pies (pizza this time) and its entrees. The rice balls and the fried calamari are personal family favorites. There is some outdoor seating when the weather is nice, but the view is of the less-than-stunning parking lot.
And for dessert...
Eat Sweet
28 Railroad Avenue
Located across from where the Summer Concert Series is held, Eat Sweet is a perennial favorite for our entire family. Whether its macarons, macaroons, tarts, cookies or cake pops, I don't think I've ever had anything I didn't absolutely love. There is some seating inside, including a set of toddler-sized table and chairs, but you can also walk your treats over to the Railroad Green if it's too crowded.
Noble Pies
38 Main Street
Update: This is now closed.
Though you can find sandwiches, paninis and salads here, the obvious draw is pie! Once a pie stand on Route 94, Noble Pies now has a storefront that sells whole pies and a café (photo above) where you can try both sweet and savory pies. Their savory pies vary from day to day, but their dynamite Shepherd's pie is almost always on the list. In addition to the sweet pies, which also vary depending on the day, they also have cookies and brownies. Insider tip: The ice cream in their a la mode comes from Bellvale Farms Creamery (see below), one of the few places you can get it during the winter.

Bellvale Farms Creamery
1390 Route 17A
Everyone thinks his or her town has the best ice cream place, but I'm willing to do a blindfolded taste test with anyone who thinks they can best Bellvale Farms. It's the kind of ice cream that will ruin all other ice creams if you eat it too often (and our house tends to do just that). Although it's small inside, with just two or so tables, there is plenty of seating outside and that's where everyone wants to be anyway because there are breathtaking views of the valley below.