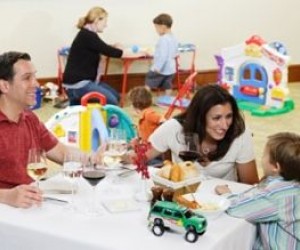 Kid Friendly Dining Redefined at Aura Restaurant
Boston certainly offers a plethora of family-friendly dining options around the city. After writing about family-friendly dining in two very specific areas for Mommy Poppins, Charlestown and Fort Point I was asked, "What does Family-Friendly actually mean?". I told them the answer was two-fold: 1.) No annoyed looks from the hostess, waiters, and patrons when you ask for a highchair and a kid's menu and 2.) The restaurant actually offers highchairs and kids' menus. But I recently learned the term "family-friendly" can mean so much more. Enter Aura's Fine Dining Family Style concept, where you don't have to give up your discerning palette OR eat at the speed of lighting to keep up with your constantly moving child.
Aura takes the term "Family-Friendly Dining" to a whole new level, offering kids plenty of opportunities for fun. They provide movies, toys, crafts, and games - with help from a representative from The Kid's Place in Needham.
I didn't really know what to expect as we walked in. After choosing our seats, I noticed there was a pink rubber
duckie
waiting on my 2 year old's plate, along with the standard paper and crayons.
Okay
, I thought,
I guess they went the extra mile with a bath toy
... But then I turned around and saw the following, much to my (pleasant) surprise: a large craft table with stickers and pencil boxes for each child, pillows in front of a mini movie screen, play castles, toy trucks, and pretend kitchenware to "serve" Mommy and Daddy. Jackpot. I sat back in my seat and actually had a 20 minute undisturbed conversation with my husband out at dinner for the first time, well, since becoming Mommy and Daddy.
Everyone in the play area had name tags (a nice personal touch, I thought) and the attendant on hand quickly became our daughter's new best friend, helping her decorate her new pencil case with stickers. One would think with all of this distraction, getting your kid to eat would be impossible, right? They had a solution for that, too.
Aura created a mini buffet where kids can bring up their own plates and pick from a great selection of healthy foods, perfect for little hands. Our daughter chose her own chicken skewers, pot stickers, a bowl of cereal, banana slices, cut up veggies with her own bowl for dipping sauce, and a mini Quesadilla. Talk about a happy toddler: food she got to pick out "all herself" that was fun to eat, too.
The best part? Our food was excellent. This is no
Applebee's
. We started with a delicious mix of Heirloom tomatoes over
Burrata
, followed by a delectable steak with basil mashed potatoes. Then we finished it off with a rhubarb creme
brulee
.
Aura's Fine Dining Family Style dinner is a
total win-win for parents and kids. I highly recommend it. My only complaint? Aura doesn't offer this wonderful concept every weekend (or every night).
---
Fine Dining Family Style at Aura Restaurant, One Seaport Lane, Boston, MA 02210. Price range: $$$. For upcoming dates, check Aura's Calendar of Events.