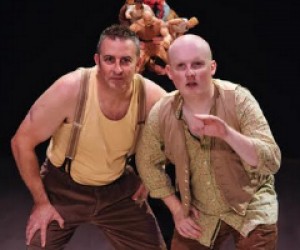 Jason and the Argonauts at the Wallis Annenberg Center - Parent Review
If Jason and the Argonauts is a sign of the type of kid-friendly theater we can expect from Beverly Hills' new Wallis Annenberg Center for the Performing Arts, then families have a lot to look forward to - and a great new reason to rediscover 90210. The 65-minute production out of Scotland is a rare treat, serving up classic story and mischievous humor that reaches a variety of ages simultaneously.
If you haven't yet found your way to the Wallis Annenberg Center, it's an enormous arts complex in the heart of downtown Beverly Hills that fits the style of its surroundings well enough to look like it's been there for ages - unless, like me, you find yourself staring incredulously and wondering aloud, "How and when did THAT appear on Santa Monica Boulevard?" The façade is attractive, but even more attractive is the range of programming inside, with an inaugural season that includes theater, concerts, opera, and dance.
Jason and the Argonauts kicks things off well, treating audiences to a classic tale from Greek mythology told in unexpected ways. Two master storytellers take turns at all of the roles, making changes so rapidly that they sometimes trade roles within a single sword fight. The swords are imaginary, though, like everything else; the props are all simple items that any child might have access to - right down to a box of action figures playing the Argonauts. And although there are perilous scenes of sword fights, storms, and vicious dragons, the storytelling style and the antics of the performers keep moments of peril from feeling frightening.
OUR LATEST VIDEOS
The theater recommends the show for kids ages eight and up, but opening night there were children as young as five or six who seemed quite happy. The pace is quick, and a small child is likely to miss chunks of dialog, but so much merriment takes place on stage that even a child who loses the thread can enjoy the show. As long as your kids can handle 65 minutes without an intermission, there's no reason to worry about age appropriateness.
It's worth arriving early, as each performance is preceded by craft activities; kids can make origami boats and place them on a giant map of Jason's path through the ancient world. Another reason to arrive early: seating is general admission. Parking under the theater costs $5 at matinees and $8 at evening performances, but Beverly Hills has cheaper public parking options, too. For evening shows, parking in the lots along Santa Monica Blvd. between Camden and Beverly is completely free after 6pm.
Jason and the Argonauts runs Thursday through Sunday until February 2, 2014. Check our listing for full details and a discount code.