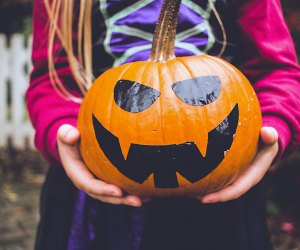 New York State Releases Halloween Safety Guidelines for 2020
With Halloween less than a week away, New Yorkers are already making plans to celebrate, and now Governor Andrew Cuomo has released guidelines for safe Halloween celebrations.
True to his statements from earlier in the fall, trick-or-treating will not be banned, but it's not the safest Halloween activity during the pandemic. New York State's guidelines emphasize that "the best way to celebrate Halloween this year is to have fun with the people who live in your household," in many ways mirroring the rules put forth by the CDC in September.
Read on for the full details on the New York state Halloween guidelines, and bookmark this list of safe, socially distant trick-or-treating alternatives as you plan your holiday happenings.
The New York state Halloween guidelines emphasize celebrating with your family and sticking close to home, offering ideas like trick-or-treating from room to room rather than traditional door-to-door candy collection, decorating your house, or mounting a neighborhood-wide decorating contest, watching spooky movies, and enjoying Halloween-themed games.
If you want to get neighbors and friends involved in your celebrations, safe bets include mounting a costumed car caravan instead of a traditional costume parade.
If the holiday is incomplete without trick-or-treating, the guidelines strongly recommend staying outside, so door-to-door treat collecting in apartment buildings isn't recommended. Non-food items like temporary tattoos, stickers, and small trinkets are better options than candy this year, and direct contact should be avoided when handing out or collecting treats.
If you plan to dole out treats, "Set up a station with individually bagged or packaged treats for kids to take." There should be no dropping individual candies into trick-or-treaters' bags or allowing them to pick and choose from a communal bowl. Homemade treats are also a no-no.
Of course, any celebration must include an appropriate face mask for all revelers over the age of 2. Halloween costume masks don't make the cut, but these Halloween-themed ones do. Families should practice social distancing at all events and exit any area that is too crowded.
As you consider your plans, pay special attention to the New York State COVID Tracker and skip celebrations if the case numbers are high in your area. Of course, anyone who has any possible symptoms or recent exposure should stay home, as well as anyone who has traveled internationally or to a state affected by the New York state travel advisory.