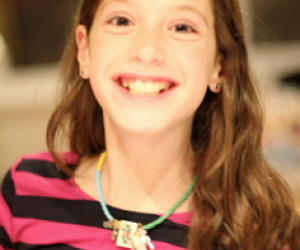 Girls Birthday Party Ideas: An At Home Beading Craft Party
This fall we did an at home beading party for my daughter and I found this to be one of the most fun, versatile, inexpensive and easy to organize birthday party ideas we have ever done. A beading birthday party is a great idea for girls from preschool age to teens and it's a great idea for NYC kids because it's easy to do even in a small apartment and in New York we have easy access to all the wholesale beading stores where you can pick up all kinds of fun beads.
This was a super easy party to organize. All we did was make a trip to the Garment District to pick out our beads. There are several beading stores right in a row on Sixth Avenue and 38th Street. We liked Fun2Bead the best. With thousands of bead choices and lots of inexpensive findings you can spend a few hours just picking out your beads and a whole lot of money if you're not careful.
My daughter already had a few bead kits with tons of beads, plus I had a few necklaces that I was happy to have recycled. We came up with a budget for some additional "accent" beads, plus clasps and cords. Of course we went a little overboard once we were there. There were so many great beads.
Depending on the type of supplies you use you may not need any tools. We had some fishing line at home and bought magnetic clasps, for which we wouldn't need any tools except scissors, but we also got some memory wire, which is best to close up with a pair of pliers.
Picking out the beads at the wholesale store was half the fun, but you can also buy beading kits or supplies online. Good old Oriental Trading has tons of glass and plastic beads and supplies. They've got a lot of cute stuff and, especially for little kids, are a great place to get supplies for your beading craft party.
I was throwing a party for 11 year olds so the actual party was pretty easy. We set out all the beading stuff, snacks and the girls came and just hung out and beaded for hours. We took a break to do make-your-own pizzas, which was almost gilding the lily since they were just having so much fun beading. Really the only thing I think we could do better next time was to make the party longer. At this age, the girls probably could have just hung out all day and had a blast.
For younger kids, that might not have the attention span to bead for as long, the beading could be combined with one or two other activities like cupcake decorating or nail art, or they could just play.
After pizza the girls finished up their projects and played Wii Party, which is a really fun multi-player game that is great for a get together or a family game night. The girls loved it.
Each girl took home her creations in a pretty little organza bag that we bought at the beading store. Plus they were able to take extra beads and findings to make another project at home.
Birthday parties are always fun, but I think this one was particularly great. I loved seeing all the girls working on their projects and they all had a blast. It was super fun and easy to set up, very doable even in a small apartment, totally stress-free and didn't cost a fortune. If I'd had better self-control at the bead store it would have cost even less.
See more birthday party ideas in our Birthday Party Guide and check out our post on New York City stores that wil host your beading party.
This post originally published in March 2012.