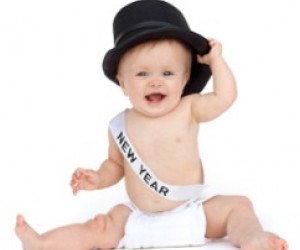 Fun & Free Activities with LA Kids this weekend: Oshogatsu, Kwanzaa & Lunar New Year: Jan 4 - 5
Whoo hoo! It's 2014, baby! No more of that wishy-washy, so-24-hours-ago, 2013 nonsense. It's 2014 all the way. Because you are not only on top of, but in fact ahead of the curve, we can even let you in on our peek-into-the-future, best-of-what-is-yet-to-come highlights list known as our January Go List. (And for those of you who just wrote the first check of the year with a slash one-three date, all I can say is, really? Really? SMH and RME.)
2013 may have gone out like a wrecking ball, but 2014 is starting slow, thank heavens. (Momma needs a break after all the "vacationing" the kids have been up to!). In the meantime, maybe now's a good time to get back on track, tidy up your messes, and follow through on your resolutions. If one of your resolutions was to recycle more, we can help you off to a good start: Mommy Poppins has the low-down on Christmas tree recycling options throughout Los Angeles.
Before you know it, it will be business as usual. Martin Luther King. Jr. Day is just around the corner, and Lunar New Year events are starting to pop up, including this weekend's Oshogatsu Festival at the Japanese American National Museum (they have free pony rides!). And that's just the beginning of what 2014 has to offer....
Keep reading for some of our favorite picks for the weekend...
ALL WEEKEND
Disney on Ice: Rockin' Ever After - Long Beach
New year, new venue, same ice-tastic show! Merida and her Disney Princess pals rock the Long Beach Arena; check out our review.

Frozen (PG) - Hollywood
Oh no! That chill that went up your spine? It's the realization that this is your last weekend to see Disney's Frozen at the El Capitan! (And, yes, we reviewed that, too).

Bob Baker's Nutcracker - Downtown
The holiday season has one last hurrah, as The Nutcracker plays its final weekend at the Bob Baker Marionette Theater.

SATURDAY JANUARY 4
Home Depot Kids Workshops - Multiple Locations
Made it to 2014 but forgot to get a new datebook? No worries? Your kid can make a free desk calendar at the monthly free workshop at Home Depot.

Saturday Morning Concerts at Books and Cookies - Santa Monica
Work that gray matter! The music of the Beatbuds exercises kids' minds.

Story Theater with Victoria Goring - West LA
Families can enjoy interactive fun as Victoria Goring creates new stories live from children's suggestions.

Silk Road Story Time - Pasadena
Sit back and listen to some New Year's tales at the Pacific Asia Museum.

Free Crafts for Kids - Multiple Locations
New year, new crafts at Lakeshore Learning! This week, make a celebration party mask.

Babes in Toyland - Santa Monica
Last weekend to catch this 30-minute show appropriate for kids as young as one year.
Back to the Future Trilogy (PG) - Hollywood
Older kids whose parents are willing to do one last late night before school starts can binge watch all three Back to the Future films in one sitting - or at least as many as they can stay awake for.

SUNDAY JANUARY 5

Free Day at the Bowers - Santa Ana
The Kwanzaa celebration at the Bowers Museum features a Kwanzaa presentation, African American entertainment, and a special appearance by the Dafra West African Drum and Dance Ensemble.

Free Day at the La Habra Children's Museum - La Habra
The Children's Museum at La Habra celebrates the Lunar New Year. Kids can make painted Chinese lanterns and horse puppets plus enjoy performances of traditional music.

Oshogatsu Family Festival - Downtown
Pony rides, candy-horse making demonstrations, and rice-cake pounding demonstrations highlight the Japanese American National Museum's annual celebration of the start of the New Year. I say again, pony rides!

Rhythm Child - Santa Monica
Make some noise! Rhythm Child plays at McCabe's biweekly kids concert series.

American Indian Games - Griffith Park
Kids can play a traditional American Indian game at the Autry.

Stories in the Afternoon - Pasadena
Kids can learn about creative uses of color in classic artworks, then do some creative coloring of their own.

A Faery Hunt - Crestwood Hills Park - Brentwood
What better way to start the new year than with a hunt for faeries?

Andell Family Sundays - Photography and Light - Mid-Wilshire
At LACMA's family program for January, families can learn about the connection between the history of photography and the science of how we see, then make photography-inspired art in workshops.

Zimmer Sunday Family Programs - Mid-Wilshire
Happy Birthday, Elvis! The Zimmer celebrates the King of Rock n' Roll.

Yes, Virginia There is a Santa Claus - Santa Monica
If the booty under the tree wasn't enough to convince them, take the kiddos to see this mini musical about whether Santa is real.
As always, there are more activities listed on our daily events calendar, and if you don't already receive this post as a weekly email, you should totally subscribe. Whatever you choose to do this weekend, we hope you have a spectacular time. Onward into 2014!