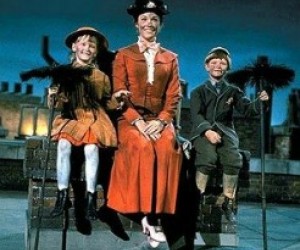 Fun & Free Activities with LA Kids this Weekend: Mary Poppins, Tu B'Shvat & a Giant Web: Jan 11 - 12
ALL WEEKEND

Mary Poppins Sing-A-Long (G) - Hollywood
Grab a spoonful of sugar and sing along with the other famous Poppins at El Capitan Theatre. Opening night features an appearance by the composer and a costume contest.

Bob Baker's Fun with Strings - Downtown
Jack Frost, The Snow Queen, Chili Dog, and the Balloon Clown are some of the puppet highlights in the latest production from the Bob Baker Marionette Theater.
Discover the Dinosaurs - Downtown
The Convention Center comes alive with prehistoric activity, featuring every kind of dino known to kids - from ride-on animatronic T Rexes to stegosaurus tattoos.

SATURDAY JANUARY 11

Second City Open House - Hollywood
Okay, you're in the desert… in comes a mermaid … with a sousaphone. Go! Not sure what to do with that? Maybe you should take one of the free improv workshops at the Second City Open House. (Or one in writing for stage or musical improv…) Free shows, too!

Musical Fun with Alina Celeste - West LA
Alina's show features interactive musical activities with instruments for kids to play, as well as dancing, singing, and general merriment.

California Baby & Kids Expo - Pasadena
There's plenty to amuse the kids while moms and dads explore parenting resources at the Pasadena Convention Center.

Saturday Morning Concerts at Books and Cookies - Santa Monica
Birdie's Playhouse brings the musical fun to Books and Cookies.

Moms Club of Pasadena Preschool Fair - Pasadena
Families can meet with representatives from preschools in Pasadena and surrounding communities.

Free Crafts for Kids - Multiple Locations
Kids build their own bongos at Lakeshore Learning. Moms are on their own for building earplugs.

Llama Llama and the Bully Goat Storytime - The Grove
Barnes & Noble hosts a special storytime to remind kids that kindness matters.

Public Star Party - Griffith Park
Look up in the sky! At the Griffith Observatory!

FIGat7th Kids Club - Downtown
Kids create a poster celebrating Martin Luther King, Jr. and Coretta Scott King. The BHCP Kids Club in Baldwin Hills offers a similar activity.

The Peking Acrobats - Long Beach
The Peking Acrobats perform spellbinding feats at the Carpenter Performing Arts Center.

Monster Jam - Anaheim
Big cars go boom; the crowd goes wild at Angel Stadium.

SUNDAY JANUARY 12

A Faery Hunt - Tarzana - Tarzana
Did those sneaky faeries go missing again? My sources suggest looking at the Tarzana Community and Cultural Center.

Mommytrain's Rocking Dance Party - West LA
It's a dance class! It's a show! It's a dance class and a show! DC Dance Center leads a mini class then the Beat Buds perform.

Happy Birthday Marion - Santa Monica
Annenberg Community Beach House celebrates Marion Davies' birthday (reservations required).

Free Day at OCMA - Newport Beach
Orange County Museum of Art introduces the new exhibit California Landscape into Abstraction with art workshops and performances.

17th Annual Tu B'Shvat Nature Fest at The Shalom Institute in Malibu - Malibu
Kids can plant a tree, throw a tomahawk, ride a zipline, participate in a drum circle, make cider and candles, and much more at this eco-friendly annual festival for Jewish Arbor Day.

Kids in the Courtyard: Weave a Giant Spider Web - Westwood
What a tangled web we weave, when we first get a bunch of string and tape and wrap it around the courtyard of the Fowler Museum.

Second Sunday Concert Series - Mid-Wilshire
Sing with Luis, with songs that range from reggae to bossa nova at the Zimmer Children's Museum.

As always, there are more activities listed on our daily events calendar, and if you don't already receive this post as a weekly email, you should totally subscribe. Whatever you choose to do this weekend, we hope you have a sunshiney time.