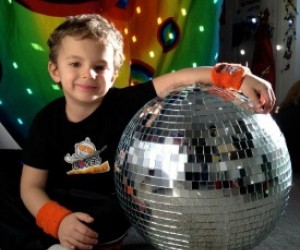 Fun & Free Activities with LA Kids this Weekend: Marathon, Disco Discount and Free Doughnut: March 8 - 9
Is there anything better than getting up early in the morning? How about getting up an hour earlier than early because someone had the bright idea of springing the clocks forward? Still with me? How about getting up an hour earlier than early to run, a lot, like a lot a lot, a whole marathon worth? Have I lost you entirely? Here I am to reel you back in: free doughnut, nom nom. Makes the waking up almost seem worth it, and you don't even have to break a sweat.
But if you want to (break a sweat that is), have we got the dance floor for you. Baby Loves Disco is back in town, this time with a Mommy Poppins discount and a 70s disco theme. "Ah,ha, ha, ha, stayin' alive, stayin' alive..." And speaking of Vinnie Barbarino...
...Adele Dazeem is not performing in LA this weekend, but she's about the only big name star who isn't. We've got Laurie Berkner (love her on Sprout!); we've got Tom Chapin (Grammy winner and also Harry's brother). We've got Lucky Diaz and the Family Jam Band (Latin Grammy winners! They're going to be on TV this Fall!). We have productions of White (Winner at the Edinburgh Fringe Festival), Cirque du Soleil: Totem (catch it before it's gone!), and we've even got Sid the Science Kid. (Or as Vinnie would say, Snurf the Sneetch Keister. But what do we know, we're just Mimsy Picklecatcher).
Keep reading for some of our favorite picks for the weekend...
ALL WEEKEND

White - Beverly Hills
Cotton and Wrinkle keep everything bright, ordered, and white, and…aack! Color!

Dana Point Festival of Whales - Dana Point
Those party animals! The whales keep the festivities going for a second weekend.

The Pirate Fairy (G) - Hollywood
El Capitan is the only place to see Tinker Bell's latest adventure on the big screen.

SATURDAY MARCH 8

Laurie Berkner - The You & Me Tour - Downtown
Best-selling, award-winning children's recording artist and preschool TV favorite Laurie Berkner performs live in a special solo concert at Club Nokia.

Lowes Build and Grow - Multiple Locations
The project this weekend is a birdhouse. (Bird not included).

Los Angeles Environmental Education Fair - Arcadia
Experience a greener tomorrow at the Los Angeles County Arboretum's annual event.

Dinosaurs - Costa Mesa
The Pacific Symphony performs dino-inspired music (such as John Williams' Jurassic Park score), accompanied by dinosaur images from the Natural History Museum, and even a real live Triceratops! (Shhh: it's a puppet!)

Musical Fun with Alina Celeste - West LA
Alina Celeste brings interactive musical activities to Children's Book World.

Saturday Morning Concerts at Books and Cookies - Santa Monica
Twinkle Time visits Books and Cookies.

Kids Club - Cerritos
M'lords and m'ladies: the kids club has a Castles theme this month at Los Cerritos Center.

Baby Loves Disco LA - Downtown
Get down and boogie with your Mommy Poppins discount for Baby Loves Disco!

Norton Simon Family Day - Pasadena
It's a frame up! Check out that oft overlooked element of art – the frame – and do some framing of your own at the Norton Simon.

Jim Henson's Sid the Science Kid: Live! - Northridge
Sid and his friends from the popular PBS Kids series pose questions and seek answers in this live musical production at the Valley Performing Arts Center at CSUN.

FIGat7th Kids Club - Downtown
FIGat7th helps kids get in the Mardi Gras spirit with a mask making craft.

BHCP Kids Club Baldwin Hills
Paper folding time! The kids club at Baldwin Hills Crenshaw Plaza makes an origami crane.

Public Star Party - Griffith Park
This month's free star party includes a tribute to the late telescope builder John Dobson.

SUNDAY MARCH 9
Daylight Savings: Free Krispy Kreme Doughnut - Multiple Locations
Free doughnut! Softens the blow of losing an hour's sleep, doesn't it?

40th Annual Festival of the Kite - Redondo Beach
It's kite flying time on the Redondo Pier!

Los Angeles Marathon - Dodger Stadium to Santa Monica Pier
What's the rush? Everybody's running this way and that, (mostly that). You can either cheer or find alternate routes.

A Faery Hunt - Tarzana
The fairirs are hiding out at Tarzana Community and Cultural Center.

Lishy Lou and Lucky Too! TV Show Viewing and Live Performance - Hollywood
Local favorites (and Latin Grammy winners) Lucky Diaz and the Family Jam Band begin a 3 weekend residency in Hollywood, filming segments for their new PBS Kids show.

Tom Chapin - Santa Monica
Grammy-award winner Tom Chapin performs at McCabe's Guitar Shop.

Children's Garden Workshops - Irvine
There's more to plants than green: kids can learn about the rainbow of colors in our gardens.

Free Day at OCMA - Newport Beach
The free arts festival at Orange County Museum of Art includes art projects, storytimes, a dance performance, and a movement workshop.

Second Sunday Concert Series - Mid-Wilshire
Singer-songwriter-music teacher-mom Kymberly Stewart entertains at the Zimmer Children's Museum.

Big Sunday Hosts First-Ever BABY DAY Diaper Drive - Hollywood
Big Sunday brings people together to help families in need.

Santa Monica Symphony - Santa Monica
The free concert at SaMo High's Barnum Hall features works by Borodin, Glazunov, and Rachmaninoff.

As always, there are more activities listed on our daily events calendar, and if you don't already receive this post as a weekly email, you should totally subscribe. Whatever you choose to do this weekend, it's worth celebrating!