Birthday Parties for Boston Kids Who Are Wild About Animals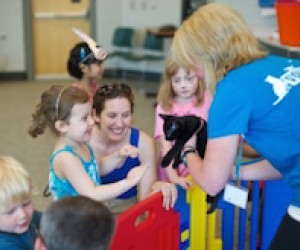 4/14/15
- By
Michelle Curran
These days, there are almost countless ways to celebrate your child's birthday. But for kids who love animals, creating a party centered around their favorite furry friend or curious creature will make their day extra special.
Animal birthday bashes are both fun and educational. Check out all the ways you can celebrate your kid's animal interests at these fun party venues.
It's a Zoo in Here!
Zoo New England
617-989-0113
For a wild time, host your child's next birthday party at the zoo with Zoo New England. Choose from Boston's Franklin Park Zoo or Stone Zoo in Stoneham. Build your own party with the Do-It-Yourself Package, which includes venue rental and seating, and pay separately for zoo admission and any add-ons. Or, pick an all-inclusive bash.
Franklin Park Zoo
One Franklin Park Road, Boston, MA 02121
At Franklin Park Zoo, Beau's Exclusive Birthday Package includes a two-hour rental of one of several venues (outdoor or indoor); 24 Zoo admission tickets (16 kids, 8 adults); one animal encounter; 64 ride tickets; paper products; 16 safari hats and 16 kids' meals.
Stone Zoo
149 Pond Street, Stoneham, MA 02180
At Stone Zoo, the Monkey Mayhem Birthday offers the same inclusive deal but with fewer ride tickets. Parties are available daily from 10:30am – 12:30 pm and 1:30-3:30pm. The birthday child is free; Zoo members receive 10 percent off the room rental.
You Should Know: Reserve your party early; Zoo New England recommends two months in advance.
Cost: $$$$
---
Cute and Cuddly Creatures
Boston MSPCA
350 South Huntington Ave., Boston, MA 02130 | 617-522-5055
When you have your animal-loving child's party at the MSPCA Boston Adoption Center, you not only put a smile on his or her face, but you're also helping out all those cute and cuddly creatures your child will meet. All proceeds from the birthday party fee go toward the cost of care of animals waiting for adoption.
Available on select Sundays from 2:30-4:30pm, your child's party – for up to 15 children – includes a two-hour rental of the education room, a tour of the small animal adoption center, the opportunity to name an animal up for adoption, an animal-themed craft or game and the opportunity to pet one of the Center's animals. Experienced volunteers lead all activities. Bring your own food, drinks, paper goods and decorations or ask for a list of restaurants that deliver to the MSPCA.
You Should Know: Parties for children ages 5-10; reserve early.
Cost: $$
Northeast Animal Shelter
347 Highland Avenue, Salem, MA 01970 | 978-745-9888 | party@neas.org
Make a $200 minimum donation, and your child (age 5 or older) can celebrate his birthday at the Northeast Animal Shelter. You'll have use of the party room for two hours and will receive a fun and educational tour of the facility. Then, meet a few furry shelter guests. Parties are limited to a maximum of 15 children. The Shelter provides the cuddly entertainment; you supply the cake, drinks, paper goods and decorations.
You should know: Parties are available on Fridays only and dates fill up fast.
Cost: $$
---
Party on the Farm
Belkin Family Lookout Farm
89 Pleasant Street, South South Natick, MA 01760 | 508-651-1539, ext. 10

Take a train ride to your private birthday room in the Farm House and let the fun begin at Belkin Family Lookout Farm. In the Children's Play area, kids enjoy rides, a burlap maze, moon bounce, hay pyramid and, of course, animals! Depending on the season, meet goats, sheep, alpacas, cows, donkeys, emus, rabbits and pigs.
The Birthday Blast package – which accommodates 20 guests – includes train ride, use of the private party room and Children's Play Area, ¼ sheet cake, homemade gelato, juice boxes, a Lookout Farm balloon for each child, all utensils and paper products. Birthday parties at Belkin Family Lookout Farm are available from May – October, from 11am - 1pm or 2-4pm. Once your party has ended, you and your guests may stay and enjoy the farm for no additional cost.
You Should Know: Black-out dates for weekend birthday parties are Sept. 20 – Oct. 12, 2015. Take advantage of a Website special that gives you $100 off for birthday parties held May 9 – Oct. 12.
Cost: $$$$
Jelich Farms
Lexington, MA | 925-212-6534
Giddy-up! If you've got the kid who's always asking for a pony, give him the next best thing for his birthday: a horseback party at Jelich Farms in Lexington. Jelich Farms will customize birthday celebrations for both first-time and more experienced riders at their stable full of gentle Arabian horses. Included in each party is use of the outdoor facility, tables and BBQ. Each child will get to ride a horse for 15 minutes, learn to groom horses and paint real horseshoes. Every rider will have a handler while they are on horseback.
You Should Know: Each child needs a signed release form before being allowed to participate.
Cost: $$$
---
Touch-tank Time
Merrohawke Nature School
54R Merrimac St., Newburyport, MA 01950 | 978-463-2233
If ocean life is your child's main interest, a birthday party at Merrohawke Nature School will be right up her alley. Located right on the Merrimack River in Newburyport, Merrohawke has a large touch tank that kids can dip their hands in to explore marine life such as crabs, sea urchins, sea stars, lobsters and fish. I had one of my own kid's birthday parties here and I can tell you, the touch tank is a huge hit. Afterwards, one of Merrohawke's experienced staff members will lead the kids in games and ocean-inspired tee-shirt painting.
Parties are available from October to April and typically run for two hours between the hours of 9am to 5pm. You bring the food, drink and, if desired, goody bags or a piñata. Merrohawke supplies the marine life, activities and materials, tablecloth and dinnerware.
You Should Know: Parties at Merrohawke work best when limited to 15-18 kids; 90-minute options are also available.
Cost: $$
---
Hit the Trails
Blue Hills Trailside Museum
1904 Canton Ave., Milton, MA 02186 | 617-333-0690
There are lots of animal-centered party possibilities at the Blue Hills Trailside Museum. Birthday kids ages 3 and up have three choices. With a Rockin' Reptiles party, meet a trailside turtle or snake. The Happy Hoot party introduces kids to an owl. Or get up close and personal with a hawk or falcon with the Birds of Prey program. Each program includes a craft kids can bring home.
Children ages 7 and up can meet two of the Trailside's resident animals and learn about them from a naturalist at the Animal Experience party; or, explore life under the water of the Trailside Pond while searching for insects and other creatures at a Ponding party, available April through October.
Parties include admission to the Museum and grounds, use of the auditorium and an hour-long naturalist program. You bring the cake and decorations. Parties take place on Saturdays and Sundays from 2:30-4:30pm.
You Should Know: There must be one adult chaperone for every five children.
Cost: $$$
---
Photo by Megan Smith Photography for the MSPCA.