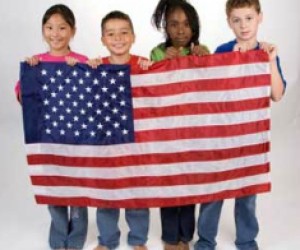 5 Great Veterans Day Camps for Los Angeles Kids
From parades to presidential libraries, we have a number of ways to honor Veterans Day in the Southland. Taking part in a weekend tribute to honor those who served, however, might still leave a Monday school holiday to contend with - and that's a problem for many working parents. If a vacation day camp would help, we'd like to chime in with a few ideas for a fun day off from school; for more great options check out all of these LA camps that offer school vacation day camps.
Culver City
JAG Gym
8640 Hayden Place
Culver City, CA 90232
310.287.9886
9am-3pm
Full day $97; Half day $77
JAG is holding Veterans Day camp on the Monday holiday, with gymnastics and more gymnastics to rule the day. Parents can call to register or email office@jaggym.com .
Santa Monica
Santa Monica Family YMCA
1332 6th Street
Santa Monica, CA 90401
310.393.2721
8:30am-6:00pm
Members $40; Non-members $50
Anytime the SMMUSD schools take a day off, the Y has your back with all-day coverage. Advance registration is required (forms are on the website), but the cost can't be beat.
Manhattan Beach
Adventure Plex
1701 Marine Avenue
Manhattan Beach, CA 90266
310.546.7708
9am-4pm
Full day $50
South Bay kids (ages 4-12) with the day off from school can spend the day at Adventure Plex. A host of physical and crafty activities can take the place of the three Rs - as can climbing the (climbing) walls.
Studio City
Studio LOL
11634 Ventura Blvd
Studio City, CA 91604
818.660.3460
9am-2pm
$55
School holiday camp at Studio LOL keeps kids laughing while building confidence, communication, and performance skills through improv, sketch comedy, and working to find the "funny" in their daily lives. They're bound to come home with a good joke or two as well.
Agoura Hills
Monarch Gymnastics
5331 Derry Avenue
Suite H-C
Agoura Hills, California 91301
818.889.3634
9am-3pm
Full day $61; Half day $34; Extended care available
Monarch's makes sure that everyone gets a turn on all of the gymnastics equipment during Veterans Day Camp, setting up circuits and games that keep everyone involved and bouncing as they should.
Looking for more camp ideas? Check our Summer and School Vacation Camp Guide!