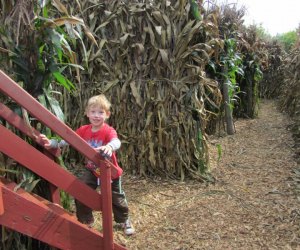 Get Lost... in a Corn Maze in the Hartford Area
Fall is a great time of year for families to spend time together outdoors enjoying the brisk weather and beautiful foliage in Hartford County. The autumn season is filled with so many activities like pumpkin picking, spooky Halloween events, fairs and you can't forget corn mazes! Why not get together with another family and have a "Family Corn Maze Challenge"? Which family will get out of the maze fastest? Here's a list of places to do just that in the Hartford area.
Riverview Farms - South Glastonbury
River Farms has a 2-acre corn maze. Landmarks will aid you as you find your way through the twisting and turning paths. Open Wednesdays, Thursdays and Friday 10-6 and Saturdays and Sundays 9-4. The weekend before Halloween, the maze is closed in order to be transformed into a "Haunted Corn Maze"!
Hayes Corn Maze - North Granby
A great family farm, the Hayes' run a dairy and make some amazing cheese. Their corn maze opens annually in September.
Foster Family Farm - South Windsor
Beginning September 16, 2017
Ever popular, Foster Family Farm is Connecticut's premiere farm attraction in South Windsor. Their "emergency responder-themed" corn maze starts in September.
Fair Weather Acres - Rocky Hill
Mid-September through November 1st, come and visit Fair Weathers. They have a fun corn maze with a Farm Scene Investigation game, a child size corn maze for the younger ones, and much more! They also have a delicious selection of food on site like fried dough, fritters, pizza, and BBQ.
Brown's Harvest - Windsor
Begins September 23, 2017
Brown's is home to a 6-acre maze. Enjoy weekend hay rides September 23 through the end of October along with apple cider doughnuts, music, and face painting.
Scantic Valley Farm - Somers
September 23 - October 29, 2017
Scantic Valley is located in beautiful Somers, CT and is home to a fun "Three Little Pigs" themed corn maze. Three miles of paths in an 8-acre maze make this corn maze a real challenge. The farm also hosts a family-friendly cross country race through the maze during the month of October.
Photo J. Coe.
Originally published 8/1/15.