Enjoy Free Boat Rides on New York Harbor at City of Water Day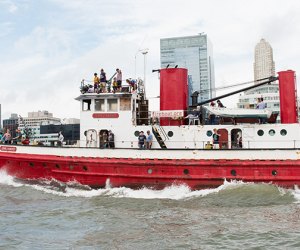 We live in a city surrounded by water, but when's the last time you and your kids enjoyed a day out on New York Harbor? Taking a boat ride in NYC is fun and exciting, and gives you a fresh perspective on our city and its majestic waterfront. While there are lots of different kinds of NYC sightseeing cruises in summer, some may feel a bit touristy for us natives, and others cost a pirate's booty! That's why I always mark the annual City of Water Day on my calendar. It's one of the few times you can go on a New York Harbor boat tour for FREE.
This day-long celebration of our waterfront lands on Saturday, July 15, 2017 and features a slew of water-themed activities in and around Governors Island and other locations. As you can imagine, the FREE boat rides are extremely popular, so it can be tricky to snag tickets for them. We've got the scoop on what your family needs to do to enjoy a no-cost cruise and everything else you need to know about City of Water Day.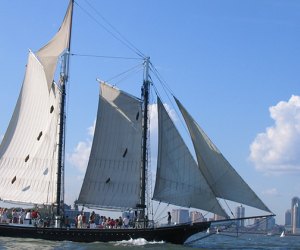 My daughter and I have taken different boat rides at three City of Water Day fests! Photo by Leon Chang via Flickr.
Organized by the Metropolitan Waterfront Alliance, City of Water Day takes place in two main locations: on Governors Island and in Hoboken's Maxwell Place Park, plus satellite sites in all five boroughs. My family attends every year. At past fests we've enjoyed three very different boat rides: a sail on the late Pete Seeger's Sloop Clearwater during which we learned about the movement to clean up the Hudson River; an Audubon Summer EcoCruise filled with lots of bird sightings; and a relaxing sail aboard the the Schooner Pioneer tall ship. All boat tours require advance reservations! Reservations open Wednesday, June 28 at 10am and they go fast! So make sure you log on ASAP in order to snag your spots.
There will be a tours of Newtown Creek and the New York Harbor as well as an Audobon EcoCruise. When booking, think about which ride is best for your kids' ages and interests. I'll be honest, my daughter and her friends got a bit bored during the 2½-hour ecocruise; it was just too long. We enjoyed the other tours better because they were shorter and more interactive—my daughter loved helping to hoist the sails on the other two boats. Finally, make sure you know where you're boarding and disembarking! Boats leave from Governors Island, Hoboken and Manhattan; some tours are round-trip and others one-way. It can be a bit confusing—you don't want to show up in the wrong place and miss your ride!
Although the boat tours are FREE, you're required to pay a $5 reservation fee per person, which is refunded if you show up for the trip. This was instituted to discourage no-shows.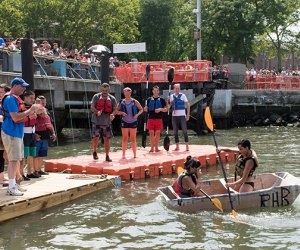 Cardboard Kayak Race at Governor's Island.
If you're not able to go on a boat tour, there are plenty of other FREE activities that don't require advance reservations. Go kayaking or rowing, try a sailing lesson, or cheer on the competitors in the Cardboard Kayak Race. For landlubbers, there are Waterfront Activity Fairs on Governors Island and in Maxwell Place Park filled with all kinds of things to do, live entertainment and giveaways—in years past, my daughter examined aquatic creatures under a microscope and learned about urban water management. If you want to stick closer to home, there will be events in all five boroughs. For a comprehensive list of locations and activities, visit City of Water Day's official website.
City of Water Day takes place Saturday, July 15 from 10am to 4pm on Governors Island, in Maxwell Place Park in Hoboken, New Jersey, and at various points throughout the five boroughs.
Find other seasonal fun in our Water Fun Guide and our Summer Fun Guide.

Top image: You can also gawk at the other spectacular boats participating, like the historic John J. Harvey fireboat. The John J. Harvery fireboat.