How to Pick Early Reader Books—Advice from the Pros Behind Scholastic's Acorn Line for New Readers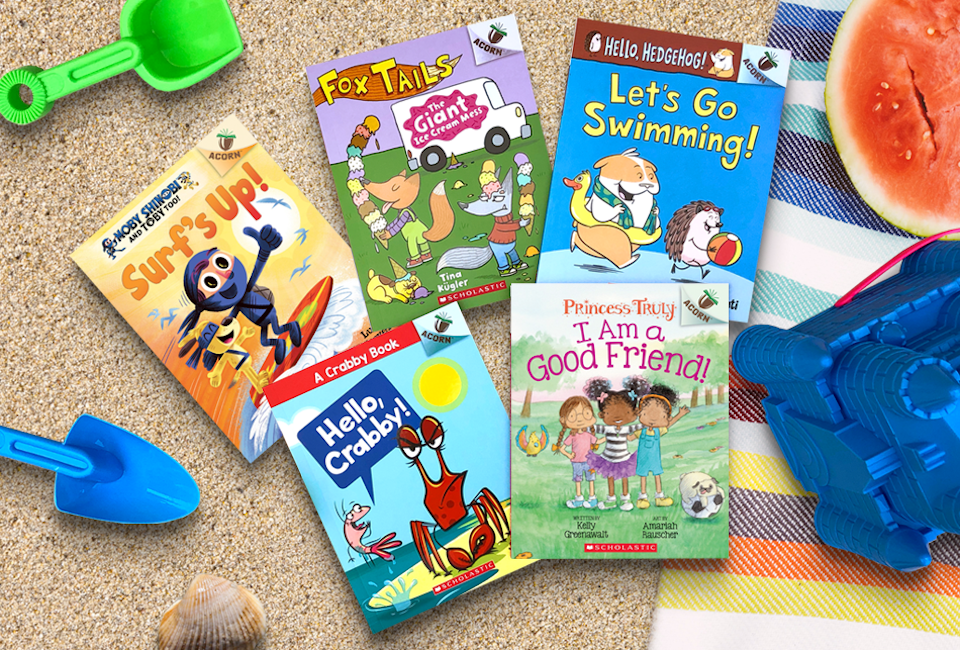 7/13/21
- By
Jessica Laird
If you've been browsing "early readers" at the bookstore or you've eagerly Amazon Prime'd "kindergarten books" for your kiddo like I have, you've likely already noticed that not all books for budding readers seem to be created equal. While these brief books are all known for large text, short sentences, easy-to-follow plots, and loads of sight words, the simplicity of the stories can sometimes make them, well, dull.
With my older daughter entering kindergarten this year, I was thrilled (and, honestly, a bit relieved) when an email landed in my inbox from the literary pros over at Scholastic about the Acorn line of books aimed at brand-new readers ages 4 to 7. Of course, building a love of books is super important for emerging readers, so quality really counts. And with Acorn, Scholastic has managed to create a collection of bright, funny, and captivating stories from award-winning authors and illustrators that will have kids laughing out loud and excitedly turning the pages.
Here's advice from the experts at Scholastic on what to look for in early reader books.
Choosing the Best Early Reader Books for Beginning Readers
Fun stories, cute characters, and plenty of variety!
The best books for brand new readers are the ones they're excited to read. Giving your child a wide selection of genres and characters to choose from will allow them to find what interests them most..
The Acorn line houses twelve different series—with more on the way—featuring friendship, magic, dragons, and more. The first books in the Acorn line include popular favorites like Unicorn and Yeti, a magical exploration of friendship; Hello, Hedgehog, which offers emotional/social lessons, like identifying how a friend might be feeling based on their facial expression; and Dragon, who goes through some hilarious mishaps that are the trademark of Dav Pilkey, author and illustrator of the Dog Man, Cat Kid Comic Club, and Captain Underpants series.
Books that build confidence
Confidence is so critical to early-reading success, and seeing a reading level printed right on the cover of a book can make a new reader feel self-conscious about their abilities instead of giving them the boost they really need. Acorn books limit their leveling information to the back cover, plus parents can find more detailed information here. This gives kids from PreK to second grade the freedom to choose books solely based on the topics and characters they're most excited about. Plus, all Acorn books have a Grade One reading level, so parents can trust that their child is finding reading material that's totally appropriate for them.
Short stories that can be read in any order
While young readers eventually take on consecutive chapter books, flexibility and freedom can be really meaningful to brand-new readers. Each book in the Acorn collection contains three or more short stories that give kids a chance to get to know the characters, while still allowing them to read in any order. Beginning readers can feel a sense of accomplishment after reading a single story, without the pressure of reading all the stories at once.
Cute full-color characters help make the Acorn books engaging and accessible.
Bright, accessible, supportive illustrations
Illustrations are a crucial part of first readers because they support the understanding of the story and mood while keeping kids engaged. Images can also help new readers understand setting, characters, and emotion, plus help them to decode unknown vocabulary words. Acorn books have full-color illustrations on every page, which makes the books accessible and not at all intimidating.
Speech bubbles to depict dialogue
Speech bubbles—most commonly found in comic books and graphic novels—can be a great tool for beginning readers, helping children understand dialogue and voice, and the thoughts and feelings of characters. Some of the Acorn books, like Hello, Crabby!, utilize color-coded speech bubbles, making them extra fun to read aloud. Taking turns reading these bubbles aloud can be a really entertaining activity for kids and their grownups.
Bonus book-related activities
Following up a book with a related interactive activity—like creating a drawing or answering questions—can really help kids get the most out of their reading experience. These types of activities can help kids engage with their favorite characters, gently assess their comprehension, and even allow them to see themselves as authors and illustrators. Each Acorn book has extension activities in the back, including how-to-draw instructions and thought-provoking writing prompts.
Teachers' stamp of approval
Few people have the same hands-on experience with the learning-to-read journey as teachers, so looking for books created or supported by teachers is always a smart move. Scholastic has worked very closely with teachers and former teachers to develop and optimize the Acorn collection, and the books are officially "teacher approved."
Browse and shop the entire Acorn line here, plus watch brief trailers to get a feel for some of the engaging series. Happy reading!
Click Here to Sign Up!
i