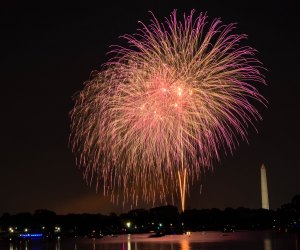 July 4th 2019 Fireworks on the National Mall: The Best Spots to Watch Them in DC
Nothing says "Independence Day" like watching the fireworks light up the sky above the iconic memorials and monuments of the nation's capital on the 4th of July. It's a sight many Washington, DC families are excited to check off of their summer bucket lists, and it's easy to see why. But that also means the viewing spots can get pretty crowded, and no one wants to get stuck in traffic, watching the show from their car windows either. So if you want to check out DC's Fourth of July fireworks but don't want the crowds to put a damper on your family's evening of fun, read on for the lowdown on the best places to view this spectacular summer fireworks show.
While it might pay to grab tickets to a family-friendly river cruise for the evening, you don't need to spend a dime to catch the sparklers. But even still, it's important to know where - and when - to go and what you might want to bring in order to make the most out of the culminating event of the 4th of July.
And don't forget to check out our events calendar for a whole host of Independence Day celebrations throughout DC, NoVA, and MD during the first week of July.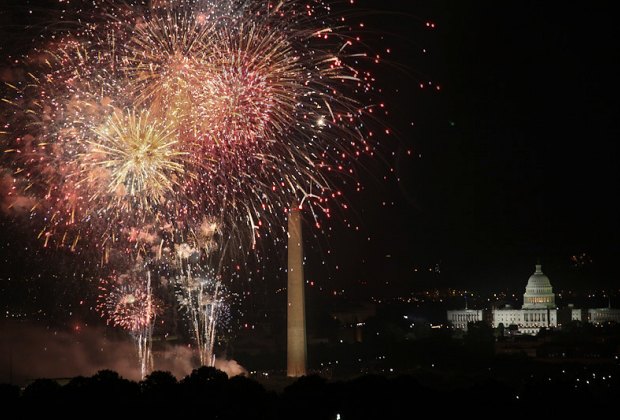 Photo by Tim Kelley/CC By 2.0
What You Need to Know about the DC Fireworks Show
The kickoff time for the fireworks is set for 9:07pm on July 4th, and the show will last until 9:27pm. As with any big DC event, expect crowds and security screenings. Common sense applies on what you can/can't bring (glass containers, alcohol, recreational equipment, such as badminton and volleyball, and grills aren't allowed), but be sure and check over the prohibited items list on the National Parks Service website, which will also be updated for road closures and other important day-of information.
For getting through the checkpoints with ease, take a few minutes to clean and organize any diaper bags or other totes you might be taking. And just like going through airport security, placing like items in clear zip top plastic bags, makes the whole process go more smoothly.
Grab lawn chairs, blankets, snacks, and plenty of water, though, because you'll want to arrive early and snag a good spot.
Best July 4th Fireworks Viewing Locations
The National Mall is the best and busiest spot to watch the show. Anywhere from the Washington Monument to the Jefferson Memorial is available to the public. There are more spaces this year than on previous July 4ths to watch on the Mall, as well, including the World War II Memorial, Reflecting Pool, and Constitution Gardens. Be aware, however, that there are two other events happening on the National Mall earlier in the day, including A Capitol Fourth, the annual free concert happening on the west lawn of the Capitol Building, and Salute to America at the Lincoln Memorial. So show up early and claim your spot!
The U.S. Supreme Court with its 252-foot wide plaza offers an unobstructed view of the fireworks. Or head across the Potomac River. The Marine Corps War Memorial, Netherlands Carillon, along the Mount Vernon Trail, U.S. Airforce Memorial, Hains Point on East Potomac Park, and Lady Bird Johnson Park all offer more viewing spots. For the Mount Vernon Trail, renting bicycles from a place like Bike and Roll or Capital Bikeshare can make the trek easier and more fun, or bring along your own bicycles, scooters, or wagons.
High places, including the grassy slopes around the Washington National Cathedral, will also be a great bet for a perfect view of the fireworks show.
Make a day of it, and head to the Wharf for Fourth of July fun and piers and green spaces that are available to the public. Just four blocks from the Mall and replete with restaurants and ice cream shops, games, and play places for the kids, getting here early enough to get a spot - and keeping the kids entertained - won't be a challenge.
Paid Fourth of July Viewing Options
While you don't have to pay to see the fireworks, there are plenty of family-friendly river cruises that will get you a beautiful view of the fireworks without the crowds but for a price, of course. Potomac Riverboat Company and Entertainment Cruises both offer multiple boats that evening for the fireworks.
For more fun, take a look at our events calendar for other July 4th activities. From everyone at Mommy Poppins DC, we hope you have a very Happy Independence Day!