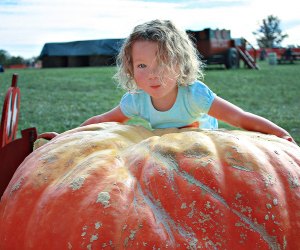 10 Best Pumpkin Patches for Kids near Washington, DC
Nothing says autumn like a trip to the pumpkin patch, and for families living the urban life around DC, getting out on a beautiful fall day to pick a pumpkin, enjoy some apple cider, and have fun on a hay ride is the perfect way to celebrate the season. So we've put together our top ten favorite pumpkin patches for DC families in both Maryland and Northern Virginia. Read on for our picks for fall fun. Bonus: Most of these pumpkin patches offer extra family fun, from firing off pumpkin cannons and apple slingshots to face painting.

Photo courtesy of Clark's Elioak Farm
Pumpkin Patches in Maryland
1. Butler's Orchard - Germantown, MD
From potatoes to berries, herbs to apples, Butlers' Orchard is a great spot to pick-your-own fruits and veggies throughout the growing season. Better yet, there's also an on-site petting zoo, giant slides, hayrides, and playground. During the week, take part in the Harvest Pumpkin Days ongoing fall festival, which includes a small pumpkin and apple, plus access to a straw maze that's perfect for the little ones. During select weekends in September and October, the farm hosts Pumpkin Festival for autumnal fun that's kicked up a notch. (And don't forget to come back in November for the Holiday Open House and in the spring for Bunnyland!) The farm charges a $3 admission per person and offers a $25 seasonal pass.
2. Homestead Farm - Poolesville, MD
Looking for a straightforward, relaxing pumpkin patch experience? Homestead is just that. Along with a plethora of pumpkins, apples are also currently in season. Admission costs $2 a person (babies are free); after that, just pay for what you pick.
3. Clark's Elioak Farm - Ellicott City, MD
This farm is truly enchanting, complete with a fairy garden, enchanted forest, storytimes, and more. Looking to get close to cute farm animals? There's also a petting zoo. And for the pumpkin pickers, the seasonal pumpkin patch is open in the fall until the farm closes for the year on November 3, 2019. Babies under one year old can enjoy the farm free of charge. Everyone else must pay $7 each.
4. Montpelier Farms - Upper Marlboro, MD
From September 21 - November 10, 2019, head over to Montpelier Farms for its annual fall festival. The $12 per person admission (children aged two and under are free) includes a corn maze, hayrides, pumpkin bowling, petting zoo, and evening bonfires, among many other attractions. When you're all tapped out of the extra activities, head to the pumpkin patch and pick out a pumpkin. Gourds under 5lbs are $3; any heavier cost $0.60 per pound.
5. Queen Anne Farm - Mitchellville, MD
Enjoy a tractor-pulled high ride to the pumpkin patch, where pumpkins ranging from itty bitty two-ouncers hang out alongside giant 200-pounders. Kids will enjoy the petting zoo and Pumpkin House, and don't forget to browse the country store.

Photo courtesy of Wayside Farm Fun
Pumpkin Patches in Northern Virginia
6. Fall Festival at Cox Farms -Centreville, VA
From live music to hayrides, milking demos to corn mazes, Swings, and slides, the Fall Festival at Cox Farms has it all, including, of course, a pumpkin patch. Ticket prices vary depending on the day. Pumpkins can be purchased at the farmers market, along with apples and other goodies.
7. Great Country Farms Harvest Festival - Bluemont, VA
Pig races, apple cider donuts, pumpkin picking, oh my! From September 30 - October 31, families can head to Great Country Farms any day of the week for the annual Harvest Festival. Kids will love the 5-acre play area and P. Rex, the pumpkin-munching dinosaur. Rates vary depending on weekday or weekend admission, but children under two are always free. Just pay for the pumpkins you pick.
8. Burke Nursery and Garden Centre - Burke, VA
Perfect for the younger kids, Burke Nursery's Fall Festival and Pumpkin Playground offers a pumpkin patch, wheelchair-accessible hayrides, pirate ship, pumpkin fort, Native American cultural activities, and much more. Admission ranges from $10-$12 per person (children under two are free with a paid adult admission) and includes a small carveable pumpkin.
9. Wayside Farm Fun - Berryville, VA
Open Saturdays, Sundays, and Columbus Day from September 21 through November 3, 2019, Wayside Farm hosts a fall festival in conjunction with local u-pick Wegermeyer Farms. The autumnal fun includes an 8-acre u-pick pumpkin patch, a corn maze, pumpkin playhouse, playground, pig races, and more. Children two and younger are free, while general admission costs $12 per person.
10. Ticonderoga Farm - Chantilly, VA
Head over to Ticonderoga Farm from September 21 through November 3, 2019 for a whole lot of fall fun. Way more than just a pumpkin patch, the farm hosts bonfires, hayrides, petting farm, and loads of play equipment. Guests can also have a chance to walk across Virginia's longest swinging bridge. Admission varies between weekdays and weekends so be sure and check the website.