Best Things to Do in Atlanta in January with Kids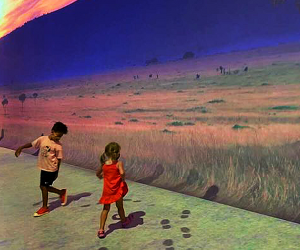 From New Year's Day to MLK weekend, January can be a great time for indoor and outdoor activities in Atlanta. Don't miss our favorite kid-friendly events and activities in Atlanta in January.
As we remember Atlanta's own Dr. Martin Luther King Jr. this month, kids can learn about Dr. King's legacy through several in-person and virtual events. Families can attend The Henry County NAACP Parade and Celebration in McDonough on MLK Day (Monday, January 17) and participate in virtual programming like the Global Youth Summit through The King Center. Also, in honor of MLK Day, all national parks are free on January 17, like Kennesaw National Battlefield and the Chattahoochee River National Recreation Area. (Tip: Use our list of 12 Hiking Games for Kids.) MLK Day is a National Day of Service and is a great time to get your kids involved in volunteerism and service projects throughout Atlanta.
The winter fun continues in January as families can hit ice skating rinks, like Avalon on Ice. Even if we don't get real snow in Atlanta, southern kids can tube down a crazy fast hill at License to Chill at Margaritaville through the end of February. Those looking to add a little sparkle to their winter nights can visit art and light display Prism: Winter Lights in downtown Atlanta through January 31. Find more ideas for crafts, recipes, and trips in our Winter Activities Guide for Atlanta Families.
We're adding more events to our Atlanta family activity calendar every day, so don't forget to check it frequently.
Get our picks for every weekend in your inbox—sign up for our newsletters! And make sure to follow us on Facebook!
Be sure to check with the venue for its COVID guidelines and requirements before heading out to any event. Some events are getting canceled or postponed at the last minute due to the latest COVID surge.