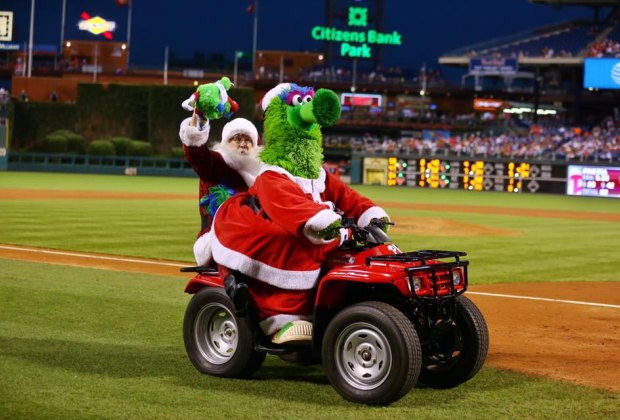 7 Ways to Get in the Holiday Spirit with Christmas in July
'It's the season...well sort of. With summer in full swing and a July full of festivals, fun, and free stuff, it's hard to picture mistletoe and the jolly old elf with the big white beard. But whether you're ready for Christmas or not, it's coming up fast, or rather, Christmas in July is coming up fast.
If you're so over summer and are ready to set yourself by the Yule log with a cup of hot cocoa, then check out where you can celebrate Christmas in July in the Philly area. Remember: It's never too early to get in that holiday spirit.
1. Visit Byers' Choice for the Summer Cheer event at its workshop in Chalfont.
It's Christmas all year long at Byers' Choice, and visitors are sure to recognize the Victorian caroling figurines made on site in the Chalfont workshop. On July 25, 2018, there's extra Christmas cheer with ice cream, kids crafts, an indoor snow storm, and a showing of Frosty the Snowman. This event is free and runs from 10am - 4pm. Don't forget to bring your camera for the photo booth (maybe get your holiday cards done early this year!)
2. Catch the Phillies play and score a pair of Phillies Christmas in July socks.
The Philadelphia Phillies are celebrating Christmas in July during the team's 12:35pm game against the Los Angeles Dodgers on July 25, 2018. The first 1,500 fans to buy Theme Night tickets to this game (which can be purchased with a "Christmas" discount code) get a pair of Christmas in July Phillies socks. Plus there's a postgame running of the bases for kids under 14. Fans are also encouraged to take part in the Phillies Ballgirls Christmas in July Toy Drive by donating new, unwrapped toys at the gates on 7/25. The toys will be donated to local non-profit organizations. And don't forget to read up on how you can enjoy your time at Citizens Bank Park on the cheap here.
3. Hang with Mrs. Claus and some furry friends at Paws Discovery Farm in Mount Laurel, NJ.
Head to the farm on July 25, 2018 from 11am - 2pm for a Christmas in July inspired storytime. Snap a photo of the kids with Mrs. Claus and nibble Christmas cookies. This event is included in the price of admission to the farm (generally $10/person with a discounted admission for seniors and Mount Laurel residents) so stick around afterwards and enjoy the rest of the farm, including its 80 different kinds of animals.
4. Celebrate a Very Furry Christmas with your favorite Sesame Street characters at Sesame Place.
During four seatings throughout the day on July 25, 2018, families can enjoy a Christmas meal with Elmo, Cookie Monster and other favorite characters, and of course Santa. There will be plenty of photo opportunities as well. You'll need to secure a Dine with Me! reservation in addition to paid park admission.
5. Do some early Christmas shopping at CIJ Vendor Blender in Philly.
From 12pm - 4pm on Sunday, July 22, 2018, head down to Cannstatter Volksfest Verein, Philadelphia's German-American lodge for a family-friendly market event. From well-known vendors, such as Pampered Chef and Origami Owl, to local companies, visitors can get a headstart on their Christmas shopping. Admission is free and there will be face painting and treats onsite for the kids.
6. Play in the snow at Moorestown Mall.
Moorestown Mall in South Jersey is ramping up for a midsummer's evening filled with Christmas cheer. Younger kids can say hi to Santa or the older ones might like to visit with Jack Skellington from Nightmare Before Christmas. There will also be an indoor play area filled with "snow" for kids 12 and under. This event will run from 6-8pm on July 25, 2018.
7. Get in the holiday spirit for a good cause with an afternoon of games and fun at Bristol's Moose Lodge.
Xmas in July is part of The Christmas Gala, a year-round fundraising effort to help local senior citizens. From 1-6pm on July 21, 2018, families can play Bingo and other games, enter raffles, and enjoy some local vendors and food for purchase. There will also be face painting and a balloon artist for the kids. While the event is free, it's requested that anyone planning to attend register online.