SPONSORED
Kids Ski Free at Top Pennsylvania Resorts, Plus More Ways to Save — and Win!
Did someone say affordable winter fun for the whole family? Yup, Pennsylvania's got it with 21 kid-friendly, activity-filled ski resorts offering some deep discounts this year!
Whether a quick weekend trip filled with wobbly runs down the bunny hill sounds about your speed, or you're dreaming of a week-long vacation crossing black diamonds off the list with your pro crew, there are plenty of packages and specials that'll work with your family's skill level and budget.
From Snowpass, which lets kids ski for FREE, to an awesome ski and snowboard giveaway, read on for the best ways to save and win this season in PA.
Kids Ski FREE with the 4th and 5th Grader Snowpass
Turns out age 9 to 11 is the perfect time developmentally to pick up a new sport — plus, skiing puts that physics, biology, and geology education to good use — so the 4th and 5th Grader Snowpass was designed to get young learners on the slopes. With just a $40 processing fee, your kiddo gets 63 days of free skiing at all participating resorts across PA when accompanied by a paying adult. They also receive a First Time Ski/Snowboard Package, including a complimentary lesson and and equipment rental, and 3 lift tickets to each ski area. If you're still a little shaky on those skis yourself, the Snowpass will also get you 50% off the adult Learn to Ski/Snowboard package at one ski area of your choice.
Here are the resorts participating for the 2019-2020 season (although keep in mind these are subject to change): Bear Creek Mountain Resort, Big Boulder, Blue Knob Resort, Blue Mountain Resort, Camelback Resort, Elk Mountain, Hidden Valley Resort, Jack Frost Mountain, Laurel Mountain, Liberty Mountain Resort, Montage Mountain, Mount Pleasant, Mystic Mountain, Roundtop Mountain Resort, Seven Springs Mountain Resort, Shawnee Mountain, Ski Big Bear, Ski Sawmill Family Resort, Spring Mountain, Tussey Mountain and Whitetail Resort.
Get $5 Off an Adult Midweek Lift Ticket
Throughout the 2019-2020 ski season, you can snag $5 off a midweek lift ticket at participating ski areas. Sounds like a good excuse to send the rest of your gang snow tubing and make the most of some solo time on the slopes to us...
Get $5 Off a Learn to Ski & Ride Package
Did you know January is Learn to Ski and Snowboard Month in Pennsylvania? Kids and grownups can save $5 on a Midweek Learn to Ski & Ride Package during January 2020, which includes a beginner lift, lesson, and rental equipment. Additionally, many PA ski areas have specials on beginner packages throughout the month.
Enter to Win a Gilson Snowboard or Skis With a Snowpass Purchase
Another reason to get a Snowpass? The first 60 Snowpass kid skiers to reach 5 days on the mountain will win a FREE Special Edition pair of Gilson Youth Skis, while the first 60 snowboarders to reach 5 days will win a FREE Special Edition Gilson Snowboard. And, on February 1, one very lucky kiddo who's reached 5 days on the mountain will receive the Grand Prize — a visit to the Gilson Snowboard Shop to build their very own custom pair of skis or snowboard!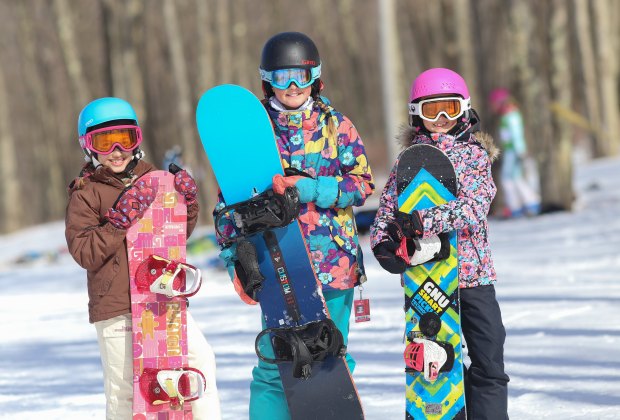 Check Out Even More Ways to Save!
Most resorts have discounted rates for kids 12 and under. Also, children five years of age and under receive a free lift ticket with the purchase of a full price adult lift ticket at participating resorts.
Midweek skiing and riding is not only usually more affordable than it is on the weekends, but you'll get less crowded slopes.
Lift ticket, rental, and lesson packages for beginners are a great way to get everything you need for the day and save a few bucks too.
Groups of 15 or more qualify for discounted rates at many of the resorts, so go ahead and invite the whole family.
Night owls can score big discounts by hitting the slopes for nighttime skiing at select resorts.
Start planning your Pennsylvania ski trip and find all these awesome savings over on SkiPA.com.
All photos provided by SkiPA