Orlando Kids Will Love These Birthday Party Entertainers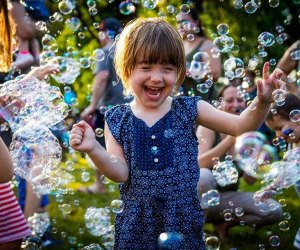 Whether your child is into magic, sports, princesses, clowns, or something else entirely, there are birthday party entertainers to satisfy even the most narrow interests. Orlando kids (and parents) love these birthday entertainers because they keep the kiddos engaged and happy during the special day, and mom and dad can take a break to actually enjoy the party. Yes, Orlando has some fantastic birthday party venues throughout the area, but sometimes it's nice to bring the entertainment to your own home or neighborhood.
We at Mommy Poppins have rounded up some of the most interesting, sought-after birthday party entertainers in Orlando. These creative, family-friendly folk will make sure to enhance Orlando kids' birthdays with a huge amount of fun!
Keep in mind that with Covid and ever-changing safety precautions, make sure to talk with birthday entertainers about their personal policies, availability, and current safety standards when booking.
Try an evening foam party, complete with blacklight, from Foam Palooza.
Orlando Birthday Party Entertainers: Adventures
Have some squeaky clean fun with a Foam Palooza party! The foam crew will come to your outdoor space and set up a foam dance party, complete with music and beach balls for the kids get to wet and wild.
What child doesn't love bubbles?! Bubble Bus Orlando offers a continuous stream of bubbles filling the birthday air, where kids can reach out and pop, chase, and simply watch them float. For nighttime events, add extra magic with blacklight bubbles that look like floating stars.
For all those extreme sports kids, ages 6-12, contact BMX Trickstars, Florida's first traveling BMX stunt show. Owner and X-Games medalist Rob Nolli uses portable BMX ramps to show off the talent of his amazing riders. In addtion, children learn about bicycle safety and goal setting.
Gellyball Adventures uses water-based polymer beads/balls to "shoot" at other teams.
Gellyball is a little like paintball, without all the pain and mess. Gellyball blasters are low-pressure "guns" that shoot around 10 balls (absorbent polymer beads, like Orbeez) per second. The "ammo" leaves no mess, doesn't hurt, and is a lot of fun. The staff sets up an exciting, outdoors course for kids to run through while firing gellyballs.
Bring nine holes of mini golf fun to your party, thanks to this on-the-go course. Mini Golf Anywhere provides a trained staff member to help with set and play of the course, as well as putters, golf balls, and score cards.
Orlando Birthday Party Entertainers: Princesses and Characters
Princesses are always a sure-fire way to impress the kiddos (and, fingers crossed, help teach some good manners along the way). Golden Tiara Company offers beloved fairytale characters, superheroes, galactic heroes (and villains) -- all who stay in character the entire time they're bringing magic to life.
If you're having a beach or pool party, hire a mermaid from Ever After Character Events.
Princess or pirate, mermaid or superhero—all characters are welcome at Ever After Character Events. The business provides trained performers to Orlando birthday parties and add a true sense of wonder to any event.
The ladies are here to create a royal birthday experience! Once Upon a Dream specializes in princesses who can make children dream of stepping in their shoes, if only just for an afternoon.
Go beyond the regal princesses for birthday party entertainment and choose Evie in Descendants, woodland fairies, or another one of the 450 offered characters. Tutu Tales has it's own venue in addition to offering mobile services.
Dreams Do Come True with princesses as birthday party entertainers. Photo courtesy Dreams Do Come True
Invite Elsa, Anna, Spiderman, and more awesome characters by booking with Dreams Do Come True. These professional performers create an authentic experience for your little one to lose his or herself in the wonder of make-believe.
Orlando Birthday Party Entertainers: Fun and Beyond
Lighten up the party with Cookie T. Clown, who has been entertaining Orlando kids since 1985. She provides face painting, balloon sculpture, and clown and magic shows.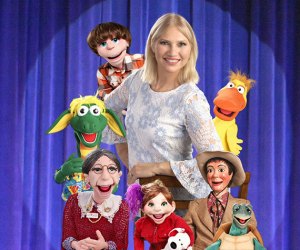 Jacki Manna entertains with her amazing ventriloquism skills and entertaining puppets. Photo courtesy Jacki Manna
For more than 30 years, Jacki Manna has been performing for Orlando audiences as a ventriloquist, puppeteer, magician, and entertainer. She has hysterical puppet characters that always make children laugh at her fun shows.
Trixie's Fun-Time Entertainment offers everything under the Orlando sun to ensure birthday fun.
When it comes to birthday party entertainment, what doesn't Trixie's add? Services include face painting, balloon twisting, glitter and airbrush tattoos, stilt-walking, and concessions.
This master magician will wow and stump kids with his impressive tricks. The birthday child even gets a special moment by becoming Cesar's magical assistant during this fun-filled routine.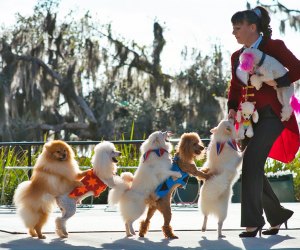 The Menestrelli family, including the four-legged members, will wow at any birthday party.
This unique traveling dog show brings a group of funny, entertaining dogs to your location. The perform amazing tricks like somersaults and stair climbing, as well as interact with the audience.
Mad Science designs birthday parties for ages 3-14 that involve hands-on, interactive science experiments and make-and-take activities like putty, slime, or GAK.
Husband-and-wife duo Keith and Julie Tusing put on a magic show sure to impress kids of all ages. Parents can choose from a magic show (30 minutes for $195), a magic show and balloon twisting (one hour for $245), or the ultimate party (90 minutes for $395), which includes the magic show, balloon twisting, interactive games, prizes and much more.
Let your party animals hang with some actual animals at a Zoo Mom Science birthday party! The animal presentation involves 7-9 animals, which depend on the age of the children and family requests. Learn and have fun at the same time.
Photos courtesy of respective businesses.