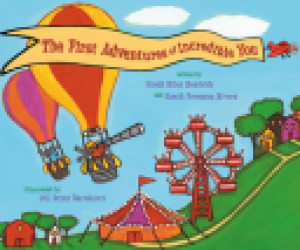 Mommy Poppins Readers' Top 25 Places for NYC Kids
Our Custom Made for Kids personalized children's book giveaway is over, and what a great response we got. Not only did we have lots of responses, but each commenter told us their favorite thing to do in NYC with kids. The list is filled with some wonderful gems. After the jump, our contest winner and Mommy Poppins Readers' Top 25 Things to Do with Kids in NYC.
Mommy Poppins Readers' Top 25 Places for NYC Kids
With my 3 year old son: Take the Staten Island Ferry to the Staten Island Children's Museum. He gets to ride trains, boats, and buses, have fun at a great musuem, and get close to the Statue of Liberty. He also adores the ferry ride and standing on the deck watching the other boats and the receding Manhattan skyline. - J. Carey
Ride the bug carousel at the Bronx Zoo. Every time we go we have to go there first and we have an amazing day! - Wendi L
My daughter loves to be strolled around the MOMA and stop to look at the big bold paintings. The room with Monet's Water Lilies is great for a feed with their big couches. The cafe has high chairs and the museum is very stroller friendly - Susan K
My daughter loves the animal exhibits at the Museum of Natural History, especially the zebras and elephants - Jennifer
Our favorite thing to do is to go to the Botanical Gardens in Brooklyn and run up and down the Cherry Tree Esplanade. One day a year they let you actually picnic on it and that is a blast too - Karen
Love to go to M&M World and Chelsea Piers skating! - lmerka
I love to go to the farmer's markets with my daughter in the summer. Once we found a caterpillar and raised it. It's exciting to have a bit of nature in our urban lives. - Brooke
What I loved doing with the kids was heading to a little German bakery in the East Village 2nd and St. Marks (13th). They have THE BEST jelly rolls! When I was pregnant in NY I think I ate there every day!!! Maybe thats why the kids like it so much! - Patti
Playing on the Alice in Wonderland statue in Central Park is so fun! - Scarlett
One of my son's favorite pastimes is to ride the buses and subways. He's the 4 year old repeating the next stop and safety announcements while passengers smile at him. At CMoM the third floor with the MTA bus and fire truck are his favorites. - Lori
Take them to time square at night and let them be amazed at all the wonderful lights and sights. Then take them to the top of the empire state building at night and let them look over the side! (We did both when my daughter was 2) will be going back this Oct. Yipee! - Marci
I love making a day of Midtown: visiting Toys R Us and riding the ferris wheel, going to Bryant Park and riding the carousel (lots of circular fun!), and then finding a local spot for some ice cream. - Shimona
Far and away, my favorite thing to do with my sons is go around central park with them on my bike. No matter how many times we do it, they gush over the horses, the boats, the dogs, the roller bladers, and everything else that makes NYC so amazing. - NeeshaNR
We like to go to Chinatown and drink bubble tea and eat dumplings! - Kate
Without a doubt, it has to be, skating at Rockefeller Center!!! - Grenda
Our favorite things to do in New York are all about food and fun. My kids love Nintendo World, Dylan's Candy Bar and Serendipity...Oh, and LiLac Chocolates - Leigh
My daughter loves dancing on the piano keys at FAO Schwarz - Noreen Unfortunately FAO Schwarz closed in July 2015.
We like to visit dog parks (we don't have a dog, but my toddler LOVES watching them). - Andrea
Lastly, the Jewish Museum is a lesser-known but nearby and very satisfying attraction for us, especially on Saturdays when it is free - Andrea
letting my son run around and explore the pratt sculpture garden in clinton hill - an amazing playground! - amy
Share a cupcake from Magnolia! Yummy! - Taryn Scarfone
With my girls…American Girl Place!!! - Susanne
My daughter and I love to go to Baby Loves Disco Parties at Club Element on Houston!! They are so much fun for the kids and parents alike! - Helwa S.
What else but going to Central Park. you can run, jump, climb ,picnic ,people watch etc etc etc! - Catherine
And, congratulations to Susan K who won the giveaway!