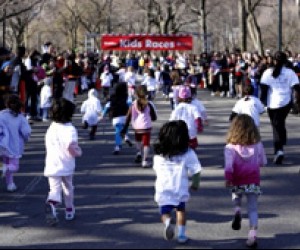 Fun Runs, Field Days and Races for Kids and Families with the New York Road Runners Club
As parents we're often running after our kids, but how about running with them? It's great to get outside and exercise together as a family and one fun way to do that is to sign up for an upcoming race or free field day with the New York Road Runners. No experience is necessary, anyone can do it, and the group has several events on its spring calendar for adults and kids, including a free field day event.


New York Road Runners (NYRR) has family-friendly runs and health walks coming up in Central Park that are open to all fitness levels. Kids races usually start about an hour after the main run. They're for ages 2 - 12 and distances range from 25 yards to half a mile depending on the age group. Older kids can also opt to walk or run with an adult in the main race. Jogging strollers are not allowed.

These family-friendly races make for a fun morning. Kids will feel like star athletes when they pin on their race bibs and hear cheers from onlookers and volunteers. Participants also get a t-shirt and can take part in group warm-ups and post-race awards festivities.
Entry fees start at $18 for adult members, $10 for junior members and $33 for non-members. Prices go up closer to race day and some events fill up. For the Kids' Races it's $6 in advance and $8 on race day. An annual family membership is $60 which gets you discounts for races throughout the year, as well as merchandise offers and entry options for the NYC Marathon if you dare!
Upcoming NYRR Races:

Sunday, April 18th - Run for City Parks 4 mile run and Kids' Races
Sunday, May 9th - Mothers Day 4 mile run, Health Walk and Kids' Races
Sunday, June 20th - Fathers Day 5 mile run and Kids' Races
Or check www.nyrr.org for more upcoming races.

Youth Jamboree, Saturday May 15:
Saturday, May 15th at Icahn Stadium a FREE Youth Jamboree event will be held on Randall's Island. It's a full day of track and field events that NYRR puts on a few times a year. The events are just for kids ages 4-15, though participants need to come with an adult to register them and sign a waiver. NYRR will have lots of staff and volunteers at the stadium to work and train with the athletes, so no experience is necessary. Young athletes can try their legs in different sprints and relays, as well as the long jump and shot put. Winners get to be announced on the podium and everyone gets a ribbon and t-shirt for competing.

For more information or to sign up for NYRR Races or the Youth Jamboree go online to www.nyrr.org.