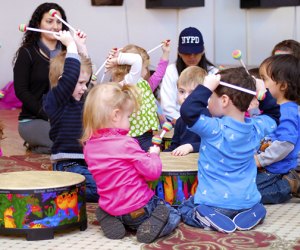 Best Music Classes for NJ Babies, Toddlers, and Preschoolers
From Beethoven to Bob Marley, music delights children from a very young age and fosters healthy brain development. These NJ music classes for babies to preschoolers will inspire your little ones while providing great bonding experiences for parents and children.
For more cool classes, from swimming lessons to STEM programs, check out our guide to Classes and Enrichment Programs for New Jersey Kids.
Music Classes in Northern NJ
Little Notes Music School – Randolph
Little Notes recently added it to its lineup of music classes, including one for 18 months – 3 years and one for ages 2–3.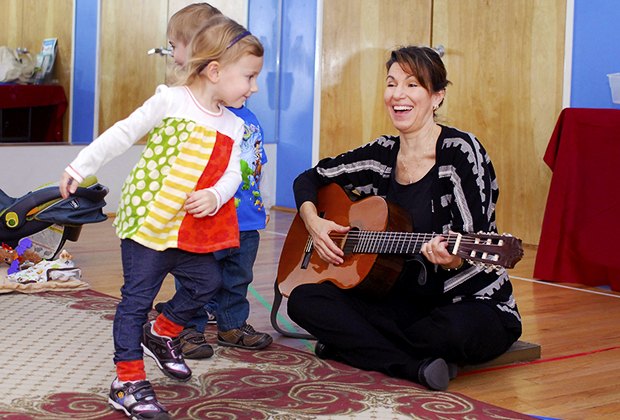 Little ones age 6 months to 4 years can sing, move, and play with Musical Munchkins.
Musical Munchkins – Ridgewood
At Musical Munchkins, kiddos learn through music—specifically through instrument play, song, and movement. Classes are divided by age groups: 6–13 months (babies), 14–23 months (ones), 24–35 months (twos) and 3–4-year-olds (young musicians). Each class is designed to be fun and nurturing for each age group. Mixed-age classes are also available in the summer months.
Music and More with Kelly – Millburn, Maplewood, South Orange, East Hanover
Music and more with Kelly offers the acclaimed Music Together program for children and their caregivers for ages birth to 5. Its mission is to be part of your child's growing process, not only musically, but emotionally, cognitively, and socially.
Music Together of Summit and Chatham – Summit and Chatham
Music Together of Summit and Chatham offers a variety of classes for newborns up to 5 years. The philosophy here is that every child is born inherently musical, and the goal is to give entire families a fun time they won't soon forget.
New Jersey Workshop for the Arts – Westfield
Here, preschoolers sing and dance while learning to read music, play instruments, and explore math and science through music.
Performing Arts School at Bergen PAC – Englewood
The Early Childhood program has diverse options including dance, theatre, and music. 45-minute music classes start at three months, and let kids explore music through chants, finger plays, and small and large movements using a variety of musical instruments.
Music Classes in Central NJ
First Notes – Marlton
Classes are taught by talented, enthusiastic musicians who lead parents and children with singing, guitar playing, and fun activities.
Music Together Family & Friends – Whitehouse Station and Flemington
​If you live in Hunterdon County you're invited to bring the whole family to Music Together Family & Friends. With a research-based curriculum, the program was created to nurture every child's inner musician. With options for both mixed aged groups and age-specific, you are bound to find the right fit for your budding musician. An Intergenerational Class (0-5) with Grandfriends ​is offered.
Music Classes in Multiple NJ Locations
Gymboree – Various locations
Four types of music classes are available for children ages 6 months to 5 years, including one class that caters to the whole family. These weekly programs focus on developing a love of music through song, dance, movement games, and instruments. Gymboree has a dozen New Jersey locations, including Jersey City, Chatham, Paramus, Westfield, Red Bank, Princeton, and Pine Brook..
Kids' MusicRound – Various locations
This nationally recognized music location for kids is a great place to let your child begin his or her musical adventure. Instructors combine music and movement to create a balanced and exciting class for kiddos up to 5 years old. With more than 15+ locations up and down the state, you are bound to find one that's convenient for your family.
Kidville – Various locations
Kidville's classes are designed by early childhood development specialists. Music classes vary by location; options include Rockin' Railroad, in which kids explore a different instrument and musical genre each week, and I'm With the Band, which gives kids the chance to make their own instruments and write original songs. Kidville's multiple locations—in Closter, Denville, Montclair, Englewood, Hoboken, and Summit—make it easy to join the fun.
Little Rockers – Various locations
Little Rockers hosts an array of cool kids' music classes for little ones from birth to age 5. Led by two teaching artists, the classes introduce kids to rhythm and melody in a relaxed, fun atmosphere and a combination of original kiddie rock songs and classic hits. Parent/child classes include Baby Bop and Tot Rock, and there's a preschool drop-off class, Rock N' Me, for kids ages 2.5–5. Kids ages 4–6 can sign up for instrument boot camp and try playing piano, guitar, drums and vocals.
Music for Aardvarks – Various locations
Aardvarks offers a wide variety of musical activities, including singing, dancing, musical storytelling, instrumental jam sessions, and musical puppet play. Created for children ages 6 months to 5 years, Music for Aardvarks is offered in several New Jersey locations, including Miss Kat's Aardvarks (Maplewood Village), Miss Melissa's Aardvarks (Red Bank, Fair Haven, and Lincroft), and A Hum Music (Waldwick, Glen Rock, and Westwood). These weekly interactive music classes focus on celebrating childhood by rockin' and groovin'.
Music Together of Bergen County – Various locations
Supporting the idea that all children are musical, Music Together of Bergen County has a motto of Bringing Harmony Home. These inspirational music classes combine singing, chanting, and movement for infants, toddlers, preschoolers, and the adults who love them. Class locations include Tenafly, Rutherford, Teaneck, and Englewood.
Music Together of Northern NJ – Various locations
Music Together doesn't just offer a variety of locations, but also a variety of classes—including Baby (for 8 months and under), Mixed Age (perfect for siblings), and Big Kids( 4–6). Choose from Harrington Park, Mahwah, Park Ridge, Ridgewood, Waldwick, Wayne, and Wyckoff.
RELATED: Top Mommy-and-Me Classes for NJ Babies and Toddlers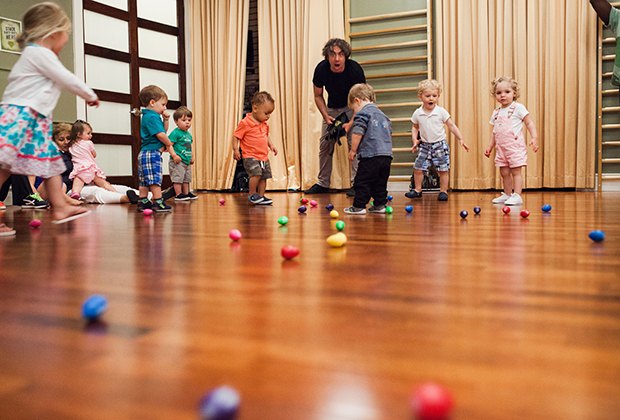 Egg shakers are always a hit at Rockness Music.
Rockness Music (formerly Preschool of Rock) – Various locations
With several parent-child classes, Rockness Music offers engaging music education and performance classes for babies through kindergarteners. With a motto of "every class is an educational, roof-raising celebration," your tyke is sure to have some fun. Classes are located in Jersey City, Hoboken, Montclair, Livingston, Hoboken, Westfield, and Metuchen.
Sing a Song – Sparta and Hampton
Classes at Sing a Song are geared toward children up to age 5. Its family-style learning allows children to participate at their own level while singing, dancing, and exploring musical instruments. Classes meet weekly for 45 minutes, and song collections change each semester.
Songs for Seeds – Livingston
Each 45-minute class is headed by a live, three-piece band. Kiddos will be exposed to different music, language, and cultures, along with well-known nursery rhymes, too.
Wompy's Classes – Warren, Garwood, New Providence, Cedar Knolls
Head to Wompy's and share the enjoyment of music with your child. Wompy's lessons blend art, theatrical play, literacy, musical coordination, and social skills.
Photos courtesy of the classes.
This post was published in 2016 and is updated regularly.