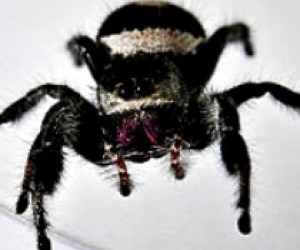 Best Museum Exhibits for NYC Kids: 10 Summer Installations for Families
While we're all for enjoying outdoor summer fun, the season doesn't need to be a cultural wasteland. Many of NYC's museums are unveiling new family-friendly exhibits so kids can experience cool art—and cool air-conditioning.

Over the past few weeks, we've posted about a few new installations we've already visited, like Spy: The Secrets of Espionage and Terracotta Warriors at Discovery Times Square, Tomás Saraceno's climbable Cloud City on the roof of the Met and the Czech Center's Orbis Pictus - Play Well, where kids can play on funky, artist-made instruments. But we've found ten other awesome sounding summer exhibits, where kids can get up close and personal with live spiders, gawk at a real Space Shuttle, take art workshops with design pros and more.
Wendy by HWKN – Long Island City
MoMA PS1, 22-25 Jackson Avenue at 46th Avenue
On view through Saturday, September 8
Free with suggested admission: $10 for adults; $5 for students
The winner of this year's New Architects Program is a massive, spiky, three-dimensional star created out of durable light blue fabric. It's certainly a sight to behold, but it's not just pretty, it has a purpose: The one-of-a-kind sculpture helps clean the air by neutralizing airborne pollutants and transforming them into mists and sprays. Step inside to see how it seems to breathe, or head to the courtyard to get doused by sporadic spray showers. Wendy may look blue but she's totally green.

Art Forms: 75 Years of Arts Education – Hudson Square
Children's Museum of the Arts, 103 Charlton Street between Hudson and Greenwich Streets
On view through Sunday, September 30
Free with admission: $10
CMA's exhibition explores the relationship between art teacher and student. Contemporary art created by children at local schools will be on display alongside works by the educators who taught them. Vintage kid-made art from the museum's permanent collection will also be on view. Of course, the always interactive museum will host a variety of hands-on art workshops in conjunction with the exhibit, too.

NYC Design Studio at the Children's Museum of Manhattan – Upper West Side
212 West 83rd Street between Broadway and Amsterdam Avenue
Open through Sunday, September 9
Free with admission: $11
The New York Hall of Science and Cooper-Hewitt have both opened design studios recently. Now CMoM continues the trend with its hands-on design lab. Kids can drop in and get creative in workshops led by design pros and art educators, taking inspiration from the works on display. Upcoming sessions include architecture, fashion, set design and interior design pieces. Check CMoM's calendar for a complete list of workshops.

Monet's Garden – the Bronx
The New York Botanical Garden, 2900 Southern Boulvard
On view through Sunday, October 21
Free with all-garden pass: $20 for adults, $8 for children
The NYBG has recreated parts of the French impressionist's famous gardens of Giverny in the Enid A. Haupt Conservatory, including the Japanese footbridge over the water lily pond, which inspired so many of his paintings. There are a number of events in conjunction with the exhibit, including drawing and painting programs for kids. You can also download an app that lets you turn your garden photos into impressionist masterpieces.

Wild Forest: A Lego Safari – the Bronx
The Bronx Zoo, 2300 Southern Boulevard
Saturday, July 7-Sunday, September 3
Free with general admission: $16 for adults, $12 for children ages 3-12, free for kids under 3.
The zoo's popular Lego Safari exhibit returns. Little kids love hunting for the intricately constructed animal statues hidden throughout the grounds. On weekends, there will also be a Lego Construction Zone where kids can build their own structures, puppet making workshops, a Lego Family Challenge building completion and performances by Wildlife Theater and Avenue Zoo.

Fireflies on the Water – Upper East Side
Whitney Museum of American Art, 945 Madison Avenue at 75th Street
On view through Sunday, September 30
Free with admission: $18 for adults, free for children under 19
As a companion piece to its upcoming retrospective on avant-garde Japanese artist Yayoi Kusama (July 12-September 30), the Whitney is showing off the artist's interactive installation Fireflies on the Water from its permanent collection. Visitors walk through a small, dim mirrored room illuminated by zillions of tiny lights. (Makes a nice comparison to the firefly area in the American Natural History Museum's Creatures of Light: Nature's Bioluminescence).

Space Shuttle Enterprise Pavilion – Midtown West
Intrepid Sea, Air & Space Museum, Twelfth Avenue at 46th Street
Opens Thursday, July 19
Free with admission: $30 for adults, $23 for children ages 7-17, $16 for children ages 3-6, free for kids under 3. Save $2 per person if you purchase your tickets in advance online.
Aspiring astronauts will go gaga for the Space Shuttle Enterprise, which will be permanently on view on the Intrepid's flight deck. The pavilion will also house exhibits about NASA and the Space Program. Sadly you can only admire the Enterprise from the outside, so no playing captain in the cockpit.

Spiders Alive! – Upper West Side
American Museum of Natural History, 79th Street at Central Park West
Saturday, July 28-Sunday, January 6
Timed tickets only. Included in museum plus one admission: $25 for adults, $14.50 for children ages 2-12.
Like last summer's Frogs: A Chorus of Colors, the museum's new exhibit features live creatures, in this case, a wide variety of eight-legged arachnids. In addition to face time with 19 different species of spider, including the deadly black widow and the enormous Goliath bird eater, kids can learn about their anatomy, venom and silk spinning skills through videos, large-scale models and fossils.

Century of the Child: Growing by Design, 1900-2000 – Midtown West
Museum of Modern Art, 11 West 53rd Street between Fifth and Sixth Avenues
Sunday, July 29-Monday, November 5
Free with admission: $25 for adults, free for children under 13
This exhibit showcases 100 years of designs for children, including schools, playgrounds, toys and games, animation, clothing, safety equipment, therapeutic products, nurseries, furniture and books. Organized chronologically, it features artifacts and designs that illustrate how childhood evolved on the 20th century. Although not aimed at kids, we're guessing they'll get a kick out of some of it, especially artifacts from Pee Wee's Playhouse.

Lunch Hour NYC – Midtown East
New York Public Library, Stephen A. Schwarzman Building, Gottesman Exhibition Hall, Fifth Avenue at 42nd Street
On view through Sunday, February 17, 2013
FREE
We've been hearing rave reviews from families who've visited this offbeat exhibit about the history of lunch and how it's changed in NYC over the past 100 years. While kids may not be that interested in the origin and evolution of the meal or the rise of the Power Lunch, they'll love the interactive displays, like the Horn & Hardart Automat. There will also be events for kids in conjunction with the exhibit, and some top food trucks will be selling lunch on the Fifth Avenue Plaza through Labor Day.

To save money, check out our post about free museum hours.

Find out about other great exhibits for kids in our Museum Guide.