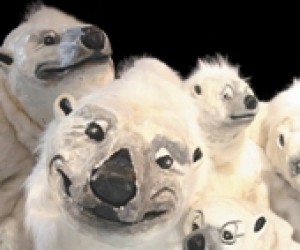 Little Kids Go Wild for ZooZoo
Wow! Is all I can say about the production of ZooZoo my family and I recently saw at the New Victory Theater. ZooZoo is a unique play without sets, dialogue, or real props. Unless you consider fantastic, realistic looking animal "costumes" a prop. Mood setting music, lighting and maybe even a little magic bring a family of polar bears, three frogs, a cat trapped inside a paper bag and musical chairs playing penguins to life. Every minute of the one hour performance was engaging and hysterical -- my son (as well as all the other kids and most of the adults in the theater) were laughing out loud through the whole show! It's here till October 24, 2010 and tickets are still available. Don't miss it.
From the first mesmerizing scene with blinking glow in the dark eyes and a swirling glow in the dark snake, to the frolicking finale where fluorescent streamer arrows are 'shot' from bows into the audience, the show is completely original and unlike anything I have seen before. In between are eight different scenes telling little tales, full of clever movement and awe inspiring acrobatics by performers in colorful polar bear, larvae, accordion caterpillar and giant ball costumes that interact with each other and the audience.

A perfect first theater experience for children: bright, colorful, no dialogue, easy to understand, funny and just one hour in length. ZooZoo is produced by the wildly imaginative Imago Theater and is currently on stage at the New Victory Theater through October 24, 2010 (Performances are Friday through Sunday nights and matinees on both Saturday and Sunday.) Tickets range between $14 and $38.


See more Theater for Families in the Mommy Poppins Fall Fun Guide.