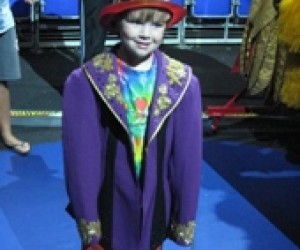 6 Circuses Perform in New York City This Fall
Hurry, Hurry! Step right up. Get your popcorn, peanuts and cotton candy now because the Big Apple will soon be known as the Big Top. The circus is coming to town, but in typical over-the-top NYC style, we don't have just one circus troupe visiting but six circus troupes! From the enchanting Cirque de Soleil to the hijinks of the Squirm Burpee Circus, fall is going to be fun! Why not a break from all that apple picking and Halloween costume making to sit back and enjoy a day at the circus?
Squirm Burpee Circus from Denver, Colorado is sure to impress with vaudevillian zaniness, giant moving contraptions, singing, dancing and even a mustachioed villain named Baron Vegan Von Hamburger who is plotting the demise of the entire troupe. Will he be successful? Find out at the New Victory Theater November 12 – 28, 2010.

Wintuk tells the story of a boy in search of snow; this is the final year for this wonderful Cirque de Soleil family performance with acrobats, giant marionettes and the rest of the usual Cirque de Soleil magic. November 17, 2010 through January 2, 2011 at the Theater at Madison Square Garden

The Big Apple Circus New York's favorite circus brings back Grandma the Clown and the gang for lots more fun under the big top in "Dance On". At Lincoln Center, October 21, 2010 through January 9th 2011.

Circurious tells the story of the American theater from it's vaudevillian roots through modern day with circus and variety acts. Expect exciting spectacles, incredible contortionists, high flying aerialists and stunning illusionists along with singing and dancing numbers. At Symphony Space one day only October 23, 2010

For 20 years the Inflatable Theater Company has been selling out shows whereever they perform. This completely original performance concept uses colorful fabric inflatables that transform on stage; a cube turns into giant dog and a ballerina into a balloon that floats away. Acrobatics, drama, comedy, magic and audience interaction complete the package that will amaze as well as entertain. At the Kingsborough Performing Arts Center November 12 and 14, 2010 and Symphony Space January 8, 2011

Cirque Le Masque--the sophisticated, animal free, European style circus will astound with feats of incredible strength and agility along with aerial stunts that defy gravity and are performed without a safety net. Children are encouraged to come in costume to this special Halloween performance. At the Brooklyn Center for the Performing Arts at Brooklyn College on October 31, 2010.
Bonus:
The Manhattan Movement & Arts Center is hosting a special Halloween Spooktacular benefit event on October 24th only with two kid-friendly aerial and circus acts. $15 admissions adults/$10 kids includes one 30 minute performance (appropriate for ages 2 and up or 5 and up) plus a haunted open house with Halloween games and activities. Proceeds benefit the Manhattan Youth Ballet. Find out more at MMAC website.

Read more about the best in theater and live music and funthings to do for families in our Fall Fun Guide.