Best Gifts for New NYC Moms and Dads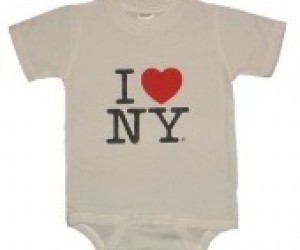 When a friend tells you she's pregnant, after all of the usual questions—due date, boy or girl or unknown—you usually ask where she's registered. But as a parent of two I can tell you, sometimes it's best to think outside the box. Buying off the registry is nice but some parents—especially first-time moms and dads—don't realize what they really need until the baby arrives. This is especially true for New York City families, who are usually way too space-challenged to accommodate large or unnecessary items, like one of those humongous stuffed animals that requires its own bedroom.

As someone who's had to freecycle a number of well intentioned but extraneous gifts (see ya, wipe warmer), I've compiled a list of presents that I think NYC parents will be psyched to receive.
The Gift of Food
You can never go wrong bringing food to a family that's just had a baby, regardless of where they live. But many families in NYC don't have relatives nearby to help out with cooking, so meals are really appreciated. I've written before about the genius of online meal registries like MealBaby.com. The site's an easy way to organize a group of people to take turns delivering food to a family. If you can't bring home-cooked meals because of your own NYC lifestyle (miniscule kitchen, no car, etc.), there are alternatives. You can order delivery or buy a gift card from the family's favorite restaurant, or have Fresh Direct deliver pre-made meals. If you want to splurge, you could hire a personal chef (it's less expensive than you think). Of course, if you're going to visit the new baby, just pick up soup and sandwiches on the way.
The Gift of Experience

How about a present that doesn't come in a box? Mommy Poppins is all about families getting the most out of our awesome city, and that includes new moms and their babies. You could buy a pass for a neighborhood Mommy and Me class, like yoga, aerobics, swimming, music or even stroller workouts. Or how about movie tickets to a baby-friendly movie matinee? New play spaces seem to open up in the city every day, so consider purchasing a few open play passes or even a monthly membership. And what new parent doesn't need caffeine? A gift card to a local family-friendly cafe should come in handy.
Space-saving Gifts
For me, one of the biggest stresses of having a baby in NYC was finding room for all of the extra stuff. So when buying a gift, you should always keep size and practicability in mind. Since my kids' stroller is basically our home away from home, I love getting cool accessories, like the StrollAway, which lets you store it in a closet, and the Mighty Buggy Hook, on which you can hang all of your shopping bags. Gift certificates to online baby retailers are great, so parents can order essentials like diapers, nursing pads (for breastfeeding moms), formula (for bottle-fed babies), etc. Not the most glamorous gifts, I realize, but trust me, they will be used! Although you may be tempted to buy a sling or even a stroller, parents tend to be very particular about these. Better to go for the gift card.

Life-saving Gifts
No I'm not suggesting you buy the family health insurance. (Hopefully they have that covered.) But you could invest in an infant CPR class. They range in price, and some are quite affordable. Also, sleep-training may not literally save anyone's life, but a sleep-deprived mom may feel like you just rescued her from the brink. And a postpartum doula or baby nurse can help keep a family sane. These gifts are a lot pricier than others I've mentioned, so you may want to get a group of friends together to share the cost.

NYC Gifts for Ex-NYC Parents
I figured I'd throw these ideas out there since we all know people who've moved out of NYC to have kids. For those friends, consider an NYC-themed gift for old time's sake, like wall hangings that spell out the child's name using photos of letters found around the city. You can buy these online at AlphabetPhotography.com or TheAlphabetCity.com. There are also tons of picture books about NYC. One of my personal favorites is Good Night New York City, but we have many other great suggestions. You could also give the family a CD of city-centric tunes, like a Music for Aardvarks album.
So tell us NYC parents: What's the best baby gift you received?

Read other posts that are all about babies.
For more gift ideas check out our NYC Shopping Local Gift Guide, and for holiday fun see our Holiday Guide.