2019 American Girl Doll Hails from the Hudson Valley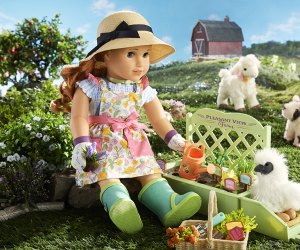 The Hudson Valley's newest celebrity resident is a redheaded blogger/farm girl who's 18 inches tall. Meet Blaire Wilson, American Girl's 2019 "Girl of the Year."
Blaire, American Girl's first-ever doll set in the Hudson Valley, lives with her family on a sustainable farm and bed and breakfast in Bluefield, a fictional town set in the real Ulster County, NY. She made her debut on January 1.
Unlike 2018 Girl of the Year Luciana Vega, an aspiring astronaut who dreams of landing on Mars, Blaire has more terrestrial concerns—cooking, caring for farm animals, and helping to plan events at her family's farm. As with all American Girl "Girl of the Year" dolls, Blaire's issues and interests are very of-the-moment: in addition to the farm-to-table angle, Blaire struggles with her attachment to electronic devices, and she's dealing with a newly diagnosed food sensitivity.
Also like all American Girl dolls, Blaire has an accompanying line of accessories and play sets—among them a garden, plush farm animals, and the family farm restaurant—as well as chapter books that tell her story.
RELATED: 'American Girl Live' Brings Beloved Characters to the Theater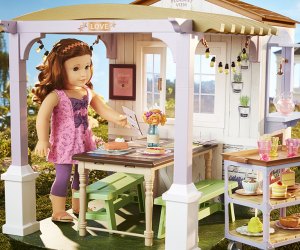 Blaire's family farm restaurant is one of the sets available for purchase.
The books are written by children's book author Jennifer Castle, who also happens to live in the Hudson Valley. In an interview with The Poughkeepsie Journal, Castle said she drew inspiration from real-life places in the region, and that she imagined Bluefield to be somewhere between New Paltz and Gardiner. In the books, Blaire attends the Ulster County Fair and rides the train with her parents from the city up along the Hudson River to Poughkeepsie.
Unfortunately, you can't visit Blaire's digs, Pleasant View Farm, IRL. Although it shares a name with two real Hudson Valley farms (in Putnam and Dutchess counties), it's purely fictional.
Fact vs. fiction aside, we think it's pretty cool that American Girl chose to spotlight our beloved Hudson Valley—which we are lucky enough to be able to enjoy anytime, whether or not you choose to spring for the doll and her accoutrements. And, thanks to Blaire and the wild popularity of AG, many more people will learn about the region and find out what we locals have long known: that's it's a true treasure.
Photos courtesy of American Girl.