SPONSORED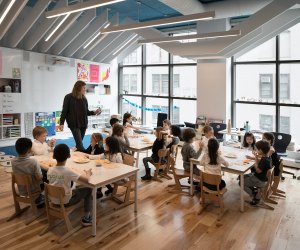 Spanish and Chinese Language Immersion Lead the Way at Avenues: The World School
There's no better time to learn a second language than early childhood. And that's exactly why language immersion is front and center from nursery through 5th grade at Avenues: The World School, a popular Manhattan private school with campuses on three different continents.
Read on to find out how Avenues' innovative program—shaped by expert faculty with support from an in-house research and development team—builds bilingualism, global citizenship, and a love of learning from the very start.
The Dual Language Program at Avenues
Beginning in nursery, Avenues students don't just learn a second language—they actually learn in it. Kids spend 50% of their time learning in English and 50% learning in either Spanish or Mandarin Chinese, alternating each day. Tons of tactile play and an emphasis on independence and self-help skills really round out the Early Learning Center, which also encompasses Pre-K and Kindergarten. And a dedicated state-of-the-art facility featuring a fully landscaped outdoor playground, a multipurpose room for movement, a patio for growing plants, and a teaching kitchen brings the program to life for the school's young learners.
For families who want an earlier start, the Small World program for 2-year-olds exposes children to all three languages, while integrating free play, movement, and hands-on exploration.
From 1st through 5th grade, students expand on their early language skills by learning to read, write, and spell in both English and their immersion language. They build fluency as they move through their academic material—science, math, music and art, wellness and movement, and coding and creative computation—while continuing to switch daily between languages. The Avenues World Course also continues to take shape during the Lower Division years, after first being introduced to it in nursery. This inquiry-based global humanities program challenges kids to consider their roles in the community and how humans adapt in their environments.
By the middle grades, Avenues students are truly proficient in their second language, but continue to learn and grow through more advanced classes that incorporate history, literature, and social studies. Additionally, the middle grades and upper grades are filled with unique opportunities that build on Avenues' mission. Deans serve as full-time mentors to support the social-emotional well-being and academic success of each student. Physical health is prioritized with an extensive sports and fitness program that utilizes Avenues' 20,000-square-foot gymnasium plus nearby Chelsea Piers. The integrated science program applies the best principles of physics, chemistry, and biology to contemporary issues like the environment and energy conservation."Minimesters" offer kids a chance to spend a week deep-diving into a subject of interest like cooking or forensic science. And the Global Journeys program offers once-in-a-lifetime opportunities to experience the world abroad while learning about global issues like climate change or social justice.
Maybe most unique of all, Avenues has campuses in São Paulo, Shenzhen, and Online, in addition to their home in New York. Together, these campuses form one highly integrated global learning community, and admission to one location means admission to all. That means that families with commitments in Brazil, China, or—with Avenues Online—anywhere else can provide their children with an Avenues education no matter where they are.
At Avenues, curiosity, independence and empathy are at the heart of education, with language immersion leading the way. Visit the Avenues: The World School website to learn more about how this program goes well beyond traditional learning or, even better, register to attend an upcoming virtual event. Spots fill up quickly, so sign up soon!
Avenues: The World School - New York
259 10th Avenue
New York, NY 10001