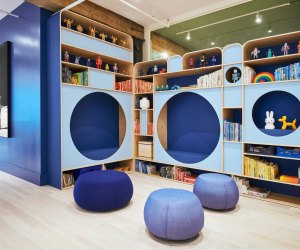 The Wonder Opens in Tribeca: New Members-Only Family Hub
Play spaces are big business in NYC, with new kid-friendly play spots popping up annually. Some offer drop-in play while others are members-only, and all are seemingly kid-centered, with padded walls and brightly colored playthings. Now there's a new kid on the block attempting to reinvent family fun, with the arrival of The Wonder in the stroller-packed Tribeca neighborhood.
This new members-only space offers an ultra-cool hangout spot that aims to cater to both adults and children. Co-owned by two NYC moms who wanted somewhere other than their apartments to connect with each other—and their kids—over a glass of wine and playtime, The Wonder isn't cheap, but it just might be a new model for play spaces in NYC. Read on for a peek inside.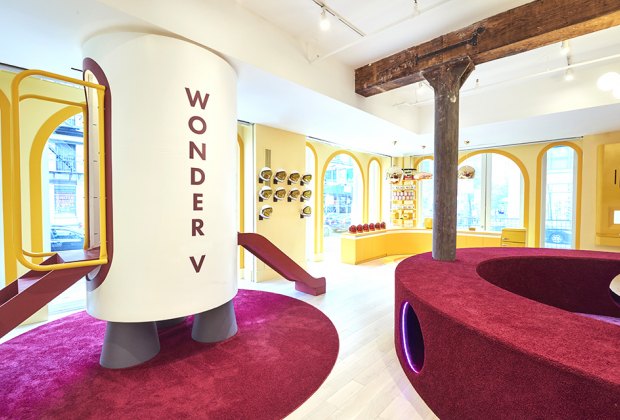 The Wonder is a place you can actually have a conversation while your kid plays with or without you.
At 8,000 square feet, The Wonder could have been another gigantic play space filled with slides and bounce houses and climbing structures. But here, the engaging indoor playground takes up only a fraction of the square footage.
While there's kid-focused fun to be had at The Wonder, the stated mission for moms and co-founders Sarah Robinson and Noria Morales (and their all-female leadership team) is to offer an old-school, analog space for the entire family to reconnect, in various ways. Think of it as an extension of home, but you don't have to cook or clean up.
The space itself includes not only the aforementioned play zone, but also a cafe area, a family lounge and book nook, a pair of classrooms, a nursery, and a super secret hidden parents-only lounge, which doubles as a co-working space. Dropping your kids at class and getting some work done while you wait might sound like a dream, but at The Wonder, it's the goal.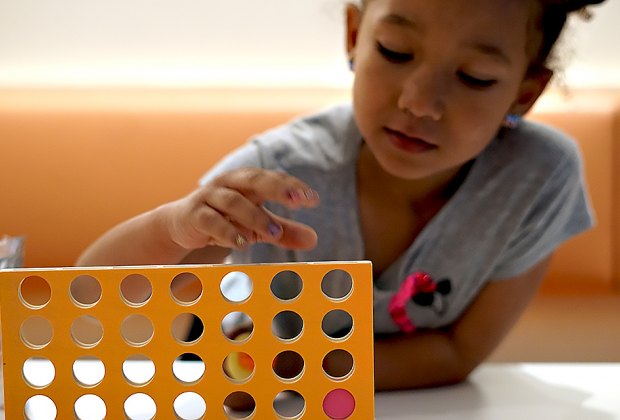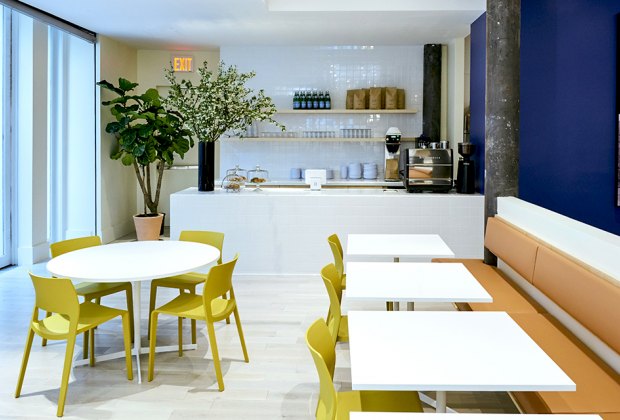 The cafe offers all-day menu with items to please both parents and children.
The on-site cafe serves espresso and adult beverages, and is also fully stocked with high chairs, baby food, and a menu of kid- and adult-pleasing classics. Tables are topped with old-school games made modern (think: Lucite tic-tac-toe boards and colorful wooden connect-four games). Monthly "Booze and Board Game" nights are on the calendar, sure to be a hit with members young and old. A pair of classrooms hosts tons of workshops. Some are kid-only, while others are led by creative kids themselves. All are sure to keep you and your kids away from screen time for a while.
Other family-friendly perks go beyond workshops and events. For example, when you check in, you're asked if your stroller needs detailing. Answer "yes," and the staff will vacuum up crumbs and give it a good spot clean while you play. Bathrooms are stocked with organic soaps and lotions, changing tables are full of Coterie diapers, and there's even a "dunk sink" should you experience a dreaded diaper blowout and need a big-time clean up during your visit. A softly-lit nursery room offers a quiet place to escape and nurse, and even let a sleeping babe lie.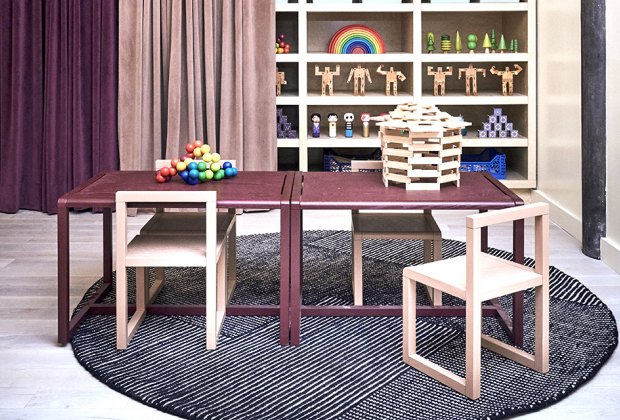 Children can play with beautiful wooden toys in a calm environment.

Membership doesn't come cheap at $450 per month, and requires an annual commitment. The cost gives you unlimited access to the space for your entire family, meaning all children (and future children!) and an additional caregiver. Programming is all included, too, so no need to shell out for extra art classes when you can attend Family Craft Night or (Pop) Art Class. Workshops are geared toward kids ages 0-12 and their adults. Today you might appreciate the News and Babies class, where celeb headlines are shared alongside tummy time exercises; tomorrow you'll be ready for the weekly Saturday Afternoon Disco.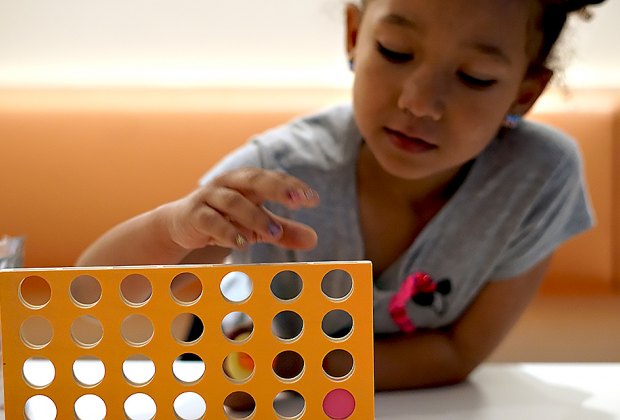 Play a game and have a snack in the cafe.
True to The Wonder's mission of fostering connections, you're expected to be with your kids here as primary caregiver. The staff acts more like lifeguards than babysitters, making sure everyone is safe while they enjoy the space, but not taking charge of your kids.
If the opening night party is any indication, The Wonder will live up to its name, with plenty of surprises in store. That evening, we met a unicorn on the street outside; saw an astronaut inside, and were enveloped in a dino dance mob as we exited. You have to wonder what will come next.
Unless noted, photo courtesy of the space