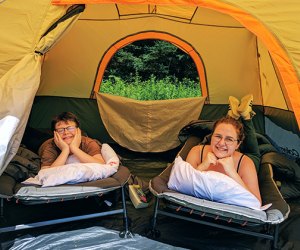 Camping in New York Just Got 100% More Awesome with Tentrr
Camping seems like such a nice idea. You connect with nature—just you and your family or friends in the woods. But the reality isn't always as splendid. Gathering all the gear needed and packing everything and everyone into the car, or arriving at a trampled campground that's often just a few feet of dirt and some brush separating you from a band of beer-drinking bros, and you lose some of the romance. That's why we were excited to stumble upon a new way to reconnect with nature, especially for NYC or city families who don't have room to store lots of equipment between trips.
A new website, Tentrr, connects private camp sites and campers, like an Airbnb for the Great Outdoors. While your host may leave you cookies or something extra to make you feel welcome, the best part of our stay was the total seclusion. The sites are on private land, so it really will be just you, the trees, and some woodland creatures.
Deal Alert! Mommy Poppins readers can save 20% off Tentrr. Visit our deals page to see all current offers for Mommy Poppins readers.
Sign up for our FREE newsletters to get posts like this delivered to your inbox.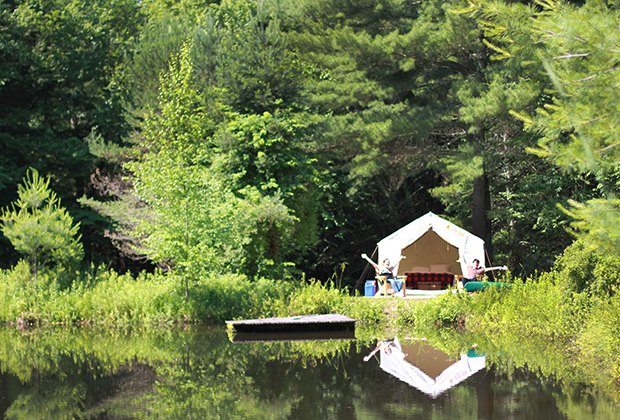 Our Tentrr campsite was beautifully situated on a swimming pond.
The Tentrr website is easy to use. You can sort by location, available dates, and the number of campers. Each site comes with a dreamy glamping style canvas tent, a platform with a deck and Adirondack chairs, and a queen sized cot. There's a campfire site with a grill, a picnic table, a sun shower, and a camp toilet. Dome tents are available for up to four additional people at no extra charge.
RELATED: NYC Family Outdoor Adventures Guide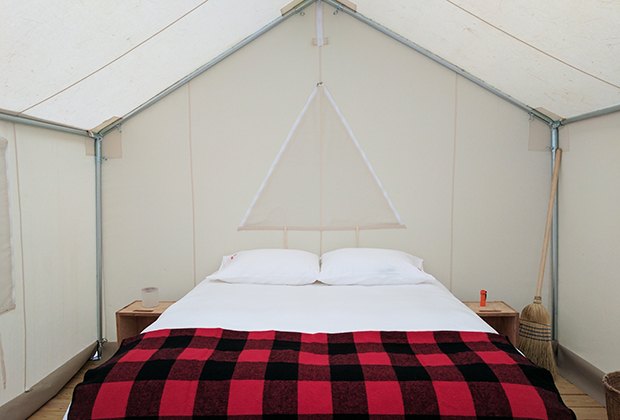 Amenities like luxe bedding made camping out a bit more comfortable.
Hosts may offer additional amenities like bedding, pillows, extra cots, an air mattress for the queen cot, cooking equipment, and other niceties for free or at an additional charge. Paying a few extra dollars for the air mattress and bedding, including a duvet, upped the experience and made it even more convenient. Check each listing carefully to see what's provided by the campsite and what counts as an extra.
The fancy bedding and platform tent make you feel like you're glamping, but Tentrr isn't all luxury. You won't find bathrooms or running water at your site. Instead, Tentrr provides a sun shower (an outdoor shower heated by the sun) and a camp toilet, which encapsulates your business so you can carry it out with your other garbage. I'll leave it at that, except to say we were pleasantly surprised to find that our hosts had built an outhouse. Phew!
RELATED: Campgrounds Near NYC with Extra Entertainment for Families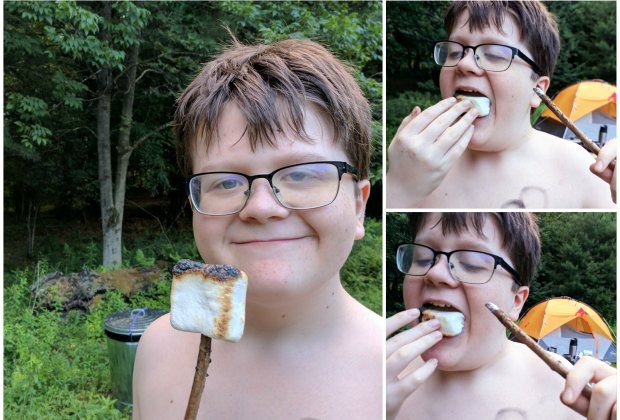 Camping + marshmallows = happy kids.
You can also search campsites by nearby activities. Tentrr currently offers sites all around the Catskills region of New York's Hudson Valley, so there are sure to be lots of family activities nearby. Our site, Frog Pond, was very near the Delaware River, and I planned on doing some rafting or tubing, but we were so charmed by the lovely swimming pond (there was even a kayak for us to paddle around) that we ended up never even leaving our campsite except to run into town for food and provisions.

The privacy factor can't be underestimated. We listened to coyotes and frogs, but nothing else!
At night there were no lights or sounds from other humans, just us and the fireflies and the frogs, and we heard coyotes howling in the distance on our second night. This is what getting out of the city should be. Tentrr has put camping at the top of our no-hassle, awesome weekend getaways list! Check it out on Tentrr.com.
All images by author.