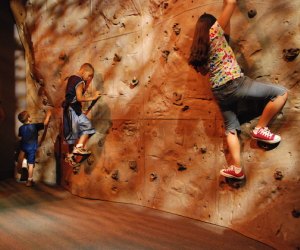 Me Too! 10 NJ Outings to Appeal to Siblings of Different Ages
The wants and needs of toddlers versus teens couldn't be more different. One is begging for toy cars while the other is eyeing up the keys to your SUV. When it comes to spending quality family time together, everyone can agree that day trips must be fun for siblings of all ages. Luckily, New Jersey has several destinations on the docket that will have your whole family cheering for more.
1. Hike a Geotrail – statewide​
Make your next hike a scavenger hunt! Download the free Geocache app to use your smartphone as a guide to find hidden objects in parks and open spaces. For instance, 28 caches are hidden in the Griggstown Native Grassland Preserve Geocache Trail in Franklin Township. Some trails take a few hours to complete, so plan accordingly. Of course, you might be help to entice the older ones a bit better by turning it into a Pokemon hunt. Your call.
2. Chocolate-Making Workshops – statewide
​Chocolate Works, with locations statewide in towns like Millburn, Red Bank, and Fair Lawn, offers workshops where kids and teens can mold and design their own chocolate creations, plus special mommy and me workshops, especially around holidays like Mother's Day. Contact your nearest franchise for a list of events.
RELATED: 20 Best Things to Do with NJ Tweens in the Garden State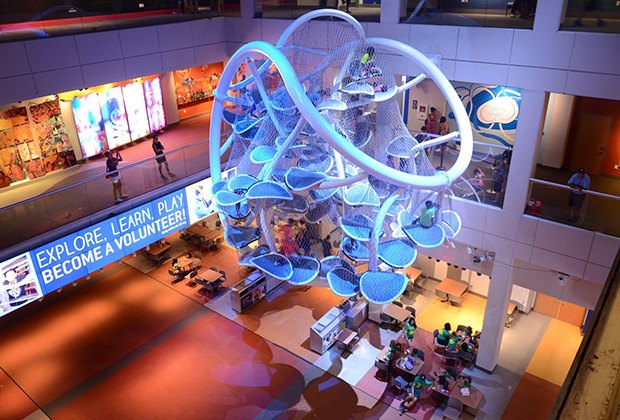 Siblings can try the Infinity Climber at Liberty Science Center together as long as they measure 42 inches high. Photo courtesy of the center.
3. Liberty Science Center – Jersey City
Jersey City's Liberty Science Center has something for everyone, whether it's the hands-on Explore gallery for young learners, a six-foot high soap bubble maker, a rock-climbing wall, or DNA isolation experiments. Visitors measuring 42 inches high and up will love hanging around in the Infinity Climber, an enormous climbing chamber suspended 35 feet in the air. Families can also purchase tickets to see IMAX movies, 3D planetarium shows, or premium exhibits. Traveling exhibits keep the center fresh for several trips to come.
4. Minor League Sports – statewide​
New Jersey is home to several minor league teams that offer the fun and excitement of the big leagues without the hefty price tags and huge crowds. During the summer, baseball fans can watch the Lakewood BlueClaws, the NJ Jackals in Little Falls, the Sussex County Miners, the Trenton Thunder, and the Somerset Patriots. Although the NJ Spartans, a minor league football team, just announced they won't be returning this year, we also have college football, basketball, and hockey season coming up! A college game is great way to introduce your kid to the sport. Check local schools and Rutgers for times.
5. Arcades – statewide
School-age siblings will love an afternoon at the arcade. Find them along the boardwalk, but we also recently enjoyed Game Vault in Morristown and YESTERcades in Sommerville and Red Bank. Let the kids experience part of your childhood at these venues where you can find old-school pinball, dance and driving games, and more.
6. Corn Maze – statewide​
​The whole family can enjoy the crisp fall air at one of the state's many corn mazes. One of the largest corn mazes in the state is spread over 13 acres at Happy Day Farm in Manalapan, NJ. Pick apples at these farms to round out the day, something all the kids will enjoy contributing to.
RELATED: Best Events This Fall for NJ Preschoolers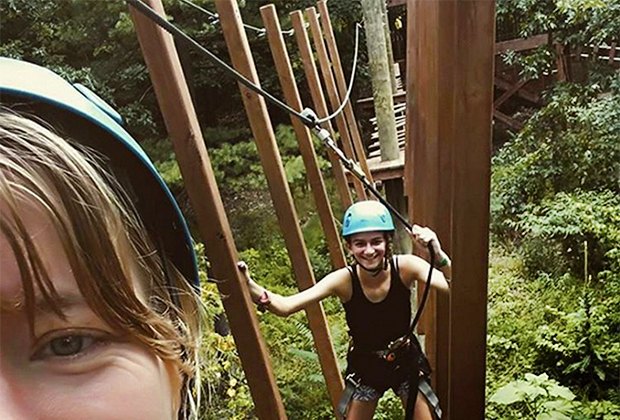 An aerial adventure course built into the trees at Turtle Back Zoo has obstacles for children and adults. Photo courtesy of the zoo.
7. TreeTop Adventure Course – West Orange
You may already know of Turtle Back Zoo's wildlife exhibits, but newly expanded is the adjacent Essex County TreeTop Adventure Course. With two options available—adult or junior for those ages six and older—families can harness up and climb through 10–35-foot challenge elements. Zip-line across the length of a football field if you dare! Kids of all ages can explore the rest of South Mountain Reservation with its easy hiking paths and destination playground.
8. iPlay America – Freehold, NJ
Looking for indoor fun? iPlay America offers games and rides for kids, teens, and adults of all ages. Highlights include go-karts, laser tag, a 4D theater, an arcade, mini bowling, kids' rides, and more. Buy a day pass or pay by the ride.
9. Statue Cruises Ferry Tours – Jersey City
Take to the seas for a sightseeing tour of some of NYC's most famous sights. Preschoolers will thrill to ride a boat, while older kids take in more of the historical details. See Ellis Island, or climb the Statue of Liberty as a family. Just keep in mind that some tours have height or age restrictions.
10. Play at the Boardwalk – statewide
Kids (and grown-ups) of all ages usually enjoy a day at one of New Jersey's famed beaches, but nothing screams family fun quite like a day on the boardwalk. From thrill rides to teacups, water slides and great eats, plus shops, the Jersey boardwalk has plenty to offer. And lest you think it's just for summer, don't forget that some of the attractions stay open well into the fall or even host year-round seasonal events and attractions. We especially like Jenkinson's Boardwalk in Point Pleasant Beach. The mile-long boardwalk boasts games, sweet shops and rides, a mini golf course, batting cages, gem hunting, and an aquarium with sharks, seals, penguins, and more. Rhe arcade, aquarium and sweet shop are open year round, weather permitting.
Top image: Rock climbing wall complete with fossils to find. Photo courtesy of the Liberty Science Center.