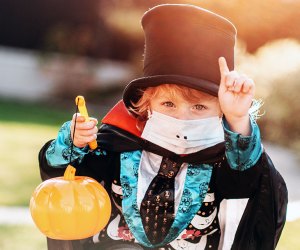 Not-So-Scary Halloween Events for New Jersey Preschoolers
Little ones love nothing more than dressing up and collecting goodies on Halloween. While festivities may have restrictions this year, New Jersey still offers plenty of safe, not-too-scary Halloween celebrations perfect for the preschool set. From trunk-or-treats to over-the-top events at amusement parks and sweet scavenger hunts through a farm, these safe, little kid friendly activities let preschoolers experience the magic of Halloween. Good news for parents: Many of them are FREE!
Read on for 20+ fun and preschool-friendly Halloween events in New Jersey, plus a couple of extra-special events just over the border in Pennsylvania, and find even more Halloween happenings in our Event Calendar and Halloween Guide. Plan your fun in advance, as many events require reservations this year, and no matter where you go, remember to bring face masks and practice social distancing.
OUR LATEST VIDEOS
Preschool Halloween Events in New Jersey and Pennsylvania