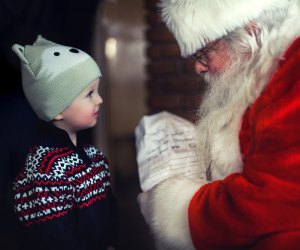 30 Christmas and Holiday Events for NJ Babies and Toddlers
Now that Santa has paraded into our living rooms and shopping malls, the 2018 ho-ho-holiday season is officially underway. And whether you have an infant who can really only look cute in his or her "First Christmas" footie pajamas, a toddler who's a bit more clued-in to the Santa scene, or a preschooler who's been on his or her best behavior to impress your Elf on the Shelf, you can rest assured that you'll have enough fun things to keep your under-5 crew occupied.
We've made a list (and checked it twice) of some wonderful holiday must-dos to take you through the New Year—from Christmas light displays to breakfasts with Santa, rides aboard the Polar Express to the merriest musicals—and we're pretty sure you'll find them nice!
So, cue up that seasonal soundtrack and make a note of all the local little one–friendly yuletide hangs in our Holiday Guide, plus be sure to check out everything festive flagged in our Event Calendar.
1. Take your babes and their big sibs to your local bookstore to stock up on holiday books to line your book shelves. Many of the smaller stores do regular title character meet-and-greets, too, so you never know: Frosty or The Grinch might show up one day!
2. Speaking of books, mark mommy & me storytime on your calendar and snuggle up for some holiday reads. Check out snowman and Hannukah storytimes at Barnes & Noble, try Pottery Barn Kids' weekly storytime sesh, or visit the new Indigo bookstore at the Short Hills Mall for storytimes on Tuesdays and Thursdays.
3. Get a head-start on your holiday shopping and scope out the coolest holiday bazaars happening in December, like the Marketspace at Westfield (first three consecutive weekends in Dec.). After you scoop up gifts for everyone on your list, you and your tiny sidekicks can take a break with DIY crafting classes.
4. Ride the carousel round and round and let your little snowflakes get their faces painted at Van Saun Park's Winter Wonderland from Friday, November 23 – Tuesday, January 1.
5. Let those sweet-treat limitations slide (or should we say just "let them go?") for the evening and bring your Disney kids to a Frozen Fun Night at the Cora Hartshorn Arboretum & Bird Sanctuary on Saturday, December 1. They'll learn about snow, what animals do during the winter, and how to build a snowman… out of ice cream, of course.
6. Round the whole family up and trek out to one of Jersey's best cut-your-own Christmas tree farms.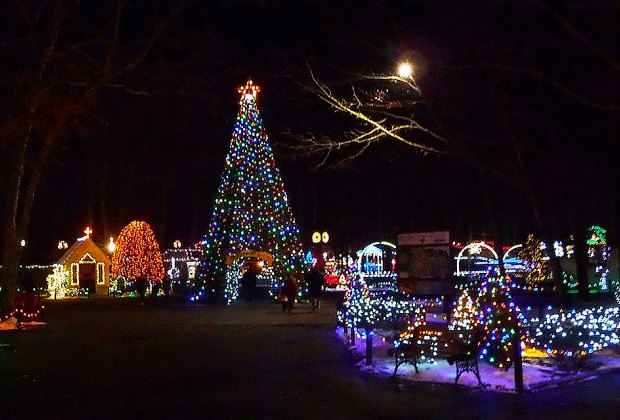 Storybook Land is all lit up for the holidays, and Santa is on the scene. Courtesy of Storybook Land
7. See what Santa is up to at Storybook Land! Through Sunday, December 30, he'll be lighting up the park every evening—and all the rides and attractions will be open!
8. Take your choco-lovers out for the sweetest walk of their lives (thus far!). During Bordentown City's Annual Holiday Chocolate Walk on Friday, December 7, local businesses open their doors for a chocolate crawl that can't be beat!
9. Speaking of walking for sweets, the Candy Lane Holiday Game is going on at Oasis Family Farm every Saturday and Sunday (through December 16). Your children will love visiting holiday characters and collecting goodies along a festive path.
10. Let your cuties get crafty pre-tree trimming at events like The Santa Experience on Sunday, December 9, in Glen Ridge. Santa will be on hand to help with ornament decorating, so the littles can have some time to warm up to him before holiday pics are snapped!
11. Dress up your gang and get them ready for their close-up with Mr. Claus at any one of the many smile-with-Santa photo opportunities throughout the state.
RELATED: Best Places To Take Pictures with Santa in New Jersey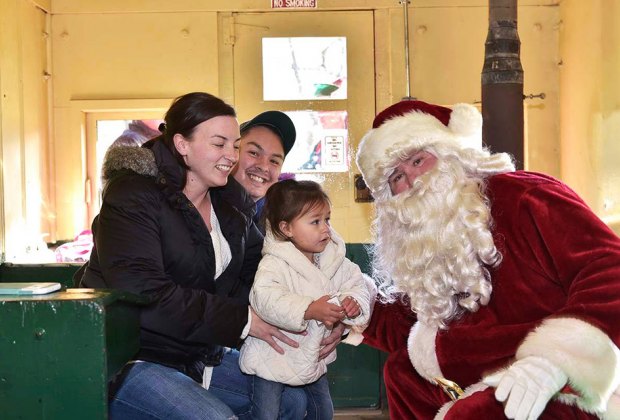 Take a short but sweet ride on the Christmas Express, and visit with Santa. Courtesy of the NJ Museum of Transportation
12. Promise your PJ-wearing pack an amazing time as you hop aboard an imaginary North Pole-bound choo-choo train. With all the hot cocoa, cookies, Christmas stories, and make-believe they can handle!
13. If a real-life train car ride with the man in red is too overwhelming for your caboose-enthused tikes, then consider a model railroad show with Santa Claus Express and Thomas and Friends miniatures.
14. Load up the car and head out to the Skylands Stadium Christmas Light Show. The drive-through format makes it great for littles who start dozing early, and the outdoor Christmas Village (free admission+parking) is stacked with some of the best cold-weather snacks—s'mores and cocoa (really, is there anything better?).
15. Or consider the reverse—cars adorned with lights! Celebrate the Festival of Lights at a Car Menorah Parade on Saturday, December 2, complete with a community candle lighting, gelt drop, latkes, and doughnuts.
16. Little ones will love taking a rare nighttime trip to the zoo for Turtle Back Zoo's Holiday Lights event, now through Monday December 31. It's free to walk through, and you can grab cocoa and cookies, and take a ride on the carousel, for a small fee.
17. Book a breakfast with Santa and make sure your loveys have their lists ready to share with him! Eggs, pancakes, French toast, fruits, and lots and lots of syrup are sure to get them energized!
18. If you'll be brunching with Santa at Sahara Sam's Oasis, every Saturday in December, you can stay the day and hop in the lazy river or the much-warmer-than-the-North-Pole pool with the reindeer wrangler himself!
19. Bundle your little elves up and take them to Dickens Village in Maplewood every Saturday in December through Sunday the 16th. There are tons of activities for minis (like horse and carriage rides, storytime, and crafting), but our favorite might just be when Santa's reindeer show up at Ricalton Square on Saturday, December 2.
RELATED: Best and Brightest Christmas Light Displays in New Jersey

The Christmas Ice Caverns make for a magical holiday outing for little ones. Courtesy of Jody's Silk Florist and Patio Center
20. Walk through the Christmas Ice Caverns in Fairfield—if only just to hear your wild ones keep saying "WOW! now through the end of December. The holiday scenes—from Disney characters frolicking in the snow to Santa's reindeer, dolls, and woodland creatures—all capture the spirit of the season (and the gift shop sure doesn't hurt! #earlypresentforgoodgirlsandboys?).
21. Pay Scuba Santa a visit at Adventure Aquarium from Friday, November 23 – Sunday, December 30, and while you're there don't forget to bring your guppies to Merry Elfish Storytime, the Snow Shower Dance Party, and Milk and Cookies with Santa (requires a special ticket, but it's worth it!).
22. Have a Daniel Tiger fan at home? We have the skinny on a totally tiger-riffic holiday trolley ride happening on Saturdays November 24 – December 22 in Princeton. See the town's holiday lights and historic sights, all while being chauffeured around in a warm trolley. Your PBS-loving peanuts and their neighbors will definitely want to ride along!!
RELATED: Best Nutcrackers and Holiday Shows for NJ Kids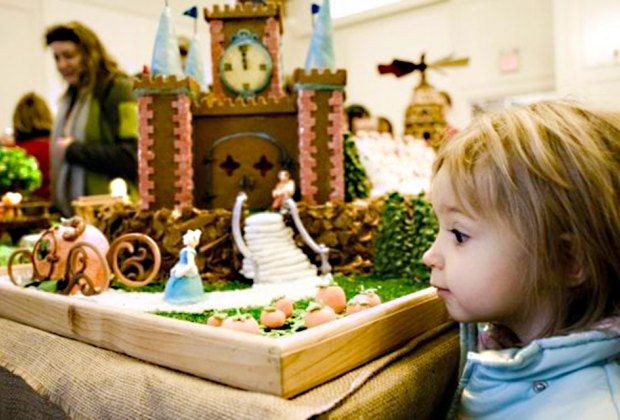 Big and little kids alike will be wowed by the Gingerbread Wonderland at Frelinghuysen Arboretum. Courtesy of the arboretum
23. You can look but don't touch! That's what you'll be saying to your small fry squad as you tour through Frelinghuysen's 27th annual Gingerbread Wonderland from Friday, November 30 – Sunday, December 9. Thankfully, with the opportunity to admire so many delicious creations—and not just houses, but trains, planes, animals, etc., too. Don't forget to cast your votes for your family favorites at the end!
24. Take your sugar-obsessed set to make their own gingerbread confections at Kean University's Gingerbread House Workshop on Saturday, December 15. And the icing on it all? You get to take your creation home, so get ready for peppermint, candy canes, and gumdrops—oh my!
25. Attend a free Christmas tree lighting event, which usually brings the whole town out for a night of family fun! Cider, caroling, kids' activities, and appearances from Kris Kringle himself make the evenings extra special!
26. Decorate Christmas cookies as a family and design holiday cards for those in need at The Grain House's Cookie+Kindness Brunch on Sunday, December 16.
27. Start a new family tradition for the holidays, and find something for every member of your tribe to try when it comes to volunteering and paying it forward! Yes, even your preschoolers can get in on the giving!
28. Treat the tiny ones to some of the best holiday theater around! From numerous Nutcracker productions to some of Santa's best friends on stage—Frosty, Rudolph, and Charlie Brown—there's something for everyone!
29. Mellow out your Sunday Fun Day with a low-key New Year's Eve crown-decorating craft session with the kiddies at the Lawrenceville library.
30. Bring your pint-sized partiers to the New Year's Eve Countdown to Noon at Urban Jungle Play on Monday, December 31. And let them ring in 2019 in style with confetti poppers and cool accessories!