Exodus Steps at the Skirball Center and Other Passover Fun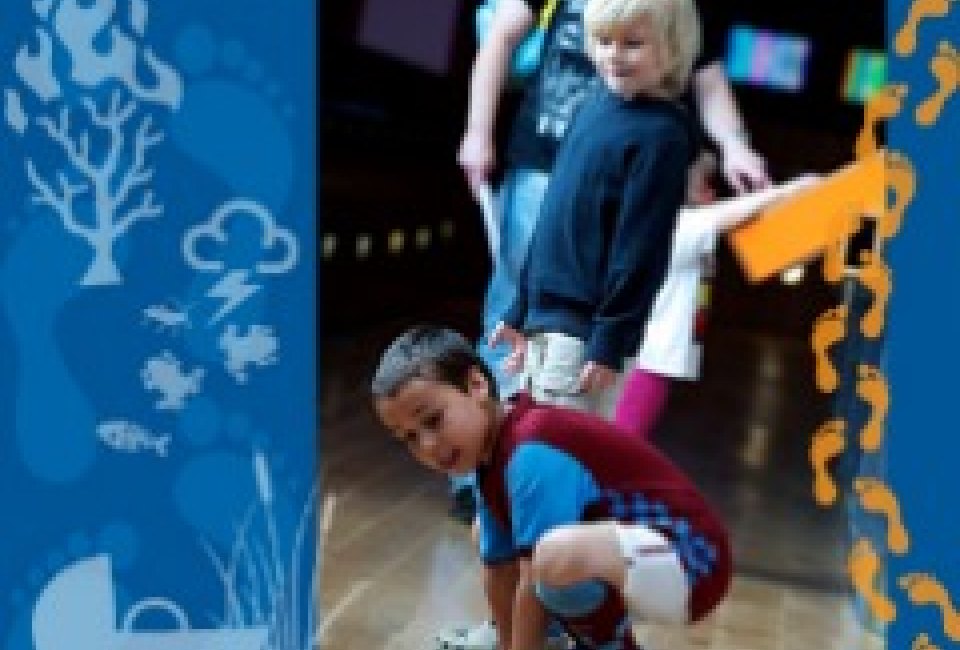 3/18/13
- By
Roberta B
The spring holidays are upon us, and kids who were spoiled for choice at Christmastime are glutted once again, this time with opportunities to see the Easter Bunny and hunt for eggs. Families who were vying for equal menorah time back in December, however, may be having a tough time now finding fun family activities for Passover. Apart from coming up with unleavened baked goods, there are generally precious few activities to prepare us for one of the biggest holidays on the Jewish calendar. The good news is that there are a few - and we've found some fun ones!
Exodus Steps
March 1 - April 28, 2013
The Skirball Cultural Center has a new, kid-friendly Passover exhibition this year that leaves its annual (more adult) Passover Spotlight Tour in the biblical dust. Exodus Steps is an interactive journey through the museum, and it is simultaneously so simple and so clever that it's bound to win over every member of the family. The nine-year-old I tore away from his Wii to check it out was intent on NOT enjoying himself, and yet Exodus Steps had him charmed and engaged in spite of himself in, literally, a few steps.
The game is like a cross between Twister and CSI, if you can imagine that. It begins the moment you leave the parking garage, with footprints of slaves in chains as a preamble to the story. Once inside the museum, be sure to pick up a guide sheet at the front desk; it makes things clear much more quickly. Basically, color-coded foot and hand prints lead visitors on a journey through the museum grounds, stopping along the way for dramatic scenes. Different characters in the Passover story are marked by different colors of prints and dialogue. Each location along the way depicts some kind of a scene, and often the only way to understand what's going on is to put your hands and feet in the prints and say the line. Doing this suddenly makes everything clear, and soon you'll be acting out scenes of Moses' life, from Nile to Sinai and back again. One minute you'll be putting on your best Yul Brynner voice as Pharoah agonizing against a window, and the next your kids will be deciding how a burning bush's voice should sound. There are hidden bits of leavened bread and seder plate items to sniff out at each "crime" scene, too.
For the perfect visit, it's a great idea to book a two-hour slot at Noah's Ark while you're there; Exodus Steps does lead right up to the Noah's Ark entrance and picks up again easily afterward. Granted, the Noah story is an entirely different era, but the creative inspiration of the fantastical animals in this exhibit - to say nothing of the outlet of all of that climbing, cranking, and swinging - is such a treat for kids that it's not to be missed. I wondered if my third grader would now consider himself too sophisticated for the Noah's Ark exhibit, and the answer was happily no; he just enjoyed different things about it than he used to. It was still a welcome treat!
Passover Family Adventure
March 24, 2013
If you're already familiar with the Shalom Institute, then you know what a treat it is to spend a day at this hide-away in the hills above Malibu. The free annual Passover event is a wonderful opportunity to get out of the city, enjoy a multitude of outdoor activities (tickets are required for some activities), and kick off the week-long holiday. Kids can climb a wall reminiscent of Jericho, ride a zip line across the Red Sea, and bake matzoh over an open fire. This year's event takes place the day before Passover, just in time to shake off the leavening and embrace the festival.
Doda Mollie's Passover Party
March 20, 2013
Finally, if you're looking for something a little more low-key, Doda Mollie can always be counted on to throw a Passover party with her Sing Around the Seder CD at Children's Book World - a great option for introducing the little ones to the songs everyone will be singing when the Maneschewitz starts flowing.
Happy Pesach to all of our Mommy Poppins tribe!
Sign up for the Mommy Poppins Newsletter today!
i