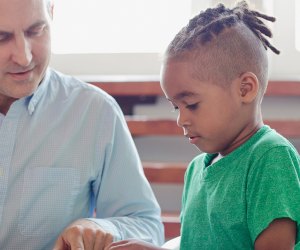 Finding a Math Tutor in Los Angeles—for Learning Pods, Homework Help, Homeschooling, and More
Kids don't always need tutors, but when they do... it's usually in math. Of course, there are all sorts of reasons a family might be looking for a tutor, ranging from homework help to test prep to homeschooling support. And this year loads of parents are talking about learning pods (or pandemic pods), looking for tutors or teachers to help out kids who gather in social pods.
Whatever it is that has pushed you to find extra help, it can be hard knowing where to start. We've broken down the best ways to find local math tutors, including some ideas to avoid letting the cost grow exponentially.
Los Angeles Local Tutoring Companies
The primary advantage of using a smaller, local tutoring company as opposed to a big chain is the likelihood that you could find a tutor familiar with your child's specific teacher and his or her idiosyncrasies. For lower levels of math and younger kids this probably isn't a big deal, but in high school it can make a real difference to find a tutor who can say "Oh, yes, Mr. Smith—I know how he likes this done..." Here are a couple of local companies that fit that bill:
This Santa Monica tutoring company works individually or in groups, at its Wilshire Boulevard location or in your home, as well as tutoring remotely. The company is pivoting quickly for the requirements of the 2020-21 school year with a whole new distance learning program, offering pod teachers for their place or yours, homeschooling oversight, and traditional tutoring to support all of the above. 310.434.9944
Based in Santa Monica, Academic Achievers offers one-on-one tutoring in its office, in the student's home, or online via Skype. From Kinderprep through high levels of high school math, homeschooling to college admissions tests, the company can provide tutors to suit all needs. Prices vary; free practice tests for SAT and ACT are held throughout the year. 310.883.5810
This Beverly Hills based tutoring company covers all subjects, all standardized tests, and all ages. Tutors generally come to your home, though a mutually convenient location like a library or coffee shop is also an option. 213.622.1155
Based in Pasadena and founded by a crew of quantum physics geeks from Caltech, h-bar specializes in tutoring maths and sciences. The small SoCal company takes pride in offering a more personalized service at lower cost than the national chains, and passing on more of that money to the tutors. Tutors can either meet in a public place, at your home, or online. In addition to one-on-one tutoring, h-bar also offers small group classes and homeschooling support. All tutors' bios can be found on the website. 626.375.0575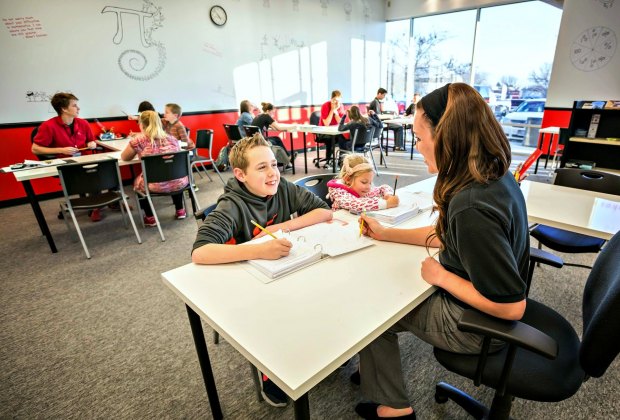 Photo courtesy of Mathnasium
National Tutoring Chains
Bigger chains can also connect students with local tutors, and these can have the advantage of a consistent educational approach that is the same across locations or even the country. Alternatively, some national chains operate entirely online. Though not local, these online tutoring companies can be handy because they have tutors available 24/7.
Mathnasium is an international chain that started as local tutoring company. This LA-born-and-bred company's math tutoring resource is popular for a reason: the approach is to make math feel like a game, so kids like going.Students get opportunities to win prizes, free snacks, etc. The most popular packages, in which kids progress through a customized curriculum, start at about $60 an hour. Locations citywide: 877.601.6284
This well-regarded chain, which boasts three decades of experience, is so confident it will deliver results that its website includes a ranking system comparing its results per category to competitors. Sylvan's unique plusses include conferences not just with parents, but with teachers to assess a child's individual progress. Prices start at $55/hour for an 80-hour package for 3-1 tutoring; math enrichment packages for those already at grade level start at $199. Locations citywide: 800.611.2788
This well-known franchise, adapted from Japan, believes that math skills are built with daily practice. Students as young as preschool age start with twice-weekly tutoring, supplemented by 5 to 30 minutes a day at home using specialized materials. Locations citywide: 1.800.222.6284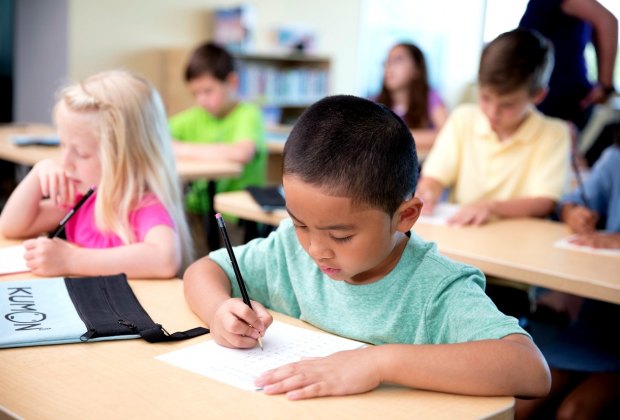 Photo courtesy of Kumon North America
Finding Individual Tutors and Free Tutoring in LA
Not into chains? Looking outside the box? Ask friends/neighbors/coworkers for hyperlocal favorites. Many teachers—especially those at private schools or preschools—maintain tutoring practices on the side. High school magnet programs and local community colleges are another route to recruiting help. A STEAM magnet, for example, is bound to have thriving math minds available to offer in-home tutoring; ask other parents if they can post on their school social media groups or in a newsletter. Our local JCC, for example, is oozing with students up for a side gig. The campus has a huge bulletin board where people post want ads. Here are a few other routes to try:
The many colleges and universities in the LA area provide a great resource for finding a math whiz to help your kids master homework challenges. UCLA makes the search easy by keeping an online list of people in the math department offering up tutoring services. Prices will vary by the individual, but each person on the list provides a mini-bio, tutoring resume, and contact info. You take it from there.
One way to get free online Homework Help is by using your LA County Library card. Online homework tutors are available free of charge, in English or Spanish, daily from 3pm-10pm. The county library has agreements and programs with some outside tutoring companies to offer free tutoring to card holders as well.
Only have a city library card? No problem. LAPL runs a similar free Homework Help program. If neither of these is your local, check with your branch; many of the county's other library systems offer the same service.
Hearts over Hands is a free service that pairs Columbia University students with kids ages 7 and up who need homework help. The brainchild of a Columbia student, the program gives priority to families particularly impacted by COVID-19, but all are welcome.
Still haven't found the right tutor? Ask teachers for help—they might be able to recommend recent retirees (who are a bonanza in this area, as they know the current math approach) or recently laid off teachers. If you're really lucky, you may even find out that your child's teacher does a little tutoring on the side him or herself!
This post was originally published January 17, 2018.