10 Best Spots for Bar Mitzvahs on Long Island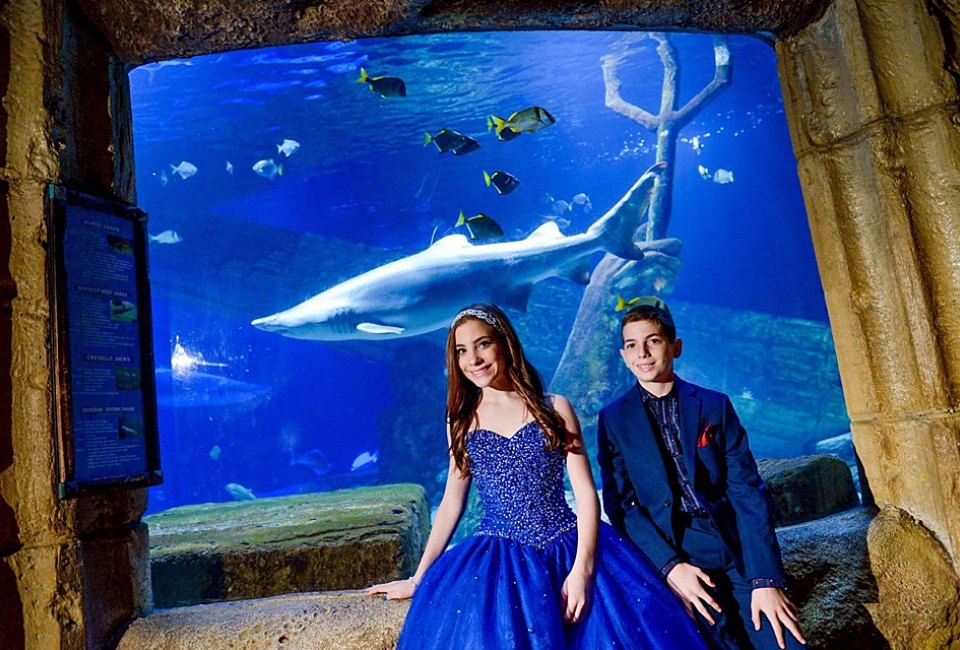 8/29/22
- By
Kristen Markel
Celebrating a bat mitzvah or bar mitzvah on Long Island is a fantastic opportunity to gather friends and family and commemorate your teen's accomplishment, but It isn't just the child doing the hard work. Parents have the enormous task of planning the event, and since Long Island is home to numerous banquet halls and venues, picking a location can be tough. We've narrowed the field to 10 of the best spots for a bar mitzvah or bat mitzvah on Long Island.
Our list includes traditional and non-traditional venues that can accommodate a small group or a large crowd. Find the best celebration spot, and check one massive task off your to-do list. Mazel tov!
For more fun ideas, check out our Tweens and Teens Guide to Long Island, and be sure to bookmark our updated Long Island Family Activity Calendar.
Get our picks for every weekend sent right to your inbox when you sign up for our newsletters.
Best Spots for Bar Mitzvahs in Suffolk County
Nestled on the North Shore, this venue is owned and operated by the same group running the popular Restaurant Prime, which is steps away. The Harbor Club at Prime is on the water and offers dock space should you wish to make your grand entrance via boat. There are several great spots for photos, and the area can accommodate anywhere from 50-225 people.
2. Simplay – Hauppauge
Tucked away in the Hauppauge Industrial Park is a spot that caters to grown-ups and teens. Simplay is a unique venue with sports simulators, VR, and a ballroom. Kids can lounge and play in one of the private suites while grown-ups dance and celebrate in the next room. This spot has space to host a small family or a big crowd.
RELATED: Where to Throw a Birthday Party on Long Island for Teens and Tweens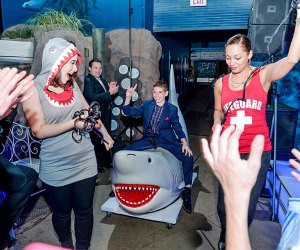 The Long Island Aquarium pulls out all the stops to ensure a memorable bar mitzvah celebration. Photo courtesy of the venue
Your child's bar mitzvah is sure to be the party of the year as your guests dance the night away under the great white shark suspended from the ceiling or in the ballroom that offers incredible views of the Peconic River. Packages include upscale kosher and non-kosher options. If guests are traveling from out of town, there's a hotel next door to accommodate.
This rustic restaurant in Melville has plenty of space for large and small events. The Refuge manages to feel both spacious and cozy. They can accommodate up to 200 people.
RELATED: Affordable Long Island Party Rooms Where You Can Throw Your Own Party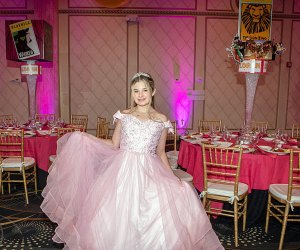 Temple Chaverim pulls out all the stops for your child's celebration. Photo courtesy of Party Harty Entertainment/N3WTOWN Photography
Best Spots for Bar Mitzvahs in Nassau County
Lessing's Catering handles the events at this traditional space in Plainview. Your event will be the only one at the time, and the area can hold up to 275 people. Temple Chaverim has enough outdoor space for the reception and cocktail hour. Kosher food is available.
With views of the Atlantic Ocean, your photos will be beyond Instagram-worthy at this South Shore catering hall. If your guest list is a mile long, don't worry, The Sands Atlantic Beach can host up to 700 people. It has a modern vibe, and with several rooms, it's possible to have the ceremony, cocktail hour, and party in separate spaces.
This Scotto Brothers' venue has been dazzling guests for many years, and the rooms are frequently renovated to keep things fresh. Chateau Briand's menus are enormous, and there is something to please everyone. Its central location in Carle Place makes it very convenient for out-of-town guests.
8. K. Pacho – New Hyde Park
If you are looking for a unique venue with a modern vibe, check out K.Pacho in New Hyde Park. This Mexican restaurant has ample event space, and menu options will impress kids and adults alike.
This Oceanside Temple was renovated in 2021, creating an open, airy space. Kombert Caterers handles the food, and guests have a myriad of options, including kosher plates.
This Island Park spot is situated on Barnum Island Wharf and features beautiful views of Reynolds Channel. The water takes center stage throughout the venue as the ballroom boasts floor-to-ceiling windows. There's only one party at a time, and kids and grown-ups will love the vast food selections.