Cooking Schools with Summer Camps for Kids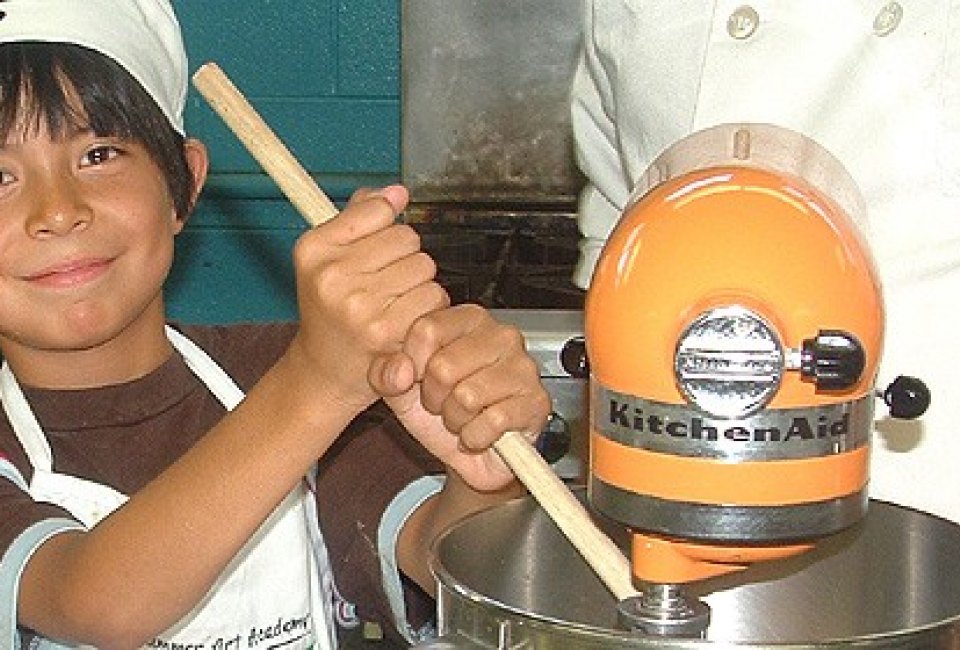 2/11/17
- By
Martha Hall
Check out these summer cooking camps around the LA area for those happy little campers who love to make food. Your little chef will learn to bake, fold, stir, and maybe even clean-up!
We also recently pulled together 10 Great Outdoor Summer Camps, Horseback Riding Camps, and Summer Art Camps for LA Kids bursting with possibilities for the outdoorsy and artsy crowds.
Find more types of camp for your kids in our LA and Orange County Vacation Camp Guide. Search by age, interest, and location in our Directory of Listings.
Note that summer camp information for the 2020 season is changing daily. Please click the links to the individual camps below to see which ones are offering programs this year.
While each camp will have its own guidelines to consider, most have some common rules that are worth thinking about before you send off your little chef.
- Wear close-toed shoes. Summer is for sandals and flip flops, but not in the kitchen. No one wants a hot lunch on a kid's bare toes.
- Long hair should be pulled back.
- Please avoid long and loose clothing that can get caught in appliances (or swept through cake batter).
- If your child has food allergies, speak with the camp/school before signing up. Most camps cannot accommodate all dietary restrictions.

Chef Eric's Culinary Classroom
2366 Pelham Ave
Los Angeles, CA 90064
310.470.2640
Mon-Fri 9:30am-12pm or 2pm-4:30pm
Ages 7-15
When kids spend a week here, they get a taste (pun intended) of everything. Instead of following one theme, kids dabble in many: cookies, pasta, breakfast foods, pizza, to name but a few. A new camp dedicated to baking will also be offered this summer. Chef Eric sees a lot of return students (they must be doing something right), with older teens now participating as class and camp interns in the kitchen.
Gourmandise School of Sweets and Savories
At The Market at Santa Monica Place
395 Santa Monica Place, Suite 329
Santa Monica, CA 90401
310.656.8800
Ages 6-13
Gourmandise School of Sweets and Savories is a state of the art cooking school space right smack in the middle of the newly renovated Santa Monica Place, and just down the street from the splendid Santa Monica Farmers Market. Your summer campers will delight in the locally sourced ingredients used in these fun, get-your-hands-doughy classes taught by professional instructors. Occasional visits from neighbor chefs add more depth to the camp. Classes are 2.5 hours and always include lunch. The final schedule will be available on the Gourmandise website.

Handstand Kids
Pasadena and various other locations
Prices vary
818.917.7200
All ages (Mommy-and-Me available for the very little)
Handstand Kid's founder, Yvette Garfield, started out making cookbook kits but received so many requests for classes that she started creating those as well. This summer you can offer cooking camp in the comfort of your own kitchen. Invite your kids' friends of all ages (no age is too young!), and a chef teacher will come to your place to make a feast (or a cake or whatever you choose) with your gang. Prices vary depending on class size, distance traveled, and length (a three hour class is the most popular). Lunches Around the World is quite popular and ends with a feast of the campers' making. Two one-week cooking camps will also be offered through the City of South Pasadena. Check Handstand Kids website for updates.

Katie's Cooking School
16733 Ventura Blvd.
Encino, CA 91436
818.377.6200
3 days per week, depending on the week
Ages 5-14
The kitchen at Katie's Cooking School is built with residential appliances, replicating what the campers are likely to have at home. Kids explore a delicious food theme during the week (Holidays Around the World, for example) and learn the cooking skills and confidence to remake the recipes in their own kitchens.

Kitchen Kid - Santa Monica, Manhattan Beach, Beverly Hills, Palms/Cheviot Hills
First Presbyterian Church Kitchen
1220 2nd St.
Santa Monica, CA 90401
310.450.3462
Half Day: Mon-Fri, 9am-noon
Full Day: Mon-Fri, 9am-3pm
Ages 7-14

Neptunian Women's Club Kitchen
920 Highland Ave
Manhattan Beach, CA 90266
310.450.3462
Half Day: Mon-Fri, 9am-noon
Full Day: Mon-Fri, 9am-3pm
Ages 7-14

Kitchen Kid is the premiere mobile cooking school for kids, meaning food learning and kitchen fun can happen in lots of places (including your own home). Summer camp options include the established locations above and classes at one of their "satellite" locations below. Or consider a private cooking camp in your own kitchen. All classes promise a rich hands-on experience. The Santa Monica and Manhattan Beach locations offer a weekly trip to the local farmers market to pick out the day's fresh and local ingredients.
Kitchen Kid - Two Special Partner Camps
1. La Cienega Park - Beverly Hills
8400 Gregory Way
Beverly Hills, CA 90211
Aug. 6-10
Mon-Fri 9am-3pm
Ages 6-14
"My Own Restaurant Camp": Campers choose the name, consider the decor, and meet real local chefs as they learn the ins-and-outs of starting their own restaurant. You can join your chefs-in-the-making on the last day of camp and sit down to one of their signature meals.

2. Le Lycee Français de Los Angeles
3261 Overland Ave
Los Angeles, CA 90034
Ages 4-14
Cooking classes taught by Kitchen Kid are part of the full day, multi-activity summer camp at Le Lycee Français.

Let's Get Cookin'
4643 Lakeview Canyon Road
Westlake Village, CA 91361
818.991.3940
Ages, dates, and times below
Quick! These four kids cooking series camps sell out every summer, and understandably so. Hands-on, real-deal cooking classes will have your kids begging for more (and wanting to return next year).
1. Back to Basics
Weekdays 11am-2pm, Saturday 2:30pm-5pm
Ages 10-16

2. International Baking
Weekdays 11am-2pm, Saturday 2:30pm-5:00pm
Ages 10-16

3. Kids Culinary Camp
11am-1pm
Ages 6-9

4. International Cooking: Western Culinary Trail
Weekdays 11am-2pm, Saturday 2:30pm-5pm
Ages 10-16

PREP School for CookingKids
12207 Seal Beach Blvd.
Seal Beach, CA 90740
562.430.1217
Mon-Thurs, 2.5 hour classes
Dates, times and enrollment
Now in its seventh year, this "coolest summer camp in town" is worth checking out. PREP provides dynamic and challenging recipes and menus (all doable, just no "baby" recipes) and uses no canned, packaged, or preserved ingredients. Just the wholesome real stuff, even pasta from scratch. Yum!
Simple Gourmet
443-A South Pacific Coast Highway
Redondo Beach, CA 90277
310.318.6484
Mon-Fri, 9am-1pm
Ages 8-14
Food, glorious food! And as the website cheers, "Fresh, seasonal and delicious." Simple Gourmet offers eight weeks of half day kids' classes. Check the Simple Gourmet website for updates. There's sure to be a class to please your budding gourmand.

Southbay School of Cooking
1951 Artesia Blvd.
Redondo Beach, CA 90278
310.350.3772
Mon-Thurs, 9:30am-12:30pm
Ages 8-13
Hands-on and educational, the Southbay School of Cooking summer camp classes are a huge hit. Classes focus on international cuisine. Each day campers prepare a full meal (main course, sides, and dessert) from a certain region (French, Asian, American, for example) and enjoy the fruits of their labor for lunch.

Summer Art Academy -- Cooking Camp
Three locations:
Woodland Hills
La Canada
North Hollywood
866.507.COOK (2665)
9am-12pm for ages 7-11
1:30pm-4:30pm for ages 12-16
Explore the World like Waldo (where is he again?) and make dishes from Spain, Italy, or Central America (to name just a few). Or make all things chocolate, or all things Harry Potter. So many fun and fascinating classes to choose from at each of the camp's three locations.
Originally published February 20, 2012
Enter to Win!