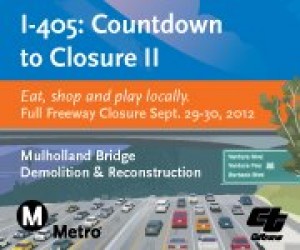 Carmageddon II: September 29 - 30, 2012
There are some movies that really don't need sequels, but in LA even epic traffic jams get the sequel treatment. Yes, we're headed for another weekend without the 405. To call Carmageddon a weekend blockbuster would be to use the term unforgivably literally, and yet we are about to be subjected to Carmageddon II, Return to Mulholland Bridge. Thinking of running away to go camping for the weekend or to hide at a resort? You may be wise to do so. But if you're planning on staying in town, there are a few things you should know about this weekend's closure of the 405 (aka the busiest highway in America).
First, the facts: the 405 freeway is slated for complete closure from Friday evening, September 28, until early Monday morning, October 1, all the way from the Santa Monica Freeway to the Ventura Freeway. Yes, in case you've been under a rock in Rancho Cucamonga, that's the 10 to the 101 - no cars all weekend. Ramps start closing by 7pm on Friday evening, and lanes start shutting down at 10pm, to achieve a completely car-free San Diego Freeway by midnight. Things don't start moving again until 5am-6am on Monday morning. Oh - and while you're at it, don't plan on using Venice Blvd. on Sunday morning either; it will be closed for the LA Triathalon.
There is a silver lining to this apocalyptic traffic event: as encouragement to angelenos to leave their cars parked all weekend, many businesses are offering Carmageddon discounts on local activities. From plumbing to pole dancing, there are all sorts of things you can accomplish if you stay near home this weekend, not to mention restaurant deals from Thousand Oaks to West Covina. (Don't ask yourself how often the people of West Covina use the Sepulveda Pass on a Saturday night - just take the 10% dinner discount and run.)
Of course, we all know that the original Carmageddon was not nearly as bad as anticipated; tales of 15-minute journeys from the Marina to Pasadena haunt the drivers who were cooperative and stayed home. But beware - the mere fact that so many people are talking about this phenomenon is likely to make the new Carmageddon a very different Carmageddon from the last Carmageddon. And who wants to be a connoisseur of Carmageddons?
Be sure to check our calendar for fun stuff to do in your 'hood. And however you spend your weekend, we hope you're able to enjoy it without any ill effects of 54 hours without cars in the Sepulveda Pass.