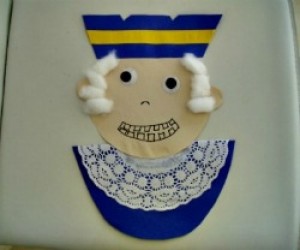 8 Great Presidents Day Camps for Los Angeles Kids
Presidents Day draws nigh, and doubtless many of you will be celebrating the lives and times of our forefathers in the traditional Southern Californian way: finding snow and sliding down it repeatedly, just like Honest Abe would have done. Parents who like to find meaning in days off from school might take advantage of the not-one-but-two Presidential Library Museums we have access to in the Southland; both the Nixon and Reagan Libraries celebrate the day with free festivities. But since not everyone can convince the boss that Presidents Day merits a snow day from work, some parents are bound to be looking for a day camp to cover the Monday holiday. Allow us to make a few suggestions.
Larchmont
Unincorporated Education
660 N. Larchmont
Los Angeles, CA 90004
323.655.0515
9:30am-2:30pm
No special plans for Presidents Day? Sew you say! While some kids are channeling Lincoln or Washington, campers at Unincorporated Education can channel Betsy Ross.
Studio City
Studio LOL
11634 Ventura Blvd
Studio City, CA 91604
818.660.3460
9am-2pm
Presidents Day ought to be good for a laugh, right? The school holiday camp at Studio LOL offers kids a chance to focus on building confidence, communication, and performance skills through improv, sketch comedy, and working to find the "funny" in their daily lives. Maybe they'll even come home with a good George Washington joke.

Santa Monica
Paint Lab
2912 Main Street
Santa Monica, CA 90405
310.450.9200
9am-4pm
Kids can roll up their sleeves, pull up an easel, and paint a day (or half day) full of masterpieces with instruction from Paint Lab's pro artists at the special Presidents Day camp. Mention Mommy Poppins for a 10% discount!
Socceropolis
Clover Park Extension
2600 Ocean Park Boulevard
Santa Monica, CA 90405
310.458.2239
9am-1pm
A soccer camp designed for boys and girls ages 4-10 years old, Socceropolis offers a day of dribbling, passing, shooting, and soccer matches. Enrollment is through the Community Recreation office.
Santa Monica Family YMCA
1332 6th Street
Santa Monica, CA 90401
310.393.2721
8:30am-6:00pm
Anytime the SMMUSD schools take a day off, the Y has your back with all-day coverage. Advance registration is required (forms are on the website), but the cost can't be beat.
Culver City
JAG Gym
8640 Hayden Place
Culver City, CA 90232
310.287.9886
9am-3pm
JAG is holding Presidents Day camp on both Friday February 17th and Monday February 20th. Gymnastics and more gymnastics rule the day; hot pizza lunch is available for $8 if parents want to skip packing lunch. Campers must be at least three years old and potty trained. Parents can call to register or email office@jaggym.com .
Manhattan Beach
Adventure Plex
1701 Marine Avenue
Manhattan Beach, CA 90266
310.546.7708
9am-4pm
South Bay kids (ages 4-12) with more than one day off during Presidents Day week can spend just the day or the whole week at Adventure Plex. A host of physical and crafty activities can take the place of the three Rs during the school holiday, including climbing a wall that's actually meant to be climbed. Extended care ($10) and lunch ($6) options are available, February 18-22, 2013.
Agoura Hills
Monarch Gymnastics
5331 Derry Avenue
Suite H-C
Agoura Hills, California 91301
818.889.3634
9am-3pm
Monarch's makes sure that every potential future president gets a turn on all of the gymnastics equipment during Presidents Day Camp, setting up circuits and games that keep everyone involved and bouncing as they should.
Looking for more ideas? Check our Summer and School Vacation Camp Guide!
Originally published February 10, 2012